Monday, January 13th, 2020
Cavs hang on for win
By Dave Stilwell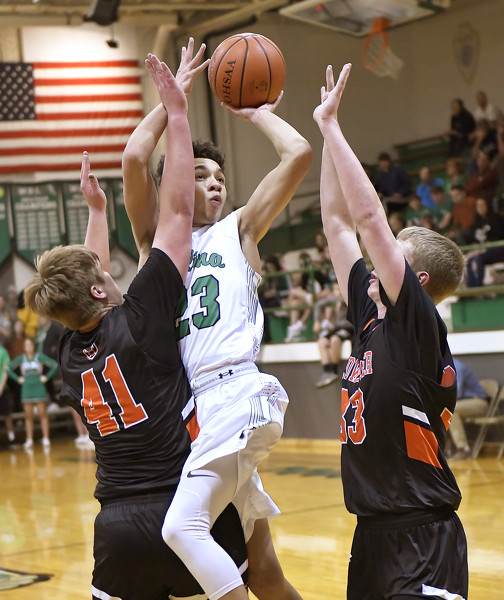 CELINA - Coldwater survived eight 3-point baskets and 30 points from Celina's Ethan Wilson, and escaped the Fieldhouse with a 61-53 victory over the Bulldogs Saturday night.
Wilson was 8-for-9 behind the arc in an unlikely performance for someone who had struggled with the outside shot early in the season.
"Coming into this weekend he was 2-for-25," Celina coach Jay Imwalle said of Wilson's 3-point shooting. "But is he capable? Yes. He spent a lot of time in here this summer shooting, and he's very capable."
Imwalle said the emphasis coming into the weekend was playing a more relaxed style.
"It wasn't just Ethan. We talked to everybody this weekend about just quit thinking, react and play," he said. "If you have an open look, and you're on balance and in rhythm, shoot the ball. And I think that benefited Ethan this weekend, simply because he was thinking about it too much. I think he just reacted and played."
Coldwater coach Nick Fisher struggled to find a defensive solution for Wilson, so he ended up fighting fire with fire.
"We talked about it in a timeout in the first half. We said, 'hey this kid's going off,' " he said. "I don't think we did a very good job of recognizing that and doing something about it, because he did go off. But give him (Wilson) the credit. He was tossing them up from all over."
The Cavaliers eventually unleashed their own "Ethan" secret weapon - Ethan Post. The Coldwater junior hit 5-of-7 treys of his own and allowed the Cavs to maintain a small lead for most of the second half.
"There were several times when he (Wilson) hit a three and Ethan would answer with a three. And that really helped." Fisher said. "I thought we had decent ball movement, and Ethan got what I would consider a good look several times."
Neither team was able to establish much momentum in the first half as the game was never separated by more than five points in the first 16 minutes.
Coldwater went up 14-9 late in the first quarter and held on to a 14-12 advantage at the first break.
The Bulldogs regained the lead on a three-pointer by Jack Duncan. Wilson canned treys on back-to-back possessions midway through the second quarter to give Celina what would be its biggest lead of the game, 25-20.
Following a timeout, Post and Jake Hemmelgarn hit back-to-back treys, and Coldwater snatched the lead right back, 26-25.
Wilson would hit his fifth three-pointer of the half to give the Bulldogs a 30-29 lead at intermission.
Coldwater began to crack Celina's stingy 2-3 zone defense in the third quarter. The Cavs hit four shots from beyond the arc to take a 47-40 lead with just over a minute left in the third.
But as the quarter ended, Wilson stepped back for a NBA-plus three pointer at the buzzer to pull the Dogs back to within four, 47-43.
Post answered to open the fourth with two three-point shots 40 seconds apart to give the Cavaliers a 53-45 advantage. Celina scored the next five points to inch their way back in the game, but Coldwater was 6-for-6 at the free throw line in the final two minutes to maintain a comfortable margin.
"We started fouling them with two minutes to go because, coming in, they were a 49 percent free throw shooting team and they went 10-for-12 tonight," Imwalle said.
Coldwater also had a big 33-20 edge on the boards.
"I thought our effort was really good tonight," Imwalle added. "The one area of the game they had an advantage on us was their strength and physicality. That bothered us. We gave up 13 offensive rebounds."
Post finished with 19 points to pace the Cavaliers. Hemmelgarn added 15, while Noah Miller chipped in with 11 points and 10 rebounds.
Coupled with a win over Minster on Friday, Coldwater is inching it's way toward .500 at 5-6 on the season.
"We struggled early on this season, but we played some really good teams," Fisher said. "Those early losses can be kind of demoralizing, because I consider us a young team. But I think we're kind of weathering the storm. We had a good week of practice last week, and I expect a good week of practice this week because we have two tough games against St. John's (Friday) and St. Marys (Saturday)."
Celina, which picked up its first win of the season Friday at Elida, falls to 1-10. The Bulldogs will be back in action Friday hosting Bath in a Western Buckeye League battle.