Monday, February 10th, 2020
What's next?
Knapke considering a pro career after Toledo
By Colin Foster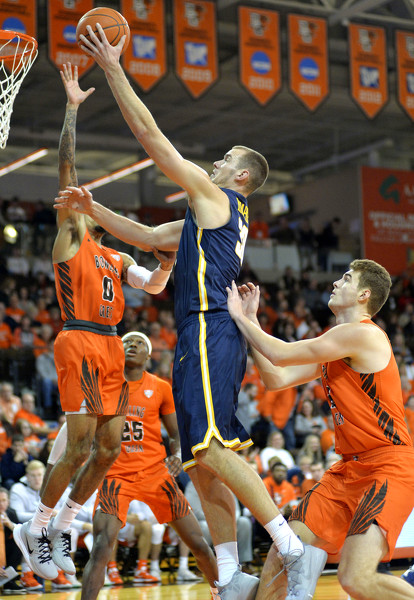 BOWLING GREEN - Luke Knapke plans to work at a golf course once his basketball career is over.
Life on the links, however, may have to wait.
"I think I'm going to see where (basketball) can take me. I'm not sure where that is, but I'm open to it," he said after the University of Toledo's 85-83 loss to Bowling Green State University on Saturday.
A professional basketball team would definitely benefit from the services of Knapke.
The Marion Local alum got it done from inside and out on Saturday, scoring 23 points and grabbing a team-high seven rebounds for Toledo in the loss to Bowling Green - a type of stat line that has become the norm for him this season. He went 7-of-16 shooting, including 5-of-10 from the 3-point line.
"I would say I'm playing pretty well right now," he said. "I think I need to be a little more aggressive on offense sometimes, but I let the game come to me and I take a lot of good shots."
He hits a lot of big shots, too.
Knapke splashed a pair of 3s and two free throws in the first six minutes against the Falcons. He finished the first half with 11 points, but Bowling Green went up by as many as 11 before settling for a 43-35 lead at halftime.
The Rockets cut their deficit to 45-41 2 1/2 minutes into the second half, though. Knapke scored six in the first 5 1/2 minutes, with his third trey of the night making the score 49-46 with 14:30 remaining. The Falcons continued to keep their opponent at-bay, but Toledo didn't quit coming.
A jumper by Marreon Jackson, who scored a game-high 31, cut Toledo's margin to 67-66 with 6:41 left. Bowling Green followed with a 6-0 run. A little later, Toledo made three straight 3s - two by Knapke and another from Jackson - which evened the score at 81-all with 50 seconds to play. Matiss Kulackovskis sent BG back ahead with a tip-in 20 seconds later. Jackson hit two free throws to tie it back up with 14.7 on the clock.
But the Falcons' Justin Turner completed his 21-point night by hitting a pair of free throws after being fouled on a jump shot with 1.2 seconds remaining, lifting his team to victory and their first two-game sweep of Toledo in one season since 1999.
"I thought in the first half we let them get going a little bit," Knapke said. "In the second half we stayed together and played great defense for most of the half and we hit some big shots down the stretch. We just came up a little short. Hopefully we see them again."
Saturday's meeting was the 174th between the Battle of I-75 rivals. Toledo holds a 92-82 advantage in the series. Mid-American Conference-leading Bowling Green improved to 18-6 overall and 9-2 in conference play. Toledo fell to 11-13 and 3-8 in MAC play. A full-capacity crowd of 5,000 fans watched at the Stroh Center - a sizable chunk of them traveled from Mercer County to see Knapke play.
"My family is always here," he said. "I love my family - they always support me. They've missed like two games all season, I love that. It's nice to see my priest, who comes with my parents sometimes. My grandparents always come. I also have my coaches reaching out to me after my big games. It's been great."
It has been a frustrating season for the Rockets, who have lost seven games by five or fewer points. But an NCAA Tournament bid is still possible if they can win the conference tournament. The MAC Tournament will be held March 12-14 at Rocket Mortgage Fieldhouse in Cleveland.
"Come tournament time, I know we're going to be a tough out, that's for sure," Knapke said.
Statistically speaking, Knapke's senior season has been his best yet.
He's averaging career-highs in points (16.1 ppg), rebounds (8.2 rpg), assists (2.2 apg) and free-throw percentage (75.9%). Knapke has put his name in the record book at Toledo, too.
The 6-foot-11, 245-pound center became the Rockets' career leader in blocked shots and single-game blocks with 10 of them in an 85-60 rout at Cleveland State on Dec 4. Knapke had 12 points and 12 rebounds for a triple-double in the win, and he surpassed Nathan Boothe's career blocks record of 155 while also beating J.C. Harris' single-game mark. His record-block total currently stands at 187. After tying the school record for stuffs in a season with 60 two years ago, he currently has 51 with seven regular season games remaining.
Earlier this year, Knapke became the 47th Rocket to surpass 1,000 points for his career. He has 1,332 points in 125 games, six performances of 20 or more points as a senior and scored a career-high 33 in a Dec. 8 win against Marshall.
Those types of numbers are the reason why Knapke is thinking about a professional basketball career just like his former high school teammate Ryan Bruns, who signed with a Spanish team after an All-American career with Ohio Northern.
"I'm not 100% sure (about playing professionally), but I'm thinking about it," Knapke said.
If not, he will have golf to fall back on.
"I'm getting my masters in sports management right now, so I'd like to work at a golf course," he concluded.