Friday, March 13th, 2020
Postponed
OHSAA calls off remaining winter sports tournaments
By Daily Standard Staff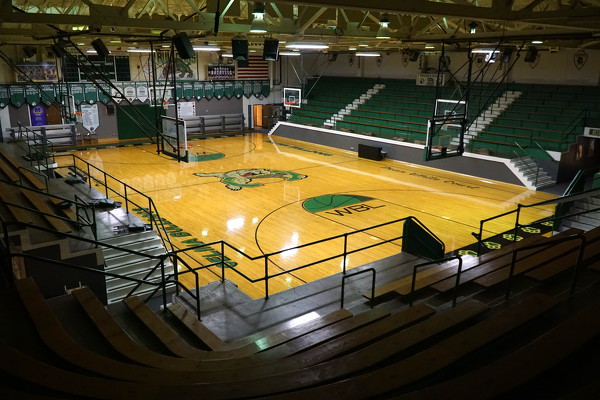 By COLIN FOSTER and GARY R. RASBERRY
sports@dailystandard.com

Following the lead of professional sports leagues suspending their seasons and the NCAA calling off March Madness, the Ohio High School Athletic Association postponed indefinitely the remaining winter sports tournaments on Thursday.
In a press conference streamed online held at St. John Arena in Columbus minutes before the first game of the girls basketball state tournament was scheduled to tip-off, OHSAA Executive Director Jerry Snodgrass announced that the remaining regional boys basketball games and boys state tournament as well as the girls basketball, boys hockey and wrestling state tournaments have been suspended indefinitely.
"We will use this time to work with the appropriate state authorities and health experts to determine our next steps moving forward," Snodgrass said. "We realize this is disappointing for our participants and their fans, but the overall health and safety of everyone involved in our tournaments is our priority."
Snodgrass also said that the athletic directors and girls basketball coaches were supportive when he met with them to tell them of the decision.
"We're not doing this for any other reason than the best interest of the kids, the communities and the nation right now," Snodgrass added.
The Minster girls basketball team was on the road to Columbus to take on Fort Frye in the Division IV state tournament Thursday afternoon.
They did not get very far, though.
"While (the Snodgrass press conference) was going on, one of our coaches got a phone call from the school and then it got real quiet in the back of the bus," Minster coach Mike Wiss explained. "We all looked at each other like they already know. We kept the bus moving until we knew for sure. We got as far as Jackson Center before we turned around. There's some disappointed young ladies, as I'm sure everybody is. Whether it's ice hockey or wrestling or 16 girls basketball teams that were planning on going, you know, West Branch and Dayton Carroll were on the floor warming up."
Wiss was still with his team when he spoke with the newspaper on Thursday afternoon at 3:30 p.m.
"We've been together ever since we got home," Wiss said. "I said 'We need to spend the day together.' "
Minster's chance for a rare girls basketball 3-peat appears off the table, along with a potential state-finals meeting with neighbor Fort Loramie.
"Sunday afternoon, (Minster and Loramie) at Paris Street Park outside on the blacktop. We're not going to keep score, but we're going at it," Wiss said. That unsanctioned game is not actually happening.
Parkway, which was scheduled to play tonight in the Division IV boys basketball regional final in Bowling Green, got the shocking news during the school day.
"It was disappointing, and kind of shocking. It seems that everything is happening so fast," said Panthers head coach Doug Hughes. "It was really tough to meet with the team today."
"Coach Hughes and coach (Zach) Bates and I met with the team shortly after we found out the news," said Parkway athletic director Matt Triplett. "Our message is regardless if they are able to finish this journey they're on, what they've done for themselves, their peers and their communities can never be taken away and it's never going to be forgotten. Your heart breaks for them. It was one of the toughest things I have had to go through as athletic director."
In the days to come, student-athletes and coaches will find out the plan moving forward. Just after the OHSAA's announcement, Ohio Gov. Mike DeWine announced schools will be closed for three weeks beginning Monday.
Minster athletic director Josh Clune said he was upset but fully supported the decision of Snodgrass and the OHSAA.
"Obviously I'm very disappointed for our kids," Minster athletic director Josh Clune added. "When you put in a long season and work hard to get to where you're at, you'd like to have that opportunity. That being said, I completely understand Jerry Snodgrass' and the OHSAA's decision to postpone it at this point."
Triplett also supported the OHSSA's decision.
"Absolutely. It's easy for us to put our heads down and say 'We've never been here (regional final) before. Can't we do something to get these games in?' And in our heart of hearts that's what we think," said Triplett. "(Snodgrass) has a job to do and everybody in Columbus has a job to do. One of the things we have to do as leaders at our school is to trust people like Jerry Snodgrass and understand he's looking out for all the student-athletes in Ohio. I couldn't imagine what the work, effort and emotional toll they're going through down there."
The announcement came after a flurry of events prompted the suspension of the seasons for the NBA, NHL, Major League Soccer and Major League Baseball. Also, all the major conference tournaments for NCAA basketball were cancelled and then March Madness was called off hours later.
The OHSAA had earlier this week announced that remaining tournament games starting Wednesday would be played with a limited number of fans permitted to play. At the state girls basketball tournament, each player on the roster was limited to four fans each with coaches and administrators limited two tickets each.
The move to postpone came as Gov. DeWine was preparing orders prohibiting events that was featuring large crowds, including parades, sporting events and concerts.
"Initially, you feel heartbroken. That's the best way to describe it," said Triplett. "You feel terrible for the players, the coaches, the students and the fans. When you think about it, it's remarkable to see what this team has done to bring a sense of pride in our school and community."
Until told otherwise, Parkway is continuing to practice.
"There's a lot of great people involved with (the team) and great kids to be around," Hughes said. "They continue to come out everyday and practice. (To be able) to talk with them and spend time with them is a great bond. We'll keep practicing and see where this goes the next week or so."