Thursday, June 25th, 2020
The hit parade
Minster outlasts St. Marys in softball slugfest
By Gary R. Rasberry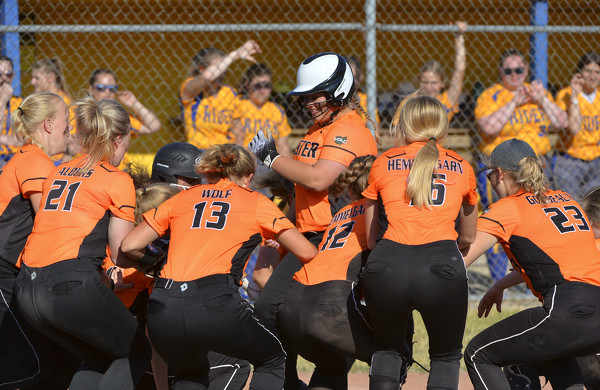 ST. MARYS - Four outs away from getting run-ruled by Minster, St. Marys decided to keep everyone in their seats for a little longer.
The Wildcats saw a 15-run lead evaporate into a six-run margin thanks to the Roughriders plating six runs in the fourth and three more in the sixth. Minster managed to tack on a couple of runs in the seventh to pick up an 18-10 win in summer softball action at K.C. Geiger Park.
After blowing a lead late in a loss to Celina the night before, Minster looked to apply the coup de grâce early against the Roughriders. St. Marys pitcher Karsyn McGlothen got the first two outs before the next eight batters reached base in the top of the first, with seven runs coming home. Kaitlyn Wolf brought home two runs with a single and three Roughrider errors resulted in all but two runs being unearned.
Minster added three runs in the second and then plated six more runs in the fourth thanks to back-to-back home runs from Rachel Hoying and Sam Trego.
"We needed every one of those bats tonight," said Minster coach Robb Hemmelgarn, whose squad had 13 hits in the contest. "We've had the habit the last week-and-a-half of hitting the gas hard in the beginning (of games) then throwing our hands up and laying back, allowing teams to chip away. That burned us last night (against Celina) and burned us when we were up 16-1. The girls don't expect that of themselves and will work hard tomorrow."
Hoying, who allowed an unearned run in the bottom of the first, cruised through the next two innings without issue before St. Marys got hot in the bottom of the fourth. McGlothen led off with a single, followed by Kelsey Poppe drawing a walk and then Renee Sweigart singling to load the bases. McGlothen scored when a force-out throw to the plate was off the mark. Hoying got a strikeout of Elly Wedding for the first out and then enticed a fielder's choice with a force-out at the plate for the second out. Kiley Tennant drew a walk to bring home another run and then Emma Birt cleared the bases with a double and later came home on a Krista Prater single to make the score 16-7.
"We knew (St. Marys) would have a 'Don't say die!' attitude," said coach Hemmelgarn. "Even when we got up as much as we got up, I shouldn't have had to remind the girls to stay focused because we had the opportunity to put it away. It doesn't surprise me at all that they chipped away. They're gritty, tough and well-coached. We were fortunate to have built up enough cushion to hang on."
Minster was unable to get the lead back to double digits - which would have triggered the run-rule - in the fifth and sixth. St. Marys made things even more interesting with three runs in the bottom of the sixth to cut Minster's lead to just six runs. Errors resulted in two runs coming across followed by an RBI single by Sweigart.
Minster got its cushion back to three in the top of the seventh as Trego doubled home a run and then came home on Royce Glass' single.
Wolf had a big day at the plate in going 2-for-4 with four RBIs. Trego had two hits and two RBIs and Laney Hemmelgarn had two hits and scored three runs.
Sweigart went 3-for-4 for St. Marys. Birt had two doubles and three RBIs and Prater added two hits.
Minster's varsity game at Coldwater tonight has been canceled. The junior varsity Wildcats will play at Coldwater at 5 p.m. with the varsity taking on Leipsic at 8 p.m. at Four Seasons Park in Minster.
LINESCORE
Minster 730 600 2 - 18 13 3
St. Marys 100 603 0 - 10 10 6
WP - Hoying
LP - McGlothen
2B - M: Ly. Hemmelgarn, Trego. SM: Birt (2), Burd.
HR - M: Hoying, Trego.