Monday, June 29th, 2020
Group shows its pride
Supporters of LGBTQ rights march in Celina
By Sydney Albert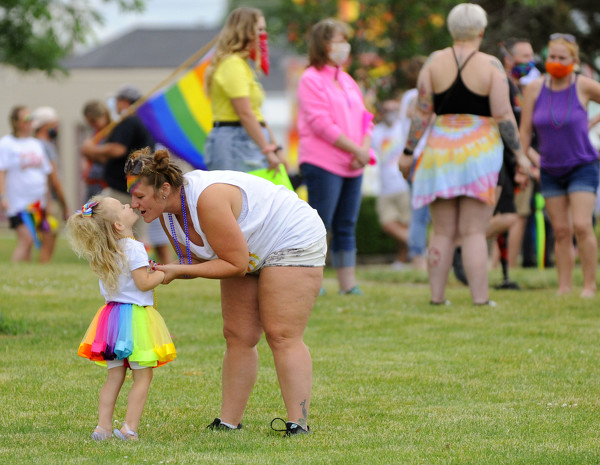 CELINA - The city was a bit more colorful on Saturday as about 300 people participated in the Small Town Pride March, waving flags and displaying signs in support of the LGBTQ community.
Despite thunderstorms earlier in the day, it didn't rain on the parade, and organizers said they were awed and humbled by the turnout.
Before the march, people lined up to buy merchandise to support the nonprofit Small Town Pride group, which had organized the event. Other booths allowed people to fill out voter registration forms or order pride shirts.
Nichole Riesen attended the event on behalf of Free Mom Hugs Ohio and encouraged people to write positive messages to themselves or others and post them on a board by her booth. She lives in Dayton but returned to her hometown to support the event.
Riesen said that years ago, one of her friends had his windows bashed in because he was gay. More recently, Kyle Bruce, the president of Small Town Pride, had his house egged and his car keyed. While the community was strong, a lot of hate was present, she continued.
"It's not easy here, but that's why we need this," she said.
Local activists and LGBTQ community members spoke before the march, touching on the history of the LGBTQ pride movement and sharing their own stories.
Julia Meyer, a 19-year-old area activist, pointed out that minorities helped build America before closing her speech with a variation of an old LGBTQ slogan - "We're here, we're queer, and you better start getting used to it!"
Sofia Rodriguez, a former educator, stressed the importance of visibility. Students came out to her with tears in their eyes, afraid their parents wouldn't love them any more, she said. The narrative surrounding the LGBTQ movement has begun to change, however, and Rodriguez pointed out the recent decision by the U.S. Supreme Court protecting LGBTQ workers from workplace discrimination.
Small Town Pride Vice President Jules Morrison said that while she had friends growing up who accepted her, that alone did not make up for living an openly gay life in a small town. She was still told to hide who she was and had slurs directed at her. Yet the gathering on Saturday was comprised of people willing to come together and make a change, she said.
"We are everywhere. And we do make a difference," Morrison said.
While the stories of several speakers struck a chord with audience members, Bruce's was likely the most sobering. Since coming out as gay last summer, he said he had grown to love himself but that growing up in Celina had not been easy.
He'd never felt like he fit in. He'd lost friends, heard death threats and was bullied for who he was. He very nearly ended his life, but he said his deceased grandmother came to him and told him he had a greater purpose. After taking time to figure out who he was, he had also figured out his purpose.
"My greater purpose here is to advocate for the kids here that don't have proper representation within the LGBTQ-plus community. My purpose is to be a voice for the kids who lost theirs because it didn't fit into the social norm. My greater purpose is to show kids that no matter how different they may be from everyone else, that it is OK. So today, we're marching for being proud of how different we all are."
After the march itself, some people left while others hung around the Lakeshore Park shelter house. Those who stayed were encouraged to share their stories. The crowd was reluctant at first, but after one person spoke, more came forward, and soon a line of mostly young people from the community had formed. For several, it was their first pride event.
They discussed the anxiety of attending the event in the first place and their coming-out stories. Some had supportive families at home, while others said they had lied to be there. Yet regardless of their home lives and individual struggles, many commented on finding a new support system - a new kind of family to love them for who they are and a place they were proud to be themselves.
See a
photo album
of the event.