Monday, June 29th, 2020
Knapke joins talented team
Marion Local graduate playing with Mid-American Unity in TBT
By Colin Foster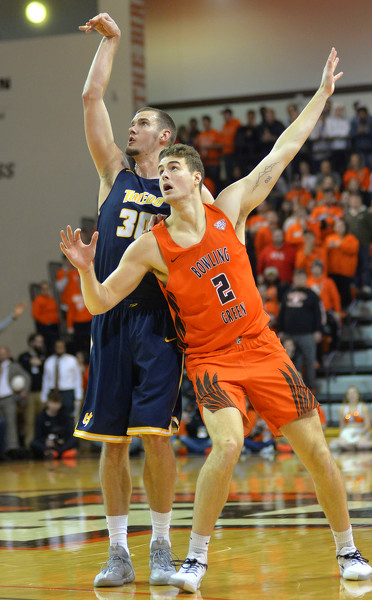 MARIA STEIN - A professional basketball career awaits Luke Knapke in Belgium.
In the meantime, the Marion Local graduate is preparing to see where he stacks up against some of the competition.
Knapke will play for Mid-American Unity in The Basketball Tournament, which tips off Saturday and runs through July 14 in Columbus. The 24-team field includes a collection of former big-name college players vying for the $1-million dollar, winner-take-all prize.
"I think it'll give me an idea of what I need to work on before I head overseas to the pro level, playing against these guys who are some of the best players overseas. I think it'll be a good test for me," said Knapke, who averaged 15.8 points, 8.2 rebounds and 2.2 assists per game in his final season at the University of Toledo.
The center from Maria Stein has a couple big names on his team, too.
He got acquainted with his new teammates on a recent Zoom call. The 6-foot-11 Knapke will be playing alongside some of the most-talented players to come out of the Mid-American Conference - one of whom was LeBron James' teammate in high school.
Romeo Travis won three state championships - and a national championship - with James at Akron St. Vincent-St. Mary, then had a fantastic college basketball career at the University of Akron. Travis was named the 2007 MAC Player of the Year. Since then, he has won four championships as a professional player, including one in the BIBL (Balkan International Basketball League), a couple with Le Mans in the France Pro A League and another with the Magnolia Hotshots of the Philippine Basketball Association - finishing Magnolia's close-out game of the 2018 PBA Governors' Cup Finals with 32 points, 17 rebounds, six assists and three steals.
"It's exciting because he's been around the game for a long time," said Knapke about playing with Travis. "He's played with one of the best. I'm sure he has a great basketball mind because of that."
Another one of Knapke's teammates, Ron Lewis, is well known by many in the Buckeye State as well.
Lewis hit the game-tying 3-pointer in regulation for Ohio State against Xavier in the second round of the 2007 NCAA Tournament. The Buckeyes, who rallied back from an 11-point deficit with seven minutes left, went on to win the game 79-71. Ohio State went on to defeat Tennessee, Memphis and Georgetown to reach the national title game, where defending champion Florida awaited. The Gators won 84-75 at the Georgia Dome in Atlanta.
Lewis, who transferred to Ohio State from Bowling Green, was a senior on a team that featured future No. 1 NBA Draft pick Greg Oden, lottery selection Mike Conley, David Lighty, Daequan Cook and Shawnee graduate Jamar Butler. Lewis averaged 12.7 points per game, which ranked second behind Oden's 15.7.
The Mid-American Unity roster also includes Chris Evans (Kent State), Carlton Guyton (Kent State), Marcus Hall (University of Colorado), Nick Harney (Akron), Carlos Medlock (Eastern Michigan) and Demetrius Treadwell (Akron).
Last year, Mid-American Unity upset second-seeded Kohl Blooded (Wisconsin alums) in the opening round. They were defeated by the Red Scare (Dayton alums) 80-78 in the following round. The 2019 team featured two of James' former teammates in Travis and Dru Joyce III. Joyce isn't listed on the roster this year, but Cameron Joyce (Dru's brother and the son of SVSM coach Dru Joyce II) will coach the 2020 squad.
Mid-American Unity is seeded 20th in this year's field. They play 13th-seeded Team CP3 in the opener. The squad of NBA All-Star point guard Chris Paul is comprised of former players from Wake Forest, UNC Greensboro, Alabama, Georgia Southern, Minnesota, Georgetown and Iona. The winner advances to play the fourth-seeded Golden Eagles (Marquette) in Round 2.
"Looking at our players, I think we definitely (can compete)," he said. "We have a veteran squad, for sure. But I think we have a good coach. He'll have some good plays for us and we'll be in a good position."
The Midwest Athletic Conference has two players taking part in this year's TBT. St. Henry's Ryan Mikesell is playing for the Red Scare. They could link up with Mid-American Unity in the semifinals.
Knapke is the second player from Marion Local to take part in the TBT. His former teammate, Ryan Bruns, was on the Red Scare's roster last year.
Due to the COVID-19 pandemic, competitors will be tested for the virus and live in their own bubble. All games will be held at Nationwide Arena. No fans will be permitted at games, but the tournament will air on the ESPN networks.
This will be Knapke's basketball finale in America - for a while at least. In April, he signed a deal with Limburg United in the Euromillions League of the Pro Basketball League in Belgium.