Wednesday, July 1st, 2020
Couple escapes house fire
Family's pet perishes
By Sydney Albert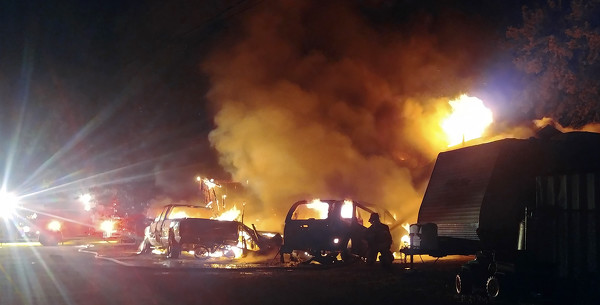 CELINA - A major structure fire on Echo Street destroyed one home and caused moderate and minor damage to two others early Tuesday morning.
Firefighters were called to 812 Echo St. at about 2:42 a.m. after homeowner Melissa Browder became aware of smoke in the house.
The fire had reportedly started in the attached garage, and upon opening the door, Melissa and Mike Browder reportedly saw heavy smoke. The couple got out of their house without injury, according to Celina Fire Chief Doug Ayers.
By the time the blaze had been brought under control, the Browder home had been destroyed, with Ayers declaring it a total loss.
Two vehicles belonging to the Browders also had been destroyed, a camper had sustained significant damage, and some buildings behind the home had also been damaged.
The fire had also damaged houses at 814 and 816 Echo St., both owned by Ken Werling. Those houses received moderate and minor damage, respectively, and a pickup truck belonging to the tenant at 814 Echo St. was also damaged. The renters will still be able to live in the houses, Ayers said.
The properties are insured, and the American Red Cross had reportedly been called to assist the Browders. The cause of the fire has not yet been determined. Ayers said he was waiting for the insurance company to send a fire investigator, though he had his own theories.
The fire appeared to be accidental, he told the paper.
An estimated 25 firefighters from the Celina and Coldwater fire departments were on scene for hours, assisted by the Celina Police Department.