Wednesday, July 1st, 2020
Ontrop pitches Redskins to 4-0 win over Indians
By Colin Foster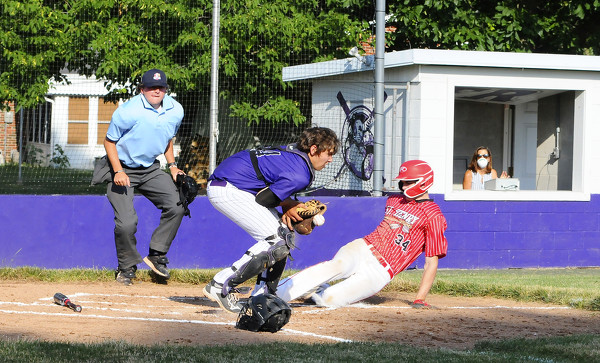 FORT RECOVERY - He ditched the catching gear and pitched a complete game.
Isaac Ontrop went the distance on only 82 pitches, striking out five, walking two and allowing just three hits in leading St. Henry's summer team to a 4-0 win on Tuesday at Fort Recovery.
"He's been a good pitcher, but he's just not had a lot of opportunities because he's a really good catcher," St. Henry skipper John Dorner said. "So, he's been waiting his chance and biding his time and tonight, he went out there and threw strikes. Last night as a team, we threw 141 pitches. We were behind in the count. We had full counts and just worked slow. He went out there and worked fast. He got ahead in the count."
The Redskins improved to 5-0 while the Indians dropped to 0-4.
St. Henry got its pitcher one run in the first inning and cushioned the lead with three in the sixth.
Ontrop drew a walk in the first inning and went to third on a double by Ryan Uhlenhake. Zach Heitkamp followed with a grounder to third, with Ontrop sliding in safely at home after the throw to first for a 1-0 lead.
Fort Recovery starter Derek Lochtefeld allowed just two hits over five innings but had a troublesome sixth. Josh Evers reached second base on an error. Lochtefeld then hit Ontrop with a pitch and walked Uhlenhake, which ended his time on the hill. Reliever Riley Will issued a bases-loaded walk to Heitkamp, then two wild pitches gave St. Henry its final runs.
Lochtefeld took the loss for Fort, striking out six, walking three and allowing three hits. Two of the runs scored against him were unearned. Kendrick Wendel's double was the bright spot for Fort's offense.
"Our pitching has been great," Fort Recovery coach Jerry Kaup said. "Tonight, Derek did a great job. He ran out of gas toward the end. The other night, Dillan did a great job. Some of our pitchers have really developed and come along way, and our defense has been improving. Now we've got to see if we can get some hitting.
"(St. Henry) plays solid defense," he added. "Ontrop throws well. We tried to get something started, but you've got to get three in a row. We're just not doing that right now. We're getting guys on base and doing some good things, but we just can't get it when we've got to get it. So, we're going to keep working."
Ontrop, a 2020 graduate, faced the minimum three batters in four innings. Sixty-six percent of his pitches went for strikes and 68% were first-pitch strikes.
"He's one of the hardest-working kids I've ever coached," Dorner said. "He's always trying to get better. I'm glad for him. He had a really good game."

LINESCORE
St. Henry 100 003 0 - 4 4 1
Fort Recovery 000 000 0 - 0 3 1
WP - Ontrop
LP - Lochtefeld
2B - SH: Uhlenhake. FR: K. Wendel.
Records: St. Henry 5-0, Fort Recovery 0-4.