Wednesday, September 16th, 2020
1 seriously hurt in crash
By Leslie Gartrell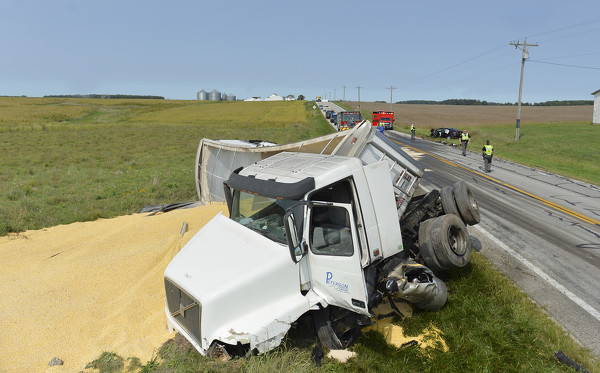 LIBERTY TOWNSHIP - An accident involving a car and a semitrailer hauling corn near the intersection of State Route 49 and Skeels Road west of Celina left a Rockford woman seriously injured on Tuesday afternoon.
Allison Brandt, 25, reportedly was transported by a Celina unit of the Mercer County Emergency Medical Services to Mercer County Community Hospital, Coldwater, after her black Kia Forte collided with a Peterson Grain Company semitrailer driven by Seth Arnold, 39, Fort Wayne, Indiana. She then was transported via medical helicopter to a Dayton-area hospital, Mercer County Sheriff's Deputy Kristen Nixon said.
The extent of Brandt's injuries was unknown at press time, Nixon said. Arnold was treated for his injuries at the scene by Rockford EMS personnel.
The sheriff's office received the call at 2:04 p.m. The semitrailer reportedly was heading southbound while the Forte was traveling northbound, both on State Route 49.
Nixon said the sheriff's office is still investigating what led to the accident and who traveled left of center. Both the vehicle and the semitrailer were totaled.
Deputies and detectives from the sheriff's office were assisted by Rockford EMS, Mercer County EMS, Rockford Fire Department, Chattanooga Fire Department and Mercer County Emergency Response Volunteers.