Wednesday, September 16th, 2020
Steady flight
Flyers stay perfect in beating Celina
By Colin Foster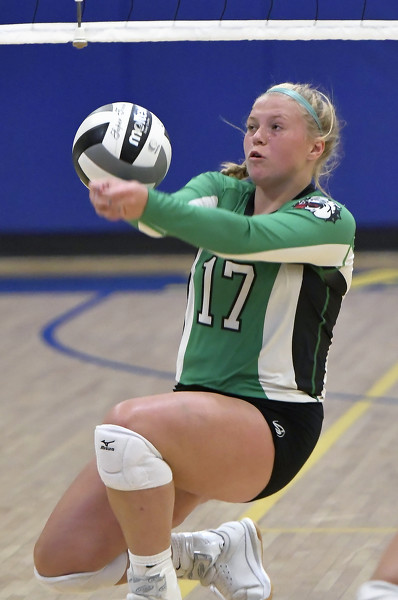 MARIA STEIN - State-ranked and stacking up the wins, Celina's volleyball season couldn't be going much better.
The Bulldogs just ran into a better team Tuesday night in Maria Stein.
In a matchup between two state-ranked teams - Marion Local stands No. 4 in Division IV and Celina is 17th in Division II - the Flyers kept their unbeaten run going with a 25-11, 25-19, 25-19 sweep at the Hangar.
The Flyers breezed to an opening-set victory. The Bulldogs made them work over the next two. The home team eventually clinched a sweep with a pair of late-set runs, improving their record to 10-0. Celina dropped to 6-3.
"We played a steady game," Marion Local coach Anthony Chappel said. "Celina's just a tough team. There were a lot of balls that usually fall for us that didn't fall tonight. They were playing pretty scrappy and they actually started stepping up their serving game and their hitting game and they kind of flipped the tone. I don't know if they were ready for us in that first set, and that might of been the difference. But in that second and third set, Celina showed they were a tough team."
Celina's Brooklyn Bourne began the opening set with a spike and then Chloe McNeilan followed with an ace, but that lead didn't stick. Alana Pohlman got cooking for Marion Local as she racked up a number of kills and blocks. The score was tied at 4-all when Marion's senior attacker began a 5-zip run with a stuff at the net. The Flyers rolled to a 25-11 win from there.
"I feel like the first half of the season, we've struggled to start out strong right from the beginning," Celina coach Angela Bourne said. "But I can give them credit because whenever the other team is up, we don't let up. We never give up thinking that the set is over. We always continue fighting."
That last point was proved during the next two sets.
Amelia and Maria Lutz were on the attack for Celina in set two. Brooklyn Bourne had a nice service run as the Bulldogs built a 5-0 lead. Marion later faced an 11-6 deficit when its comeback trail began with a 4-0 run. Bourne and Amelia Lutz briefly halted Marion's charge with back-to-back kills, but the Flyers officially tied the match at 13-all thanks to a Lydia Griesdorn ace and a Celina lift violation. Shortly after, the Flyers broke a 16-even tie with a set-closing 9-3 spurt.
Celina was in great position again late in set three, but another Marion run thwarted any victory plans for the visitors.
Pohlman finished with six kills, eight blocks (six solo) and three aces to lead Marion. Kinsey Those (five kills, two aces), Abby Bruns (six kills, four blocks), Reagan Kremer (four kills) and Heidi Rethman (20 assists, three kills, five aces) also had strong performances for the Flyers.
"Kudos to these girls," Chappel said. "… When you're sitting there playing during a pandemic, you think it could be the worst in the world. But seeing the girls just actually focusing in on volleyball and not worrying about anything outside, it's a great thing to watch."
Brooklyn Bourne led Celina with six kills with Evie Holstad adding five kills. Payton Bertke had 16 assists.
"We didn't have a lot of serve-receive errors, but we had a lot behind the 10-foot line, which hindered our offense," coach Bourne said. "I would like to definitely get our passes up there, and when they are, our offense needs to put that ball away."
Regardless of how the night went, Celina's coach is enjoying the successful ride and hopes even better days are ahead. The Bulldogs travel to Bath on Thursday to face the Wildkittens in Western Buckeye League play.
"Right now, I think we're kinda in that midseason lull," the coach added. "But from this day forward, we've got to start focusing on what our goals are for the end of the season and keep our eyes on the prize."
As for Chappel and the Flyers, their season couldn't be much better. The team has a number of big games ahead, starting with Versailles at home Thursday.
"We're enjoying the run we're on, but we're focused on one game at a time," he said.