Saturday, October 17th, 2020
Riding the Trump train
Rick Frazier attends 30th rally in Georgia
By William Kincaid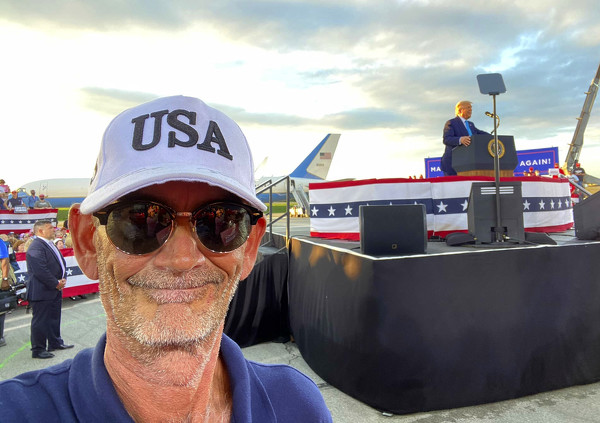 NEW BREMEN - Before hopping into his SUV to drive hundreds of miles to Macon, Georgia, for President Donald Trump's Friday night rally, 64-year-old retired pipefitter Rick Frazier found himself the center of attention speaking before the people of Israel.
Israeli Public Broadcasting wanted to talk with an American Trump super supporter; they certainly came to the right man when they interviewed this week via a Zoom news report.
"I was on the TV from my living room. That's crazy," he said. "Israel loves Trump, I mean absolutely, and that's what they wanted to talk about. They wanted to see a crazy Trump guy, basically, … who goes to all the rallies."
A member of the Front Row Joe's, a contingent of fervent Trump supporters who try to get as close as they can to their beloved president at rallies, Frazier has been interviewed by numerous media outlets.
He's also profiled in New York Times bestselling author Carl Hoffman's "Liar's Circus: A Strange and Terrifying Journey Into The Upside-Down World of Trump's MAGA Rallies," which was released last month. Despite the book's provocative title and unflinching account of Trump admirers, Frazier is portrayed in a sympathetic and largely positive light.
"When you do the rallies, if you're close to the front of the line or if you're at the front of the line, they tend to come up and talk to you a lot," Frazier said.
Frazier and a core group of die-hard Trump backers have also caught the eye of members of the president's campaign team and inner circle, many of whom know his name and welcome him warmly at rallies.
"I never thought I'd be sitting in my living room on Israeli TV," Frazier mused. "I never thought I'd be standing with Mike Lindell, the (My) Pillow guy, or Rudy Giuliani or standing there talking to Donald Trump Jr. or Eric (Trump). That's unbelievable. Kay McEnany, she really blows me away. That's one of the smartest people I've ever talked to in my life."
The event in Macon, Georgia, marked the 30th time Frazier has seen Trump in person. Each event holds the thrilling promise of connecting with the commander-in-chief and being a part of an electrifying spectacle.
"That's the draw of it. No matter who the president is, it's the president, and you're in the same room with them," Frazier explained. "Just seeing Air Force One land just blows you away."
Frazier in his younger years vaguely identified as a Democrat but said that was mostly out of an allegiance to his unions.
"I was a union member for 40-some years, and that's just the way it was," he said.
He started shifting rightward in the era of George W. Bush. Still, Frazier didn't become a full-on, card-carrying Republican until the last few years when he immersed himself in Trump rallies.
"I think jobs and America first," Frazier listed as the reasons he supports Trump, before setting up an analogy. "If you're ill and you don't take care of yourself first, you can't take care of anyone else around. So as a country you need to take care of yourself … so you can be strong enough to take care of the people within it."
Sick of having a Trump rally explained to him by a panel of talking heads on TV, Frazier wanted a firsthand experience. He and a friend on Aug. 4, 2018, traveled to see Trump speak at a high school in Lewis Center.
"I wanted to be in the same room as the president, and I wanted to see him and hear him for myself," he said.
He liked what he witnessed and was turned on to politics like never before. He then drove to Trump rallies in Lebanon and Fort Wayne, Indiana. Once he discovered that other Trump backers journeyed far and wide to attend the president's rallies, Frazier followed suit and drove to faraway places such as Tulsa, Oklahoma; Tupelo, Mississippi; Sunrise, Florida; and Manchester, New Hampshire.
Mostly driving by himself and sleeping in the back of his SUV, Frazier found himself in places he never dreamed he would go. He also formed genuine friendships with more than 40 people whom he said come from all walks of life.
Before COVID-19 struck, Frazier and his newfound friends would meet up in parking lots outside the arenas where Trump's rallies were set to take place.
"Those are like tailgate parties, basically. There's just not a lot of alcohol involved," he said. "And that's where you get our camaraderie and get to know each other. You generate new friendships that way because you do spend 12 hours in line sometimes or more."
The Trump supporters pass their time chatting.
"It's a lot of politics. A little bit of everything. It's just normal banter a lot, though," he said. "Then again it could be a topic of the day because every time you're at one, every rally has a different subject because something else came up."
Frazier and his friends like to arrive at least two days ahead of each rally to stake out their spots at the front of the line. They usually make it to or near the front of the crowd unless those rows are designated for VIPs.
Apart from coming to show political and moral support, the rally men and women also enjoy Trump's comedic stylings, Frazier said.
"I think we all just like Trump," he said. "He's funnier than heck. He's got this New York thing in him, and I didn't get it until I met a few of my friends who are from New York."
Once the rallies moved outdoors to airports to limit the spread of COVID-19, the Trump supporters weren't always sure where to camp out or set up the line. They often sought instructions from campaign people they grew to know on the road.
"They recognize us. They know we're part of the good guys," Frazier said.