Saturday, October 17th, 2020
Roughriders find a way
Henschen's OT TD enough for win
By Thomas Haines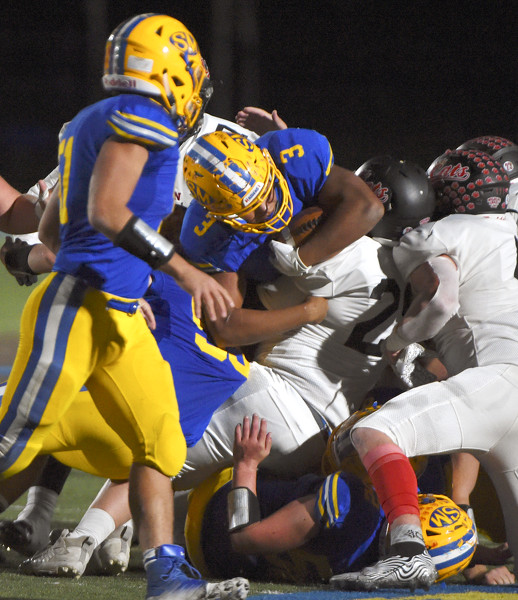 ST. MARYS - After four scoreless quarters, Ross Henschen was ready to end the game.
The junior running back took the handoff on a second-and-4 in overtime, burst through the gap between the left guard and tackle and ran through a couple of defenders on his way into the end zone.
That was the only score of the game, and St. Marys prevailed 6-0 over Franklin at Grand Lake Health System Field on Friday night for a Division III second-round playoff win.
The Roughriders (6-2) travel to Bellbrook next Friday in the regional semifinals after the Golden Eagles routed Chaminade-Julienne 58-0.
"First of all, I give Franklin a lot of credit. I think Franklin came in and played a whale of a football game," St. Marys coach Doug Frye said. "Man, they're athletic and big in the trenches. We got a little dinged up and we had to move guys around and adapt a little bit. But golly, I was proud of our kids."
It was a defensive battle throughout, and scoring chances were few and far between.
In the fourth quarter, as the offenses heated up a little, both teams tried to take advantage. The Roughriders got good field position off a remarkable interception by Aiden Eigenbrod, but stalled deep in Wildcat territory. Five minutes later, the Wildcats got a finger on a Brandon Bowers punt and took over at the St. Marys' 40. Both those drives ended in missed field goals to preserve the scoreless tie.
When overtime came around, it was the Roughrider special teams that stepped up after the defense gave up just one yard on three downs. On the 36-yard field goal attempt, Stash Patterson came flying around the right edge and got a piece of the ball, enough to send it careening off course.
Henschen, in his second week back from injury, finished with a team-leading 11 carries and 59 yards. With Aiden Hinkle and Ethan Wedding injured and out of the game, it was Henschen who got the ball in overtime.
"I think we have some talent, but I don't think we're overly talented right now," Frye said. "I think our kids are just being resilient. They believe in each other, they're coachable, they believe in the coaching staff. That's a quality that's often taken for granted, and that's a quality these kids can carry through their lifetime."
In the first half, the Franklin offense moved the ball down the field, but the bend-don't-break St. Marys defense held. In their one red zone trip, the Wildcats missed a short field goal, and the Roughriders were able to tighten up whenever Franklin got close to scoring position.
"I was a little disappointed in our defense when I went in at halftime," Frye said. "I didn't think we were doing the little things that we normally do. We knew they were pretty good defensively, so we knew we were going to have some trouble moving the ball."
On the offensive end, the Roughriders kept starting from deep in their own territory, with one first half drive deep into Wildcat territory fizzling out on a dropped 4th-and-6 pass. Otherwise, St. Marys rarely threatened until Eigenbrod's interception in the fourth quarter.
The Roughriders went three-and-out again when they got the ball back with 2:39 to play, giving Franklin one last shot to win in regulation. But once again the defense came through, forcing a long field goal attempt that just missed.
"We never seemed to get position where we could really start doing things," Frye said. "Especially in the first half, but it was just a bad field position night all night. But you got to win games in a lot of different ways, and we found a way to win tonight's game."