Monday, March 22nd, 2021
Groups join forces to fight area homelessness
By William Kincaid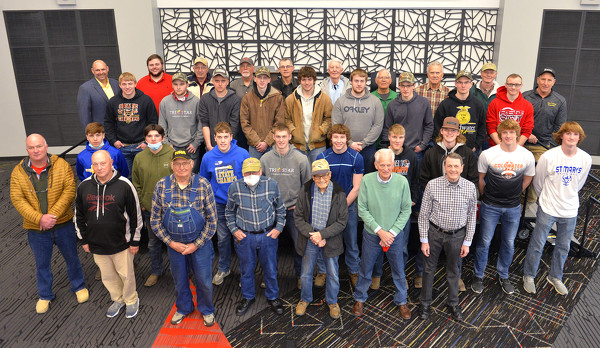 CELINA - A new alliance has formed in the battle against area homelessness, with Tri Star Career Compact's construction program and St. John Builders, a house building and maintenance ministry based at St. John Lutheran Church of Celina, entering the fray.
Construction students and St. John Builders gathered on Friday at the new Tri Star facility on State Route 703 to formally cement their partnership that will expand Hand Up Village, a place for homeless people to find temporary shelter as they focus on becoming productive, self-reliant community members.
"This project is really important. We at Tri Star like to get involved with our community, we really do," said Tri Star assistant director Brian Stetler. "The Hand Up Village is something that I think is in need in our community, and we're really happy to be a part of it."
Pastor Rick Brosher of Lord's Abounding Grace Church had been housing homeless people in three cabins on the grounds behind the church since 2015. However, his work has been taxing, to say the least. That's when Mercer County Homeless Coalition and other entities got onboard to provide much needed assets, resources and assistance.
Today, the village consists of three duplexes, two family cabins and a restroom/laundry facility. Construction students and St. John Builders plan to construct another family cabin and duplex, Brosher said.
Another two units may be in the works this summer, Brosher said.
"We'll see where this takes us. If there's more need, we'll figure out a way to do more," he said. "Right now I continue to get calls (for housing) every week."
Construction students will focus on building the walls of the new structures, which will then be assembled at Hand Up Village by St. John Builders.
"Primarily the kids that will be working on this project will be junior students," Stetler said. "Our seniors are finishing up the (Tri Star) house. These guys will be helping with framing of the walls, maybe hopefully some of the concrete slabs and anything that we can do to try to help out the community."
Structural blueprints will be provided to construction instructor Brett McGillvary.
"We've got all the dimensions. We'll build the walls here at Tri Star and then take them out to the site at Hand Up Village," Stetler said. "St. John Builders will then assemble them."
The project is just another hands-on component of the construction program curriculum that centers on carpentry, roofing, interior finishing, masonry, electricity, plumbing and heating, framing and other basic construction fundamentals.
"Brett will get through the plans with the students and teach them to make sure they know how to read them, make it a whole learning process out of it," Stetler said. "We have so many students, it won't take long."
St. John Builders have decades of experiences building homes for families in need, the ministry's project coordinator Robert Chaney said.
"It's what we've been called to do, to help people into a home somewhere, get a roof over their head," Chaney said when asked why St. John Builders signed up for the Hand Up Village expansion.
The group contains member from across Mercer County who typically build a home each year. Funding for materials comes from donations from churches, individuals and other organizations.
"We have a lot of donors that support us. The lord provides the money for whatever's needed," Chaney said.
Volunteers include farmers, retired military members, retired engineers and other people from all walks of life. St. John Builders does not pay anyone, except when contract work must be done by professionals.
"If we don't have it in this group, the talent we need, we go tapping on shoulders," he said.
The timeline calls for the new structures to be ready for occupancy sometime in June, Brosher said.
Hand Up Village is not a homeless drop-in center that some may associate with crime. Rather, it is a temporary community designed to help people get their lives on track, officials involved in the faith-based community have said.
"We're thankful for the opportunity. We have successes and we have some disappointments," Brosher said. "I'm so excited with some of the folks that we've got right now that are doing so well. Watching them work, save money, moving toward getting into their own place, making progress, that's exciting."
All applicants are fully vetted with a background check and interview process. No one with records for violence or sexual improprieties will be allowed to stay. They also must be from Mercer County.
Those admitted must sign a contract containing specific guidelines and rules that is reevaluated each month.
"They have to put 50% of what they make into a hand up-savings account for the purpose of paying deposits on utilities, deposits on a place to live," Brosher said. "They need to make $2,500 to $3,000 to be able to get on their feet because a lot of times they don't even have a bed to sleep in."
Finding long-term stable housing for people is the greatest obstacle in eradicating homelessness due to the shortage of available units on the market.
"Folks with felonies really have a hard time finding some place to live," he said. "Jobs is never a problem in Mercer County. If somebody wants to work in this area, they can work. So we don't find that as being a problem."
Right now Hand Up Village is home to eight people ranging in age from 18 to 58, Brosher noted.
"The majority of our needs is individuals. That's the reason why we have more duplexes than family cabins," he said.
The average age of occupants at any given time is 40. They come from varied backgrounds and circumstnaces, including single mothers with children, the elderly and young men. Some have just been released from jail, others have been evicted or are looking for a way out of domestic abuse.
Officials continue to look for financial assistance from the community as operations and capital projects are paid for exclusively through donations. They also welcome volunteers to serve as mentors, such as those who can teach cooking or parenting classes.
All donations can be sent to the Mercer County Civic Foundation, c/o Mercer County Homeless Coalition, 119 W. Fulton St., Celina, Ohio, 45822.
"Our community has been amazing," Brosher said. "It's hard to imagine how this community has come behind this thing, from every part of the community."