Saturday, September 11th, 2021
Attorneys' ranks thin
Not enough young lawyers to replace ones retiring
By William Kincaid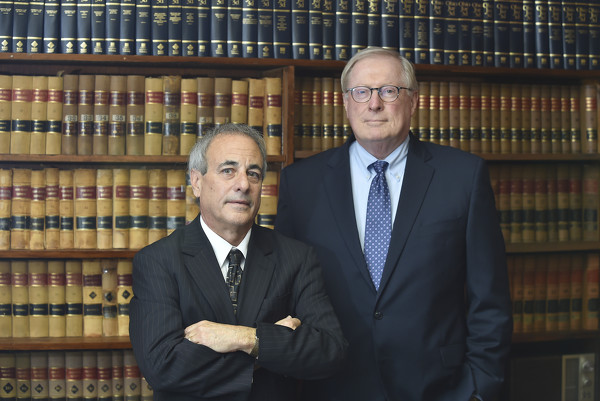 This is the second part of a series looking at the effects of the diminishing number of local attorneys.

CELINA - A generation of attorneys who for decades have handled a broad array of legal matters, including criminal defense, estate planning and litigation, have either left the practice or are nearing retirement.
Younger lawyers in recent times have joined local law firms but not enough to replenish the thinning ranks of veteran legal professionals, many of whom started their legal careers in Mercer County at about the same time, they say.
Mercer County Common Pleas Court Judge Jeffrey Ingraham, who due to age limits will serve his last day in office on Dec. 31, 2022, said he and his fellow Ohio Northern law school graduates, area attorneys Dave Bruns and Jim Tesno, all ended up in Mercer County.
"There was an influx of attorneys here when there hadn't been," Ingraham said. "Those who are my age have pretty much all come to the end of their time in private practices.
"Life seems to happen in waves and what was in vogue 20 years ago kind of goes out of vogue."
There are many benefits of having access to local attorneys. Due to the smaller area, attorneys get to know their clients better. Not only are local attorneys more affordable than their big city counterparts, they understand how local courts operate and the judicial philosophies and sentencing inclinations of judges, they say.
"There's no substitute to having a local attorney handle your matter in a local court, if it's a court matter," said Thomas Lammers, a Celina-based lawyer, who plans to retire at the end of the year. "They know the judge, they know the prosector."
Moreover, on the criminal side of law, most defendants in the court were born and raised in Mercer County and will return here to live out the rest of their lives. This understanding is shared among judge, prosecutor and defense attorney, though they each have a clearly defined role, said Lammers' legal partner, Louis Schiavone.
"These are our neighbors and our citizens, and there's a mutual responsibility that all three of us have with each and every case," he said.
Mercer County has much to offer fledgling attorneys looking to settle roots and launch their careers.
"It was a good place to raise a family. Our schools were good. It's relatively safe compared to larger cities," Lammers said.
Schiavone offered a similar assessment.
"The three things that I always share about this area is the quality, the pace of life and the affordability," Schiavone said.
And perhaps most important, the practice of law in a rural area is just as meaningful and personally satisfying as that in the big city, according to some.
"You are truly involved in other people's lives and helping them make better decisions to improve not only their quality of life but the quality of life for their children and the next generation," Ingraham said. "How many professions can you say really have that kind of impact on the culture for the future?"
There's much to be said for helping and serving people with their legal needs and in the case of criminal law, potentially steering those who have exercised bad judgment away from a road of personal destruction, Ingraham said.
"What we're looking for is young lawyers who want to be part of a community understanding that they will have influence here and can make a good living," he said.
Yet some law school graduates have no choice but to pursue larger salaries in urban areas to pay down their onerous school loan debts.
"The economic realties of what it costs to go to college and law school are such that kids almost have to think about applying in major metropolitan areas and trying to get a salary that's close to six digits. That's just economic necessity," Schiavone said.
"It's not just searching for big bucks. They need it because of the debt they incurred," Lammers added.
Mercer County commissioners may have to establish a public defenders office due a felony caseload that has ballooned over the last decade and fewer local attorneys available to represent defendants who can't afford legal counsel.
Some say it has become apparent that it's time to make the switch from the county's decades-old assigned counsel system to a county-run public defenders office that would operate much like the prosecutor's office. This option is currently being explored by county officials.
Such an office may attract part-time assistants who would be able to set up a private practice on the side, Ingraham said.
"If they practice for two or three years in the public defenders office, they may like living in this area with all the amenities we have here and may decide going to the big city is really not what they want to do," he said.
Schiavone believes the most successful local attorneys, with a few notable exceptions, are the very people who grew up in Mercer County.
"I can't think of people who have given up the practice in the big city and big firms to come to rural America," Schiavone said. "Once again, the people that seem to do the best here are the ones who are born, raised, reared, familiar with and want to come back."
Lammers fits this mold as he was born and raised in Celina. After graduating from The Ohio State University College of Law, he began his legal career in 1977 at what is now known as Purdy, Lammers & Schiavone, a general practice law firm.
"I knew Don Purdy because he was the father of one of my best friends in high school," he said. "I was around them and always admired Don and his demeanor and his standing in the community and that really got me thinking about maybe becoming a lawyer."
Schiavone was born in Houston, Texas. He lived in New Jersey, Wisconsin, Minnesota, Iowa and Indiana, as his father's job with J.C. Penney necessitated several relocations.
He graduated from the University of Dayton School of Law in 1984 and for a while worked in Cincinnati before moving to Celina in 1987.
"Once again, a couple of older gentleman gave a young man an opportunity, and personally and professionally since '87, my life's been blessed and forever changed for the better," he said.
Purdy, Lammers & Schiavone have handed over the reins in part to Celina native Evin Bachelor. He works full-time for Wright & Moore, a Delaware County-based law firm focused on farm succession planning for farmers and landowners, but is now working part-time at Purdy, Lammers & Schiavone, working on estate planning, estate and probate administration, business planning, contracts and real estate.
After the end of the year, he'll transition to working full-time in the Celina office and part-time at Wright & Moore, he said.
Bachelor earned his law degree in 2018 from The Ohio State University, where he then worked with the university extension's agricultural and resource law program. He is licensed to practice law in Ohio and Indiana.
"Celina's always been home and I've always wanted to come back home. I felt I wanted to get some experience outside a little bit and then bring that home, which is what I'm trying to do now," he said.
He said he's known Lammers for years, noting the attorney helped his family with estate planning after the death of his father, Rick Bachelor, a longtime Celina City Council member and former city safety service director.
"My dad passed away about five years ago and going through that experience of having to learn about estate planning and trust administration and probate and knowing how difficult it was for my family to go through that process, I really felt like this would be a good way for me to use my experience and my talents to help other families through that process," Bachelor said.
Bachelor said he's happy to finally be back home in Celina.
"Here you get to work with your neighbors. You get to work with the people who own the businesses that you go and shop at. You get to help the teachers who helped you grow up or the coaches who helped raise you," he said. "To me, there's incredible meaning in helping your neighbors and your family and your community."