Saturday, September 11th, 2021
Sweet taste of victory
Bulldogs hold off Kenton in final seconds for first win
By Tom Haines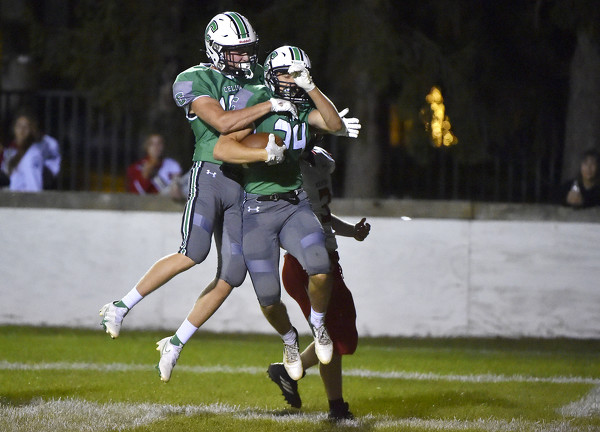 CELINA - With a seven-point lead and four minutes to play, Celina's Dalton Chilcoat made a fourth-and-1 stop at the Celina 10 that just about sealed the game. But Kenton had one last gasp.
The Wildcats forced a three-and-out and drove back down for a touchdown before the Bulldogs defensive line came through again, stuffing fullback Garrett Campbell on the two-point conversion with 1:11 left to give the Bulldogs their first win of the season in a 21-20 victory at Celina Stadium.
"Both teams 0-3, fighting to get off the schneid a little bit, and both teams fought to the end," Celina coach Brennan Bader said. "It was a heck of a football game, probably a heck of a football game to watch. Just really proud of our kids, a resilient group. When you're 0-3 and you hit adversity in the game, it looks kinda bleak, our kids put their foot in the ground."
Kenton (0-4, 0-3 Western Buckeye League) needed less than a minute to drive back down the field. Starting from their own 45, the Wildcats got a diving catch from Tyson Lawrence and a long catch-and-run down the left sideline by Jarrett Jolliff before Lawrence put six on the board, tumbling over the goal line on a crossing route over the middle with 1:11 left.
Two timeouts later, Kenton quarterback Korbin Johnston handed the ball to Campbell, who took the ball off left tackle and was met with a swarm of tacklers.
"They put number 14 (Jolliff) back a little bit, so my concern was, he's been running the whole time and I thought they might run it or throw a little popper over the top," Bader said. "They chose not to do that. We thought they might do some sort of motion, but we told our backers, as soon as the running back steps up, fill the holes, and that's what they did."
Parker Rarey's onside kick attempt bounced out of bounds, and Nick Adams knelt twice to give Celina (1-3, 1-2 WBL) the win.
After Kenton tied the game at 14 on its first drive of the second half, Jaden King gave the Bulldogs back the lead on a 40-yard run, bursting through the middle of the line and sprinting untouched to the end zone.
Kenton had several chances to tie the game, starting with a fake punt deep in its own territory. After that drive ended with a turnover on downs, a botched handoff gave the Wildcats the ball at the Celina 37, but Kenton was called for a hold and forced to punt.
"I told our kids, look over there, Celina's celebrating like they won the Super Bowl," Kenton coach Zach Turner said. "It's a good reminder that every time the Wildcats step on the field, they have an X on their back."
In the first half, it was the Bulldogs that squandered several promising opportunities, starting with a penalty-marred opening drive that crossed midfield before a false start penalty and a drop drained the momentum. Another drive in opposing territory was short-circuited by an intentional grounding penalty, and when the Bulldogs got back into the red zone, the offense stalled and a 34-yard field goal attempt went wide left into the pine trees.
Driving in the final two minutes of the first half with a chance to add to the lead, Adams threw a pass behind Conner Altstaetter that was picked off.
"We had a chance to go up maybe three scores at one point, we just didn't finish drives or we made a mistake or we turned it over," Bader said. "So that's where our growth still needs to improve. We're getting there."
Fortunately for the Bulldogs, Kenton was unable to take advantage and Celina still got out to an early lead. On the Wildcats' opening drive, a pass bounced off Jolliff's hands into the breadbasket of Celina defensive back Brice Loera, and three plays later Adams danced out of the pocket and found an open Aidan Song lurking behind the defense for a 25-yard touchdown and a 7-0 lead.
Three minutes later, Karsen Black took a pitch left and ran through a flood of missed tackles for a 44-yard touchdown to double the lead.
On the other side of the ball, the defensive line made plays all night, limiting Kenton to 46 yards on the ground and forcing Johnston to get rid of the ball quickly. Rece Rutledge recorded two sacks and Song added another.
"Couple times, we had to get stops late in the game, and up front it was just a mindset," Bader said. "We wanted it just a little more than they did. It's a game of inches, and we were fortunate to be on the right side of it tonight."
Celina returns to action next Friday when Elida comes to town.