Monday, November 22nd, 2021
Abe took liberties during the Civil War
Author: Lincoln's suspension of civil rights still shocking
By William Kincaid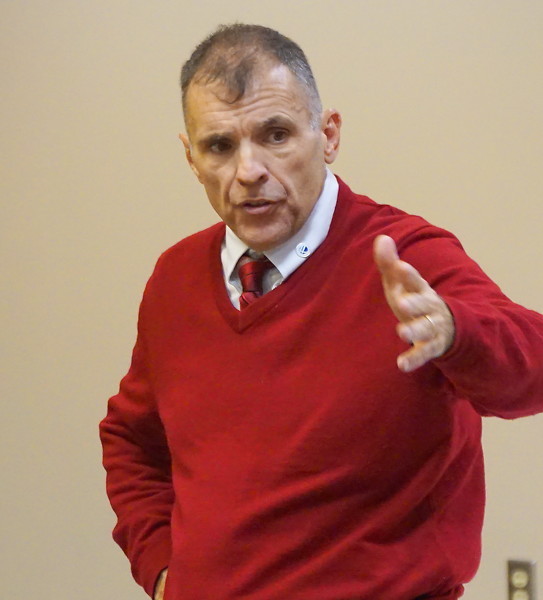 CELINA - A controversy being taken up anew by scholars swirls around the question of whether Abraham Lincoln, the sixteenth U.S. president who led the nation through the Civil War, was in fact a dictator.
Anderson University professor Brian Dirck highlighted the intriguing when he returned to The Western Ohio Civil War Roundtable in Celina last week. Dirck holds a doctorate in history from the University of Kansas and is the author of numerous books and articles on Lincoln.
Dirck focused on incidents where Lincoln has been accused of violating civil liberties as he carried out war against the Confederacy.
"We're used to living in an America with a very rich constitutional tradition of precedent and legal decisions and all that," he said. "What people tend to forget is that everything was new when it comes to the Constitution and how you wage war."
The Constitution, Dirck said, has little to say about a president's war powers other than the president is the commander in chief.
"How far can he go in limiting, for example, political dissent?" Dirck asked. "How far can he go in locking people up on the basis of they are a danger to national security? How far can you let somebody protest administration policies before it ceases to become politics and starts to become something else?"
None of those questions really came up until the Civil War, he said.
Early on in the Civil War, Lincoln awaited nervously for troops to mobilize and make their way to Washington D.C. The capitol city was surrounded on all sides by hostile territory, including the slave-state of Maryland that was rumored to be going to the Confederacy, Dirck said.
The only way troops could reach and protect Washington was via a single railroad line that went through Baltimore, a hotbed of secessionist sentiment. Once in northern Baltimore, the troops had to get off of the train, walk through the downtown and board another train before continuing their journey.
In the summer of 1861, the first round of troops were greeted by a sea of angry faces as the train came to a stop. A mob rocked the train back and forth. The troops got out and marched to the other train, as bricks and other debris were hurled at them. Fearing for their lives, they opened fire and killed a number of people, Dirck said.
Looking to secure the transfer of troops through what had become a powder keg, Winfield Scott, commanding in chief of the U.S. Army, convinced Lincoln to suspend the writ of habeas corpus, permitting military officials to arrest civilians without showing cause, Dirck said.
"This is very powerful stuff," Dirck said. "In essence it means the government can use the iron fist of the military to go grab you at their will and put you in prison some place and not let you out until they feel like it. This is extraordinary."
The Founding Fathers had understood circumstances could arise, such as war, necessitating suspension of the sacred rights of individuals, Dirck said. They provided for suspension of the writ rather vaguely in the Constitution.
"This is a direct quote, 'The writ of habeas corpus shall not be suspended except in times of national emergency,'" he said. "Are they saying the president can suspended the writ of (habeas) corpus or Congress can suspend the writ of habeas corpus?"
However, Congress was not in session at the time and it would have taken weeks for lawmakers to convene for a special session, Dirck said. Lincoln went ahead and suspended the writ specifically for a route near the railroad track in question. The area would expand to cover "a corridor between roughly into Pennsylvania down into D.C."
"And then the arrests begin," he said. "I mean, Scott asked for this power and, boy, did he get it. He sends military soldiers out into that area to round people up and he's acting on local intelligence."
Among those arrested was John Merryman, a farmer who was pro-Confederate and very much wanted to blow things up, Dirck said. Merryman happened to be friends with Roger Taney, the chief justice of the U.S. Supreme Court and presiding judge of the federal circuit court of the district of Baltimore.
By any stretch of the imagination, Taney was a "Lincoln-hater extraordinaire," Dirck said.
Taney made an issue for Merryman to be released because of illegal arrest. The commander of the fort where Merryman was imprisoned did not comply with the order, Dirck said.
Taney then issued a court ruling called "Ex parte Merryman" in which he declares illegal both the arrest of Merryman and Lincoln's suspension of the writ of habeas corpus.
"The last part of his opinion, he says, 'I can only say if we now live in a country where a president can arbitrarily grab somebody and throw them in jail, then we no longer live in a country of laws,'" Dirck said. "I mean, it's very dramatic."
Lincoln ignored Taney's ruling.
Merryman remained in jail for about three months until the railroad corridor was secured.
Dirck also noted other incidents that led some to call Lincoln a dictator.
U.S. Secretary of State William H. Seward early on in the Civil War was put in charge of overseeing the arrests of people, especially foreign nationals thought to a danger to national security. The War Department would later take over these duties, Dirck said.
Seward was in charge of ordering the D.C. police and military authorities to pick up people they though were Confederate agents or spies.
Seward got carried away with himself while speaking to the British ambassador, bragging about his powers and pointing to a bell on his desk, saying he could arrest anyone in America, Dirck said.
The incident was leaked to the press. Pretty soon references to Seward and his little bell abounded and created a major scandal that engulfed Lincoln, too. It gave Lincoln a lasting reputation as someone who ran roughshod over people's individual rights and liberties, Dirck said.
"The Democratic opposition politicians made big hay of this for the rest of the war. Every time a Republican came up for reelection in off-term years in the 1864 election they would refer to Seward's little bell," he said.
There is also the arrest and banishment of Dayton, Ohio, newspaperman Clement Laird Vallandigham that some point to in characterizing Lincoln as a dictator, Dirck said.
Ambrose E. Burnside, commander of the Department of Ohio, had made a military edict whereas people could be arrested for saying things about the war effort that could be construed as a danger to national security, Dirck said.
Vallandigham was a passionate Democrat and Lincoln-hater. He made a speech denouncing Lincoln and saying things that could be construed as equating resisting the draft to patriotic duty, Dirck said. Burnside had Vallandigham arrested and thrown in jail, causing a national uproar.
Lincoln never gave Burnside the order to arrest Vallandigham but was nevertheless connected to the arrest. Not wanting to appear weak - or to encourage other people like Vallandigham to step forward - Lincoln had Burnside banish Vallandigham from the country, Dirck said.
Vallandigham was exiled for a time in Kentucky before later mounting an unsuccessful campaign for Ohio governor in a hotel in Windsor, Ontario, Dirck said.
The U.S. Supreme Court punted on the case of Vallandigham's civil liberties being violated, Dirck said.
"Over the course of this country's history … usually the U.S. Supreme Court defers to the president on these kinds of things because the Supreme Court has next to no war-making powers," he said.
Dirck said though he's written much on Lincoln, he's more than willing to criticize the man. However, while he believes Lincoln may have pushed things a little, the word "dictator" is a little strong, he said.
"I'm not really seeing dictator here. I'm just seeing a man who's facing a very, very unprecedented new situation and is groping his way through war powers when nobody knows those things are," he said.