Monday, November 22nd, 2021
Not slowing down
Flyers defeat Redskins for second time to reach Division VII Final Four
By Tom Haines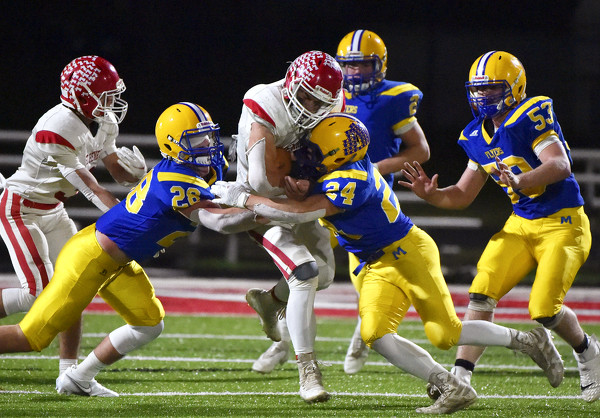 WAPAKONETA - Marion Local didn't get a first down until late in the second quarter, but once the Flyers got going, there was no stopping them.
Dylan Fleck put Marion on the board with 41 seconds left in the first half and Peyton Otte made a few big runs to help the Flyers put St. Henry away in a 27-8 win at Mercy Health/Wapak Ford Field in Wapakoneta on Saturday.
The win gives Marion Local (14-0) the Division VII Region 28 championship and a berth in the state semifinals against Hopewell Loudon at Lima Spartan Stadium this Saturday after the Chieftains beat Lima Central Catholic 54-26. St. Henry's season ends at 10-4.
"It does not feel like we won 27-8," Marion coach Tim Goodwin said. "I mean, it was a struggle. But our kids played hard, made plays when they had to."
After being stifled most of the first half, the Flyers got the ball with 3:10 left in the half and found some momentum. Otte threw to Brady Ronnebaum for eight yards for Marion's first first down, then found Drew Lause to move the Flyers into Redskins territory.
St. Henry was flagged for pass interference on the next play, a short pass and a run by Lause brought the Flyers into the red zone, and Otte ran it down to the 1 before Fleck punched it in for the game's first score.
Marion got the ball back to start the third and marched down again, with Otte ripping off a 41-yard run to set up a one-yard touchdown with 7:08 left in the third.
"We didn't have the ball (until then)," Goodwin said. "We would go three-and out, we fumbled on the first play of another drive. Then they just sustained the ball. It's hard to play offense when you hardly have the ball. There's no rhythm, you can't set anything up, and then you start pressing and so forth."
St. Henry got its offense going with two minutes left in the third. Backup quarterback Dusty Lange, who replaced an injured Bryce Brookhart in the first quarter, found Jaden Lange twice to move into Flyers territory. A pass interference call set the Redskins up at the 12, where Owen Lefeld cut through the defense for a 12-yard touchdown run.
On the two-point conversion, Lefeld survived a hit in the backfield and pushed into the end zone to make it 14-8 with 10:13 to play.
The Flyers responded three plays later, Otte took a quarterback keeper wide right and went down the sideline for a 56-yard touchdown to make it 20-8.
"It was huge that 14-8, we answered," Goodwin said. "Peyton hitting that long run down our sideline, that was the ballgame."
After a flag on St. Henry on the PAT, the Flyers tried for two and fell short.
But the Redskins' next drive was short-circuited by a third-down sack, and Otte returned the punt 47 yards to set Marion up at the St. Henry 16. Five plays later, Darren Meier took it in from two yards out to make it 27-8 with 5:20 to play.
"We played the game without our quarterback, imagine what they'd have to do without their quarterback," St. Henry coach Brad Luthman said. "He's their team."
The Redskins had one last gasp with Dusty Lange battling to keep the season alive. After overcoming a sack with a 13-yard pass to Bennett Gels, Lange found Lefeld for a short gain before the Flyers got to him again. Robby Buschur took him down for a four-yard loss on second down and Fleck hit him from the blindside for an 11-yard loss on third down to set up a 4th-and-21 with 2:11 left.
On fourth down, Dusty Lange rolled right and fired downfield for Jaden Lange, who leapt for the ball by the marker but came down out of bounds, extinguishing the Redskins' hopes.
"I'm super proud of Dusty," Luthman said. "He's a senior, was in an open quarterback battle last year and this year. Bryce beat him out, and Dusty's been a consummate teammate. He came out tonight, wanted to play with his friends that he's been playing with all his life, and I thought he put up a good effort."
Lange took over on the fourth play of the game after Brookhart took a hit from Meier on a QB keeper. The play was nullified by penalty, and as St. Henry went back to the line, Brookhart was nearly doubled over, prompting Lefeld to call timeout.
Brookhart went over to the trainer and then straight to the locker room.
"The moment Bryce went down with a broken clavicle or whatever it was, we were down our quarterback, we're down a safety," Luthman said. "It gets to this time of the year, backups don't get reps, 'cause if backups have to come in you're in a world of hurt anyway. So it made us play left-handed most of the game."
St. Henry held the ball for over 16 minutes in the first half but couldn't get on the board. After holding the ball for seven minutes on an early drive, the Redskins converted a fourth down at the Marion 39 but lost two yards on the next three plays and were forced to punt.
The Flyers fumbled right away to give the Redskins great field position, but a holding penalty inside the 10-yard line put the Redskins behind the sticks. Fleck set St. Henry back further with a big third-down sack, and on fourth down Lange was hit by Buschur and nearly picked off.
"We're not built to overcome penalties the way it is," Luthman said. "So when we're down on the 8-yard line and we take a holding call, kind of questionable in my opinion, we're going to try, but it's not going to be easy to overcome that."
Otte rushed for 148 yards, more than half of Marion's total. Lefeld finished with 65 yards on 18 carries, while Dusty Lange went 12-of-20 for 99 yards.
But the Redskins offense struggled against Marion's pass rush. The Flyers got to Dusty Lange for eight sacks, costing St. Henry 56 yards.
"We brought five guys several times, not all-out rush, just to keep him in the pocket and get some one-on-one matchups so maybe we could win one," Goodwin said. "Some of it was when he didn't throw the ball on time. We had coverage on where he wanted to go right away and then he held onto it."