Tuesday, May 10th, 2022
Déjà Vu
Bohman stifles St. Henry for second time as Flyers advance
By Tom Haines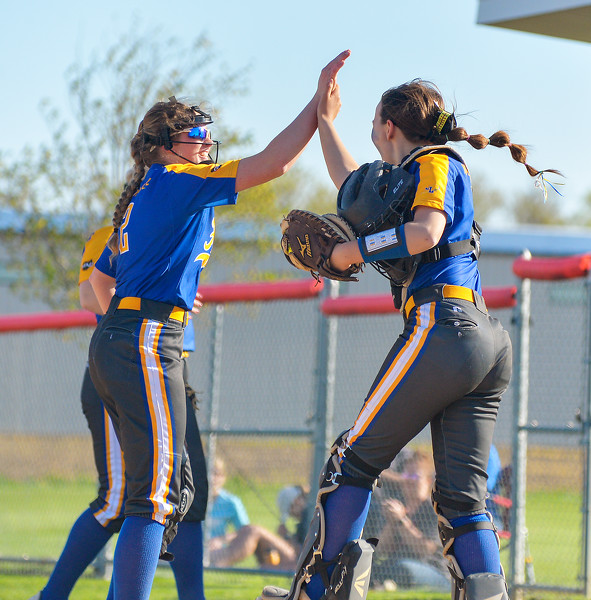 Photo by Paige Sutter/The Daily Standard
ST. HENRY - St. Henry had no answers for Ashlyn Bohman in the Midwest Athletic Conference softball opener on April 7.
When the Division IV tournament opened on Monday, the Redskins still couldn't get past the Marion Local ace.
The Flyers scratched across a run in the fifth and padded the lead in the sixth as Bohman flummoxed St. Henry in a 4-0 win at the Wally Post Athletic Complex.

"Bohman pitched one heck of a game," St. Henry coach Ashley Knapke said. "She kept us on our toes, we couldn't even put a bunt down at one point. So kudos to her, she deserved to win."
Marion Local (7-10) advances with a trip to Fort Recovery for the sectional final on Thursday. St. Henry (6-10) is out of the tournament with two regular season games remaining.
Bohman was lights-out from the start, striking out the first six hitters before the Redskins put their first runner on when Bohman bobbled a grounder back to the circle with two outs in the third. Unfazed, Bohman struck out Rya Buschur on three pitches to end the threat.
St. Henry got two-out hits in the fourth and fifth and moved both runners to second, but Bohman bore down to get the third out each time. In the sixth, Lauren Mestemaker battled through a 10-pitch at-bat for a one-out single up the middle and stole second, but Bohman needed just four pitches to get Rethman to pop out to first and Jalynn Everman to ground out to short to strand Mestemaker at second.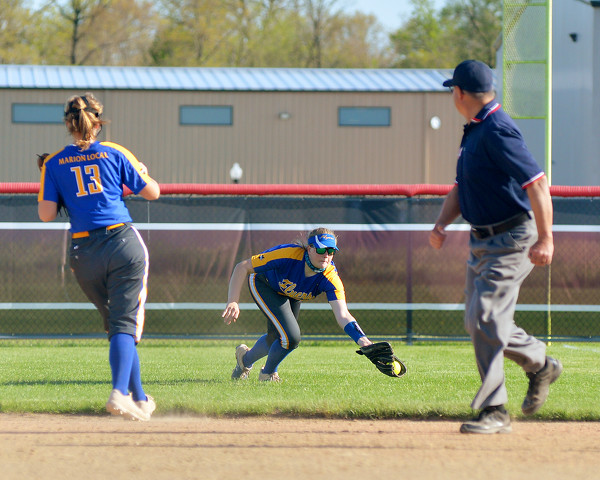 Photo by Paige Sutter/The Daily Standard
St. Henry's Leah Lefeld hit a bloop to shallow right field to lead off the seventh inning, but Dirksen raced in and snared the ball in the tip of her glove for a diving catch, and Bohman struck out Lauren Thieman and pinch-hitter Mya Knapke to end the game.
All told, Bohman struck out 12 without walking a single batter.
"We just knew that we couldn't give them anything good to hit, because St. Henry's a great hitting team," Marion Local coach Mindy Feasel said. "So we just tried to keep it outside and see how that worked for us."
After the first duel between Bohman and St. Henry's Carlee Rethman ended 1-0, with a single unearned run making the difference, both pitchers looked primed for a repeat performance early on. Rethman, for her part, retired the first 10 Flyers she faced, and both offenses were in part grounded by a strong wind blowing in from the outfield. In the second inning, Rethman hit a shot toward the right-center gap that got blown all the way into foul ground.
With Bohman leading off in the fifth, Rethman missed on four straight pitches, and after a groundout moved courtesy runner Natalie Evers to second, Lauren Beyke slapped a grounder to Everman at short. Everman didn't field the ball cleanly, and the throw to first was too late for the out.
Evers, meanwhile, reached third easily and bolted home on the throw to first, sliding in under the tag to put Marion on the board.
"To be honest, I don't think I did (send her home)," Feasel said with a laugh. "I was saying 'watch the throw' and I think she heard 'go'. But it's nice to see my freshman taking that initiative, being aggressive and scoring that run to get our offense going."
In the sixth, Ava Evers led off with a single and gave way to pinch runner Brooke Evers, who moved to second on a sacrifice bunt and beat the throw to third on a wild pitch. Camryn Swain worked a walk and moved to second on defensive indifference before Olivia DeMange hit a single up the middle to bring both runners home.
DeMange tried to advance on a groundout to third and Mestemaker stepped in front of Everman at the bag, with the ball deflecting off her glove into foul territory as DeMange leapt up and raced home to make it 4-0.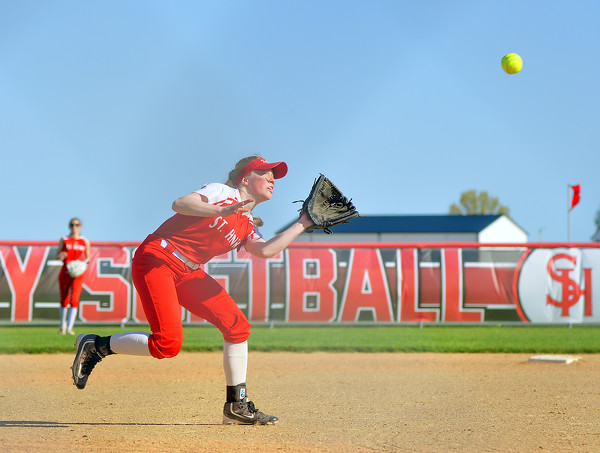 Photo by Paige Sutter/The Daily Standard
Rethman, a junior, struck out three, walked three and gave up three hits, allowing two earned runs.
"She walked a couple, that put some baserunners on for them," coach Knapke said of Rethman. "But overall, she did a great job. She always does a great job for us, and we're lucky to have her for another season."
St. Henry wraps up its season with a non-conference game against Coldwater today and a MAC game against Parkway on Wednesday.