Thursday, May 12th, 2022
Klosterman breaks new ground - again
Celina native and wildlife investigator is first Ohioan to receive award
By William Kincaid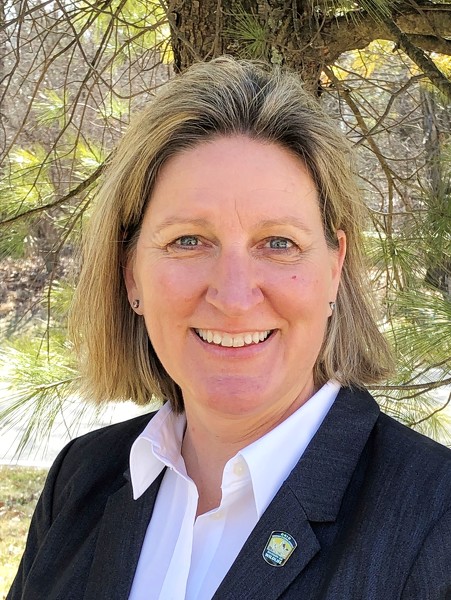 Submitted Photo
COLUMBUS - Kandy Klosterman, a Celina native and veteran wildlife investigator, blazed yet another trail on Wednesday by becoming the first Ohioan to receive the prestigious 2022 Guy Bradley Award.
Klosterman, the state's first female wildlife investigator who has worked numerous high-profile cases, picked up the award at the Ohio Wildlife Diversity Conference at the Ohio State University's Ohio Union in Columbus.
The National Fish and Wildlife Foundation's Guy Bradley Award, established in 1988, is presented annually to just one state officer and one federal officer. It recognizes extraordinary individuals who have made an outstanding lifetime contribution to wildlife law enforcement, wildlife forensics or investigative techniques, according to NFWF.
"It was an incredible honor to receive the award," Klosterman, 51, who lives in Westerville, said Wednesday. "I give a lot up to my mentors and that starts with my grandfather. Not only my grandfather but those who have mentored me throughout my career with the Division of Wildlife and continue to mentor me."
Klosterman, who has enjoyed a nearly three-decade-long career with Ohio Division of Wildlife, also stressed that for great work to continue in natural resources and wildlife conservation, officials must mentor those who follow in their footsteps.
"It's not an easy career to get into but the people that I work with in the Division of Wildlife are very passionate about what they do and it's so rewarding to work with others that have the same values and the same passions that you do," she said.
The Ohio Division of Wildlife is thrilled to see Klosterman recognized with a national honor representing the wildlife law enforcement profession, said Division of Wildlife Chief Kendra Wecker in an ODNR news release.
"Her passion for protecting Ohio's natural resources as well as supporting and furthering the involvement of women in wildlife conservation roles is unmatched," Wecker said.
Klosterman traces her interest in wildlife back to her grandfather Denver Freewalt of Mendon and other family members.
"Not everyone has the opportunity to be introduced to hunting and fishing or the outdoors but at a very early age my grandfather introduced me to fishing," she said.
Klosterman said she spent much time angling on Grand Lake, which she considers a great fishery.
Klosterman enrolled at Hocking College in Nelsonville, she said. She began her career with Division of Wildlife in 1994, first at Wolf Creek and Killbuck wildlife areas, assisting with the reintroduction of wild turkeys, river otters and trumpeter swans, according to the ODNR release. In 1998, she was accepted into the Wildlife Officer Academy with 14 male counterparts. She then became Ohio's first female wildlife investigator in 2001.
Klosterman worked on many many high-profile cases, including,
• Illegal purchasing and selling of sportfish at restaurants: A lengthy investigation revealed the illegal sale of sport-caught fish. Three restaurants were identified as purchasing fish, and five suspects were convicted on 17 counts of buying and selling walleye and white bass. This resulted in $16,434 in fines and restitution, 960 days in jail, and 16 years' probation.
• Illegal hunting guide service: An individual was guiding out-of-state hunters on property without permission. The suspects were indicted on 21 felonies and 14 misdemeanors and received $10,582 in fines, 15 years' probation, and a 15-year hunting license revocation. The main suspect was sentenced to 15 months in prison.
• Illegal transportation of live white-tailed deer: Investigator Klosterman assisted on a case which resulted in the largest individual fines for a wildlife crime in U.S. history. Working closely with federal agencies, convictions resulted in fines of $1.67 million. The case involved the transportation of live deer with no documentation or health inspections.
• Illegal venison sales: Investigator Klosterman led a search team in the largest deer investigation in Division of Wildlife agency history for the alleged poaching of 44 deer and sale of more than 3,000 pounds of venison within a two-year period. During the search, more than 80 deer mounts, 200 pounds of venison, a truck and hunting implements were seized. The investigation led to 14 felony and 17 misdemeanor convictions, resulting in $86,000 in restitution, $2,276 in fines, $5,089 in court costs, and 30 years of license revocations.
Klosterman is also an active leader and mentor for other officers, advocating for their mental and physical health as well as technical expertise, the release states. She has expanded her role to include outreach and cooperative efforts, especially for women, advocating for more diversity within the agency and engaging with various organizations, according to the release.