Thursday, May 12th, 2022
Western Buckeye League Track and Field Championships
Jumping out fast
St. Marys gets two victories on first day of league meet
By Daily Standard Staff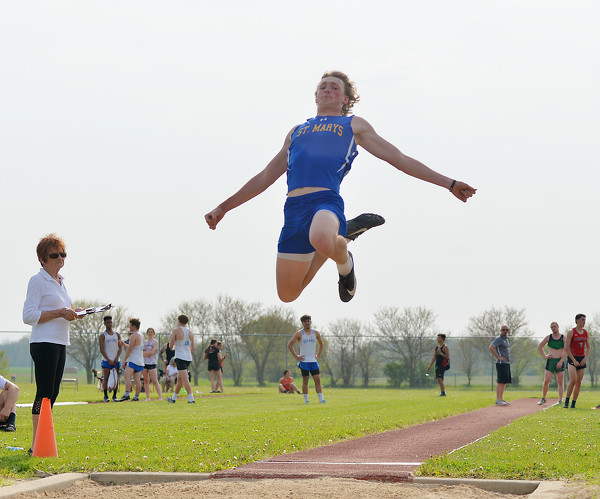 Photo by Paige Sutter/The Daily Standard
Compiled by Gary R. Rasberry and Tom Haines

The competition on the first day of the 2022 Western Buckeye League Track and Field Meet was as hot as the weather on Wednesday afternoon at Van Wert High School.
Complete results from the finals of three boys field events, two girls field events and the boys and girls' 4x800-meter relays were not available at the conclusion of the first day, with the results not being posted until this morning.
The Celina girls started out with a couple of third-place showings as the 4x800 relay quartet of Emily Schwieterman, Raven Harris, Joscelyn Dameron and Kaylie Dameron finished third with a time of 9:51.4 Defiance held off Ottawa-Glandorf to take the relay title. St. Marys' lineup of Emma Freewalt, Maria Jutte, Karlie Lucas and Ellen Schloemer finished fourth.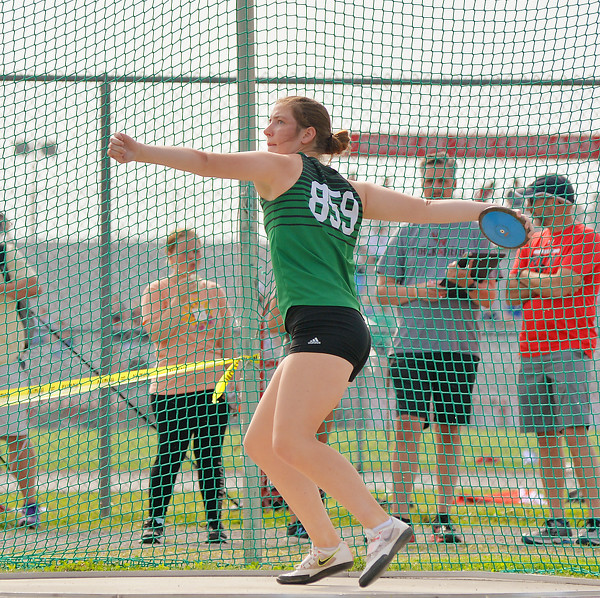 Photo by Paige Sutter/The Daily Standard
In the girls discus, Bulldog Amelia Lutz posted a personal best with a top heave of 133-6 to finish third. Kenton's Tatum Miller broke the league meet record set by Van Wert's Kirsten Clay after a top effort of over 139 feet.
St. Marys brought home one girls champion on Wednesday as Ella Jacobs cleared 5-1 to win the high jump. Teammate Regan Puthoff was third after bowing out at 4-10.

In the boys' meet, St. Marys' Brandon Bowers went over 21 feet to win the long jump for the Roughriders. Celina's Karsyn Black earned fifth place after finishing with a distance of 18-11 1/4.
Roughrider Isaac Torsell finished second in the pole vault and Celina earned two spots on the podium after Colin Fokine was fourth after clearing 11-6 and teammate Grant Grieshop finished fifth after bowing out at 11 feet.
Celina's Kaden Murlin finished fourth in the shot put after topping out at 49-5 1/2.
In the lone boys running final of the day, the St. Marys quartet of Seth Brandt, Cole Hughes, Ray Walter and Tyler Birt finished the 4x800 relay fifth overall. Celina's squad of Joziah Alidou, Adam Faber, Kale Sudhoff and Conor Krogman posted their best time of the season, but just missed the podium (top six) in taking seventh.
The league meet concludes Friday with remaining field events starting at 4:30 p.m. with running finals slated to begin at 5:30 p.m.