Friday, September 23rd, 2022
Roughriders second at league tourney
By Gary R. Rasberry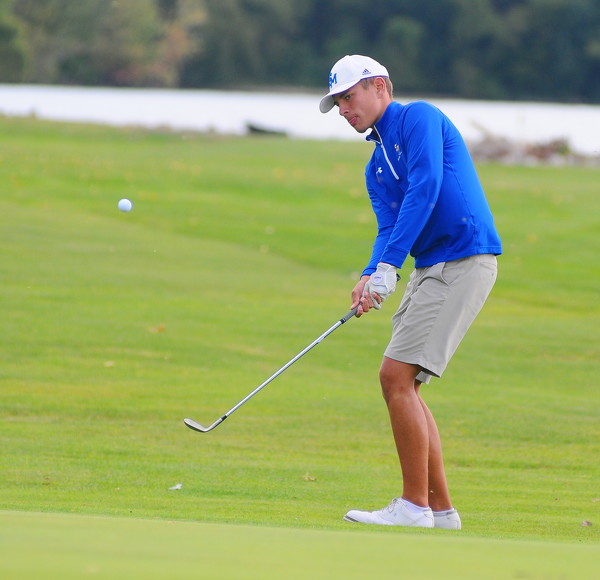 Photo by Gary R. Rasberry/The Daily Standard
Compiled by Gary R. Rasberry

Van Wert needed a tiebreaker to decide the Western Buckeye League boys golf tournament over St. Marys on Thursday.
Van Wert and St. Marys each finished play with matching 334s on the Roughriders' home course at Northmoor. The fifth-golfer tiebreak went the Cougars' way, 94-95, to give the Cougars a sweep of the regular season and tournament titles and the outright league championship.

Bath and Shawnee each finished with matching 349s, with Bath, coached by Celina graduate Sean Boley, winning the tiebreaker to take the eight third-place points in the league standings. Defiance was fifth with a 352 with Ottawa-Glandorf sixth at 357. Elida (361), Wapakoneta (363), Celina (371) and Kenton (373) rounded out the team leaderboard.
In the individual race for tournament medalist and Golfer of the Year honors, Elida's Carson Harmon tamed the course on a windy, chilly day. After shooting a 38 on the front nine, Harmon came in off the back nine with a 33 to finish with an even-par 71 to win the tournament and lock up his third WBL Golfer of the Year award based on points won during the regular season duals and tournament.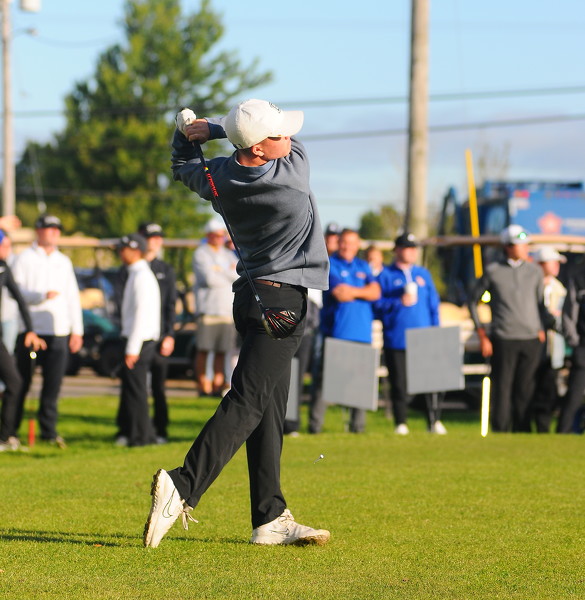 Photo by Gary R. Rasberry/The Daily Standard
St. Marys' Brennan Steger was runner-up after shooting a 6-over 77 on his home course. Celina's Nick Steinbrunner placed third with a 78 to earn a spot on the all-WBL team.
Josh Sudman added an 80 for St. Marys and Lennon Cisco shot an 84, with both golfers earning all-league accolades. Hunter Huston carded a 93 with Aiden Meinerding finishing with a 95 and Braylon Lampert carding a 96.
Kale Sudhoff shot a 95 for Celina. RJ Muhlenkamp and Cayden Hirsch each shot a 99 with Cavhan Wagnild finishing with a 121.
Joining Harmon, Steinbrunner, Sudman and Cisco on the all-WBL team were Keaton Foster (Van Wert), Zac Niekamp (Wapakoneta), Seth Grieshop (Shawnee), Braden Binkley (Bath), Ty Verhoff (Ottawa-Glandorf), Blake Bohyer (Van Wert), Austin West (Wapakoneta) and Aidan Kiessling (Defiance).
Sudhoff and Steger were selected for honorable mention.
Van Wert coach Kim Doidge received Coach of the Year honors that go to the coach of the league champion.
Photo by Gary R. Rasberry/The Daily Standard