Wednesday, November 23rd, 2022
Opening up with a win
Coldwater pulls away to defeat Celina in lidlifter
By Gary R. Rasberry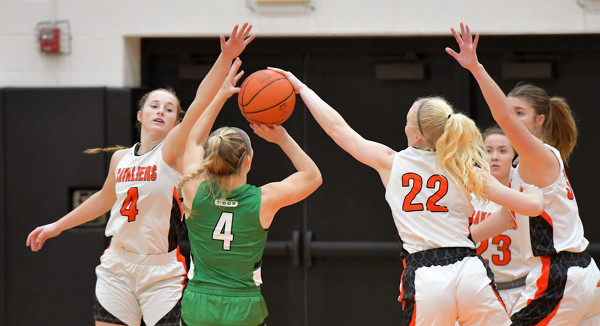 Photo by Nick Wenning/The Daily Standard
COLDWATER - After a slow first quarter, Coldwater's offense began to pick up the pace in the second quarter and then turned on the jets in the second half.
The Cavaliers outscored Celina 26-12 in the second half to pull away for a 52-31 victory in the girls basketball season opener for both teams on Tuesday at the Palace in Coldwater.
Coldwater played solid defense throughout the game while shrugging off Celina's defensive pressure.
"We tried to put a lot of pressure on the guards and working our defense in the halfcourt," said Cavaliers coach Amy Meyer. "I felt in the first half we lacked communication a little. In the third quarter, I thought the girls came out at halftime and really started to focus."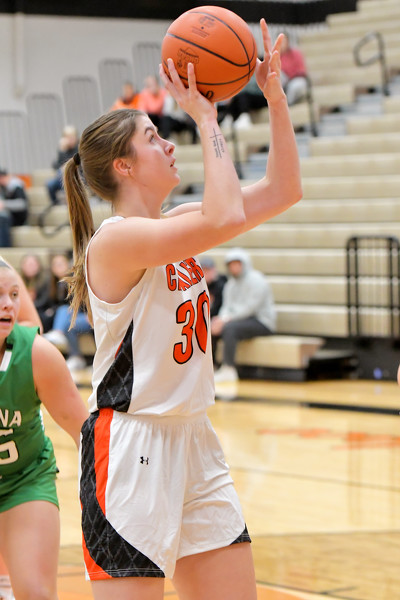 Photo by Nick Wenning/The Daily Standard
Celina put its focus on containing University of Dayton-bound Riley Rismiller early on, but the Cavaliers got early buckets from Jenna Leugers, Becca Wenning and Claire Steinke to help turn a 9-4 first quarter lead into a 26-19 halftime lead.
Celina's offense picked up as well, with Amelia Lutz hitting a pair of 3-pointers in the second quarter.

"I thought we shot the ball fairly well in the first half and at times we rebounded really well," said first-year Celina coach Bret Baucher. "When we rebound and do the little things, we can compete."
Coldwater started fine-tuning its offense in the third quarter as Rismiller was able to get the ball inside more consistently. After scoring five points in the first half on 2-of-5 field goal shooting, Rismiller was 5-of-7 from the floor in the third quarter and added a free throw. As Rismiller went, the Cavaliers went as well, holding Celina scoreless for nearly four minutes and extending the margin to 35-23 with just over 3 1/2 minutes to play in the quarter.
"Those little things start to add up," said Baucher. "It makes it tough against a quality opponent."
"We've talked all preseason to be more than one-dimensional," said Meyer. "If we can get everyone to pitch in and score and get some rebounds in a balanced attack, that helps everybody."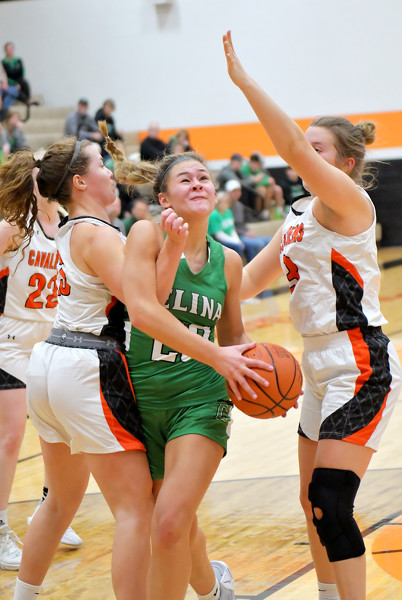 Photo by Nick Wenning/The Daily Standard
The Cavaliers kept the Bulldogs from getting any extra chances on the offensive side. Coldwater held a 53-26 advantage on rebounds, including a 19-6 advantage on the offensive glass.
"Even in the second half, I thought we did okay defensively," said Baucher. "They had too many second- and third-chance opportunities."
Rismiller paced Coldwater with a 16-point, 17-rebound performance. Leugers added 11 points.
Kenlee Holstad and Lutz each finished with eight points. Kira Dirksen added seven.
Coldwater is back in action on Friday, as its game with Lima Central Catholic that was scheduled for Saturday afternoon was moved to Friday evening at 6 p.m. due to the Thunderbirds' football team playing in the state semifinals. Celina opens Western Buckeye League play on Dec. 1 with a road trip to St. Marys for the Battle of Grand Lake.