Friday, January 20th, 2023
Area sales tax collections up
County economy proves to be strong
By Daily Standard Staff
Photo by Paige Sutter/The Daily Standard
By WILLIAM KINCAID and BOB TOMASZEWSKI
wkincaid@dailystandard.com

CELINA - Mercer County's economy remained resilient in the face of inflation in 2022 as aggregate sales tax collections came in at $11.23 million, breaking a record for the 12th consecutive year.
Auglaize County's sales tax revenue take of $11.64 million in 2022 reflects a slight drop for the first time in over a decade, which Auglaize County Auditor Linda Brice attributed in part to the higher costs of goods and services.
"I think just with the cost of everything going up, people might have to cut back somewhere," Bice said.
Casino tax revenue for Mercer County in 2022 rang up to $605,607.57, up $47,115.40 from the prior year. Auglaize County too saw a bump in casino cash in 2022, as it raked in $660,532.39, a 6.78% increase from the previous year.
Mercer County's sales tax rate is 1.5 percent; 1 percent goes directly into the general fund while 0.5 percent is used for maintenance and operation of the jail/sheriff's office, west of Celina. The combined state and county sales tax rate is 7.25 percent.
Mercer county garnered $7.48 million in general fund sales tax revenue in 2022, a nearly $400,000 uptick from 2021. The jail sales tax brought in $3.74 million, roughly a $200,00 upswing, according to Mercer County auditor Randy Grapner's figures.
Together, total sales tax revenue in Mercer County for 2022 was $11.23 million compared to $10.63 million in 2021 and $9.5 million in 2020.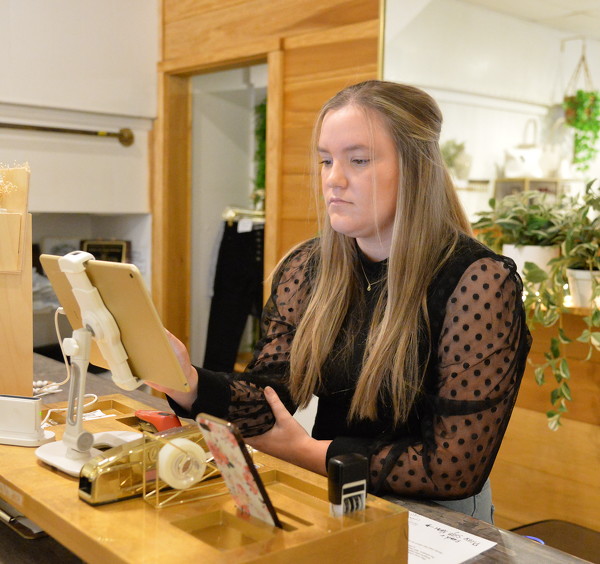 Photo by Paige Sutter/The Daily Standard
The amount of sales tax revenue reported each month reflects spending from about two months earlier. Sales taxes are collected by the state and sent back to county coffers.
"I'm thankful," Grapner said of the continued upward trajectory of sales tax revenue, pointing to the strong local economy and low unemployment rate as reasons for the healthy figures.
Auglaize County's sales tax rate is 1.5 percent. The combined state and county sales tax rate is 7.25 percent.
It collected $11.64 million in sales tax revenue in 2022 compared to $11.8 million the year before. A little over $2.5 million flowed to the permanent improvement account while nearly $9.3 million went to the general fund.
Receipts of $320,453 posted this month for sales in November are promising, though, Bice said.
"January's receipts were a little higher than we were expecting," she said. "Big Lots came in at the end of October. I think we had a full month of the Big Lots being here so I think it will be a little better than what we were expecting this year."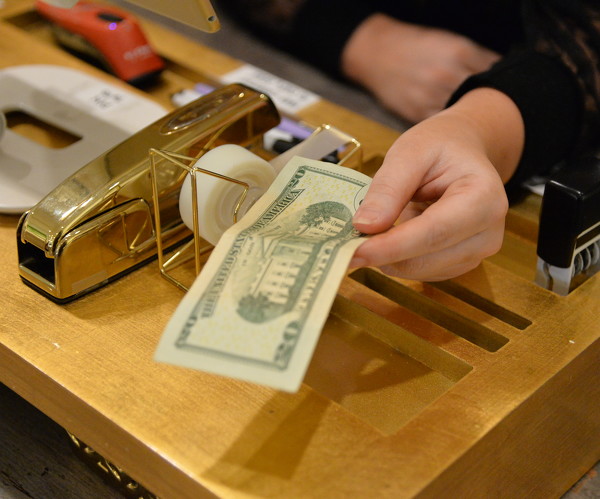 Photo by Paige Sutter/The Daily Standard
As to what 2023 holds in sales tax revenue for Mercer County, Grapner won't speculate, at least not on the record.
"We are not going to be forecasting an increase. I can't," he said. "Look at what we've got going on in the world right now."
And even in dire situations, the bottom doesn't always fall out, such as in 2011 when the nation was in the midst of a recession.
"That was difficult," Grapner said. "We were all looking at austerity staring us in the face. What are (county officials) going to do to overcome these losses? And all of a sudden it never happened."
Grapner noted conflicting accounts among analysts about the state of the economy and the likelihood of a recession. Things locally, at least at present, are looking good.
"Our (local) economy is stable," he said. "We're good here. We have jobs. We have people working. They are out spending and obviously, it's always been my viewpoint, that recessions are emotionally driven. So we continue to hear the gloom and doom and then every now and then we get a positive article out there."
On the negative side, Microsoft is cutting 10,000 workers, almost 5% of its workforce, joining other tech companies that have scaled back their pandemic-era expansions, the Associated Press reported Wednesday.
Yet Ohio Secretary of State Frank LaRose on Thursday posted figures suggesting the state's business climate is holding steady for now. In a news release LaRose reported 179,636 new business filings in 2022, down 18,374 filings from the all-time record-setting year in 2021, and the second highest in state history. December of 2022, LaRose said, saw 13,012 new business filings, 496 more filings than December 2021.
"In the face of national economic headwinds, Ohio entrepreneurs continue to show their resilience," LaRose said.

Looking at the numbers at hand, Mercer County should fare the year well economically, Grapner said. But that certainly doesn't amount to an official prediction, he quickly pointed out.
"Again, I'm not going to take all that positivity and try to forecast an increase. We're frugal. We have lots of expenses on the horizon," he said of costs related to the formation of a new county public defender office and other potential big ticket projects.