Friday, January 20th, 2023
Hot shots
Stellar shooting leads Parkway past Coldwater
By Gary R. Rasberry
Photo by Nick Wenning/The Daily Standard
COLDWATER - It's tough to beat a team that opens the night hitting seven of 10 3-pointers.
Parkway rarely missed in the first half against Coldwater and maintained control through the second half to remain unbeaten in Midwest Athletic Conference girls basketball action with a 64-39 win over the Cavaliers on Thursday night at the Palace.
The win sets up the Panthers (14-1, 6-0 MAC) for a showdown with fellow MAC unbeaten Marion Local (15-2, 7-0 MAC) next Thursday in Rockford. Coldwater, which would have been a game behind Marion in the conference standings with a win, drops to 9-7 and 4-2 with the loss.
"The first half we played, not perfect, but pretty darn good," said Parkway coach Dan Williamson.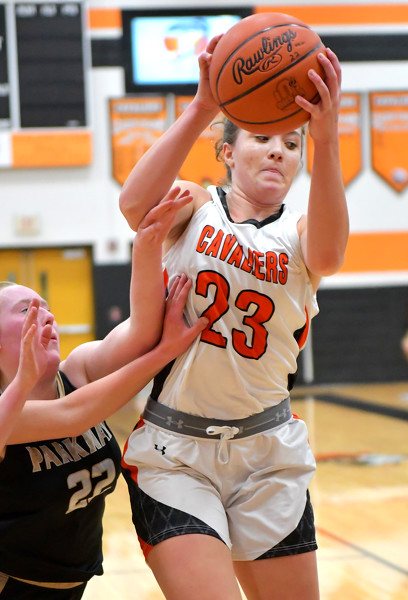 Photo by Nick Wenning/The Daily Standard
The shots were dropping as soon as the ball was tipped up. Emiree Knittle nailed a trey 11 seconds into the game to give the Panthers the lead for good. After Riley Rismiller hit two free throws, Knittle dialed up from long distance again. After Gabrielle Stober added a bucket on the next Parkway possession and Becca Wenning hit a trey of her own for Coldwater, Knittle swished another trey to make it 11-5 and prompt Cavs coach Amy Meyer to call timeout.
The shots kept dropping all over for Parkway: free throws from Paige Williamson, a floater from Stober and Williamson hitting from beyond the arc on her own to help Parkway take a 20-8 lead after one quarter.

The points kept falling for Parkway in the second quarter too, especially as Stober picked up steam with her scoring. When the horn sounded, Stober had 17, Knittle had 11 and the Panthers led 41-16 thanks to a nearly 70% (16-of-23) shooting clip.
"She did the same exact thing last year (at Coldwater)," said coach Williamson of Knittle. "She got us started. Something about this gym she likes. Maybe it's (her) red hair and the orange (-accented) floor. That allowed us to play a little more loose."
"Kudos to them for coming and and shooting well," Meyer said of Parkway. "I thought, obviously between (Parkway shooting) and fouls (Wenning picked up three fouls in the first half and Jenna Leugers had two), that got us in trouble in the first half."
The red-hot shooting didn't immediately cool down as Williamson hit a trey early in the third quarter, but then the Panthers went scoreless for four minutes, allowing Coldwater to trim the deficit with buckets from Rismiller and Wenning, cutting the margin to 44-28 before Stober broke the streak. From there, Parkway bounced back and pushed their lead back into the 20s in the fourth quarter, clearing the bench down the stretch.
"That was the big talk at halftime. We knew (Coldwater) would come out, especially right away, and play hard," said coach Williamson. "And they did. They played well in the third quarter and they didn't. We were kind of lost mentally. Then we got it back in the fourth quarter."
"I thought we pulled it together and were competitive in the second half," said Meyer. "(Parkway) created turnovers."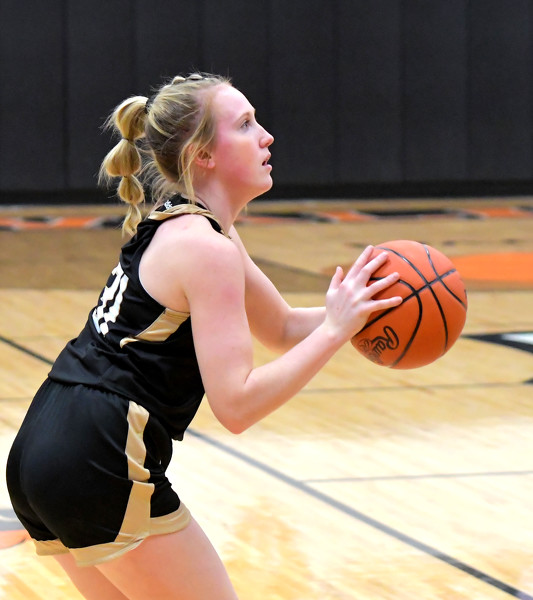 Photo by Nick Wenning/The Daily Standard
Stober finished with 23 points for Coldwater. Paige Williamson added 12 and Hughes - who had nine rebounds - joined Knittle in scoring 11. The Panthers finished their night shooting 23-of-38 (60.5%) and 9-of-16 from the 3-point line.
Rismiller, who was guarded closely by Hughes all night with other Panthers coming in to help when she got the ball in the paint, finished with a team-high 17 points on 6-of-16 shooting.
"I told Allie I was screaming the entire game for her to get around (Rismiller in the paint)," said coach Williamson. "Riley is going Division I for a reason. She's a real good player."

Wenning added eight points for the Cavaliers.
Both teams get back to action on their home floors on Saturday. Parkway plays host to Perry and Coldwater entertains Spencerville for a matinee.