Thursday, February 2nd, 2023
Cavaliers choose colleges
By Gary R. Rasberry
COLDWATER - A trio of Coldwater student-athletes made their college commitments on Wednesday.
Two-time All-Ohio bowler Jasmine Schulze will head to Fairborn to bowl for a Wright State program that is in its first year of NCAA Division I competition.
Evan Homan, one of the top two-way linemen in Division V this past season for the Cavalier football team, will head to Tiffin to play for a contender in the Division II Great Midwest Athletic Conference.
Finally, reigning Midwest Athletic Conference Golfer of the Year Jordan Hemmelgarn will take her clubs to Bluffton University.
Schulze ready to help Raiders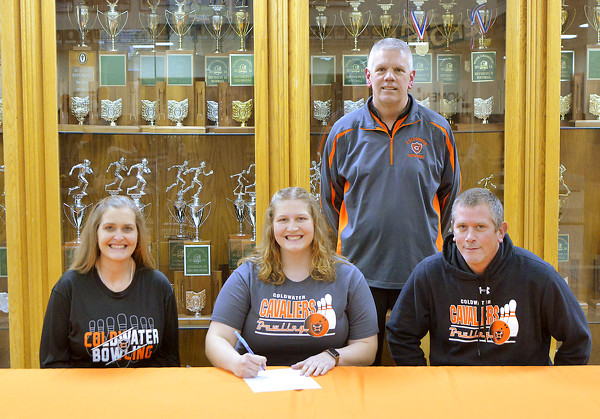 Photo by Gary R. Rasberry/The Daily Standard
When choosing her school, Schulze was impressed with what the university had to offer.
"I had a few other schools I was looking at, but when I went to Wright State, the girls seemed super nice to me and all seemed to have that family bond I'm used to here," said Schulze, who will major in chemistry/pre-med. "When I went to other schools, it felt pretty selective. I feel more welcome (at WSU)."
The Raiders are in their first year as a NCAA Division I program after being a club program for several years.
The résumé for Schulze has been impressive in her first 3 1/2 seasons for the Cavaliers. Schulze was part of the Cavaliers' 2019 Division II state runner-up team and was in the top 25 as an individual. In 2020, the Cavaliers won state as Schulze finished 10th as an individual to earn second-team All-Ohio honors. Last season, Coldwater was unable to make it to state as a team, but Schulze qualified individually and earned another second-team All-Ohio finish by placing seventh while also earning MAC Bowler of the Year honors.
Schulze is ready to help the Cavaliers make another run as she leads the MAC with a 200.1 average, with a high series of 492.
"I learned at Coldwater to take any disappointment and turn into motivation," said Schulze about what she'll take with her to Fairborn. "Last year, I didn't have my (teammates) with me at state. That gave us motivation for this year to work harder."
Homan ready to be a Dragon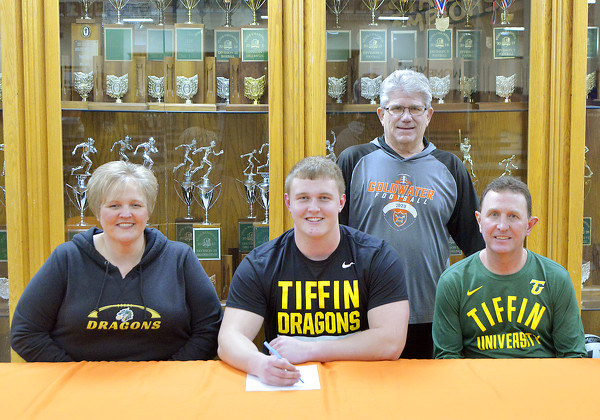 Photo by Gary R. Rasberry/The Daily Standard
The coaching staff at Tiffin helped sway Homan to joining the team.
"They were a big difference," said Homan, who will major in business with a minor in finance. "They were different from every other coach I talked to. Up there, everybody was so nice. The players greeted me well. Many factors led me there."
The Dragons are coming off a 6-5 season, but went 6-2 in the competitive G-MAC. Head coach Cris Reiser is 29-10 with two G-MAC titles in four seasons as head coach.
"They treat their players nice. It's the new style of coaching," said Homan. "You can talk to them. They're personable. They really helped me out."
Homan was a three-year starter at offensive tackle and slid over to defensive tackle his junior season as he started for the Cavaliers Division VI state title team in 2020 and the state runner-up team in 2021. Homan was first team All-MAC at both offensive tackle and interior defensive lineman this past season, was named the All-Northwest District Lineman of the Year by the Ohio Prep Sportswriters Association after a 63-tackle, six-sack season and was first team All-Ohio in Division V.
"Being part of the state team in 2020 really built my confidence," said Homan. "That carried me through the rest of my high school career."
Hemmelgarn liked Bluffton right away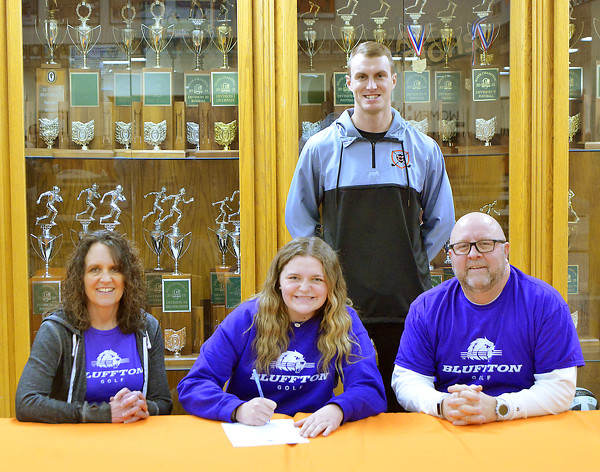 Photo by Gary R. Rasberry/The Daily Standard
Picking Bluffton was an easy choice for Hemmelgarn.
"Just walking on the campus, it was my first choice," said Hemmelgarn, who will major in early childhood education. "The coach is great and super nice. The players were super nice, too."
The Beavers were sixth at the Heartland Collegiate Athletic Conference tournament that was held in the fall of 2021. The tournament will return to its traditional spring schedule this season. Bluffton wrapped up the fall portion of the schedule at the Beaver Fall Classic.
"I like the fact that the men's and women's teams have the same coach and everything they do is (done) together," said Hemmelgarn.
Hemmelgarn has been a key component of the Cavaliers becoming a power in the MAC. After helping the team make its first appearance at state in 2021, Hemmelgarn had a breakout season in 2022, earning MAC Golfer of the Year honors as the Cavaliers won their third straight MAC championship.
"I will take all the support that I have received (at Coldwater) and from the coaches," said Hemmelgarn. "I'll take everything I learned from them (to Bluffton). And my parents' support. They'll always be there to support me."