Thursday, February 2nd, 2023
Nichols to play football at Walsh
By Tom Haines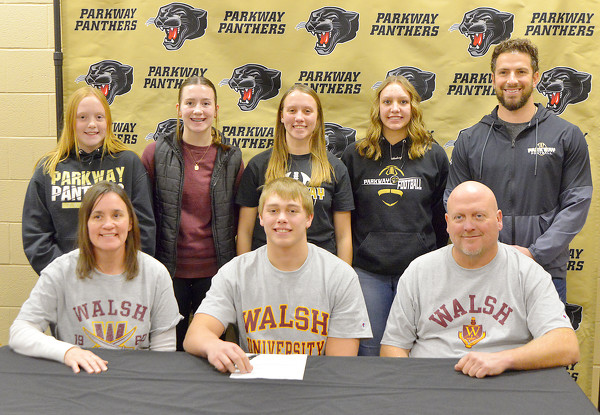 Photo by Tom Haines/The Daily Standard
ROCKFORD - Parkway standout Eddie Nichols signed a national letter of intent Wednesday to continue his football career at Walsh University.
Nichols, who earned All-Midwest Athletic Conference honors on both sides of the ball while at Parkway, chose Walsh over fellow Division II schools Tiffin and Findlay and will play linebacker for the Cavaliers next fall.
"I went to a gameday visit, and it was a really great environment there," Nichols said. "The people, the fans, everyone, it was a really good time. I visited their campus and enjoyed it. It had the business management program I was looking for, a good management program. Overall, it was a really nice place."
Nichols picked up first-team All-MAC honors as a utility player on offense as a junior, then totaled 977 yards from scrimmage (872 rushing, 105 receiving) and six rushing touchdowns as a senior. But he played even better as a linebacker, racking up 99 tackles and 7 1/2 tackles for loss along with 1 1/2 sacks and recovering three fumbles, and so garnered first-team All-MAC and honorable mention All-District recognition on the defensive side.
As he heads into college, Nichols said he had a natural preference for playing linebacker.
"I've just always liked linebacker a little bit more," he said. "Hitting people, things like that. Better than getting hit all the time."
Walsh opened its first stadium, Larry Staudt Field in North Canton, at the beginning of the 2022 season, and the university anticipates adding a press box and more seating in the near future. Previously, the football team played home games at Memorial Stadium at North Canton Hoover High School, Fawcett Stadium/Tom Benson Hall of Fame Stadium at the Pro Football Hall of Fame, and Bob Commings Field at GlenOak High School.
The Cavaliers struggled on the field this season, the second under coach John Fankhauser, finishing 1-9 and 1-7 in the Great Midwest Athletic Conference. They earned Staudt Field's inaugural win on Oct. 29, beating Kentucky Wesleyan 35-10.
Fankhauser had 20 years of experience with the Cavaliers before becoming the head coach before the 2021 season, including witnessing the program's transition from the NAIA to the NCAA.

Parkway won three games in Nichols' last two seasons, but Nichols was a bright spot for the Panthers.
"Getting first-team MAC junior and senior year, and then team captain, I enjoyed that," he said. "And then team MVP, that meant a lot."