Friday, November 17th, 2023
Three Cardinals sign
By Gary R. Rasberry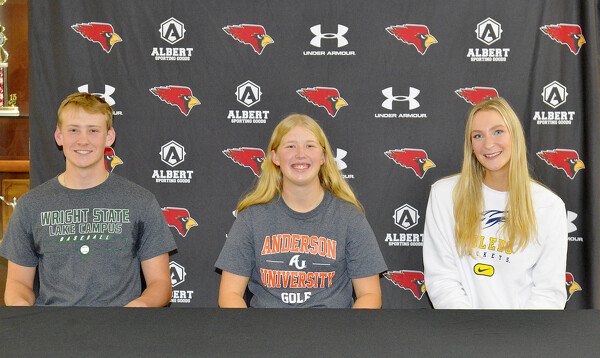 Photo by Gary R. Rasberry/The Daily Standard
NEW BREMEN - A trio of New Bremen Cardinals made their college choices public on Thursday.
Fresh off helping the Cardinals win a second straight Division IV state title, Olivia Heitkamp will go from one MAC (Midwest Athletic Conference) to another (Mid-American Conference) as the senior signed with NCAA Division I Toledo.
Abbie Burden will head west to Anderson University in Indiana to continue her education and her golf career.
Baseball standout Jonny Heitkamp will stay close to home after committing to Wright State University-Lake Campus.
For Olivia Heitkamp, making the trek north on I-75 was the culmination of a lengthy courtship.
"The recruiting process was really long and hard," said Olivia Heitkamp, who is leaning toward a major in management. "There's something about Toledo. It's close to home, the coaches (and players) are really nice. It felt like home."
The Rockets, coached by Jason Oliver, are 13-16, but went 11-7 in the MAC and earned a spot in the conference tournament. Toledo takes on Ohio in Kalamazoo, Michigan on Saturday.
Olivia Heitkamp was a key contributor to the Cardinals' state titles in 2022 and 2023. Playing outside, right side and middle hitter, Heitkamp led the team with 433 kills (4.98 per set) to go with 33 aces, 43 blocks and 178 digs. Olivia Heitkamp was a first-team All-MAC, District 8 and Ohio selection.
When asked what she'll take from her years at New Bremen onto Toledo, one thing stuck out in Heitkamp's mind.
"The competitiveness from the MAC here going to the MAC there," she said.
Hard work pays off for Burden
With only four years in the sport under her belt, Burden has worked her way into earning a spot with the NCAA Division III program.
"They were my last email I sent out," Burden, who will major in high school math education. "Their campus is amazing, their coach (Morgan Douglass) is amazing. I went for two visits and met the team on the second visit. They're amazing."
The Ravens, playing in the Heartland Collegiate Athletic Conference, wrapped up the fall season in October. Last season, Anderson finished 10th at the HCAC tournament held at Moose Landing in Ottawa.
Burden was the top golfer for the New Bremen girls this season. Burden finished third in the MAC golf tournament with an 86 and was runner-up to Versailles' Ella Porter for Golfer of the Year honors, as Porter ended with a 137 1/2 to 134 margin in the points standings with both earning first team All-MAC.
Burden was the medalist at the Division II sectional tournament at Moose Landing after shooting an 85. At the district at Sycamore Springs in Arlington, Burden wrapped up her season by finishing 14th with a 91.
"I've only been golfing for four years, so it's been kind of crazy how much I have grown," said Burden. "The coaches here are pretty good."
Jonny Heitkamp becomes a Laker
Staying close to home, Jonny Heitkamp felt the Lake Campus was a solid choice.
"It's a local place. I toured the campus and loved it," said Heitkamp, a mechanical engineering major. "I love the baseball team. It's a really good place to be at."
The Lake Campus has had a string of success since starting the program several years ago, having played in the United States Collegiate Athletic Association's Small School World Series the previous few seasons.
Last season, the Lakers went 19-19.
"I just love the competition," said Heitkamp. "Love the players and culture on the team. I just love everything about it."
Jonny Heitkamp was a clutch hitter for New Bremen this spring. The catcher batted .439 and hit 12 doubles and two home runs with 18 RBI and 23 runs scored for the Cardinals, earning first-team All-MAC and second-team All-Ohio honors.
"One hundred percent, the work ethic," was his answer when asked what he'll take from his years at New Bremen. "Just the winning culture we have around the area that we built recently."