Friday, November 17th, 2023
Gels signs with Ohio Dominican
By Tom Haines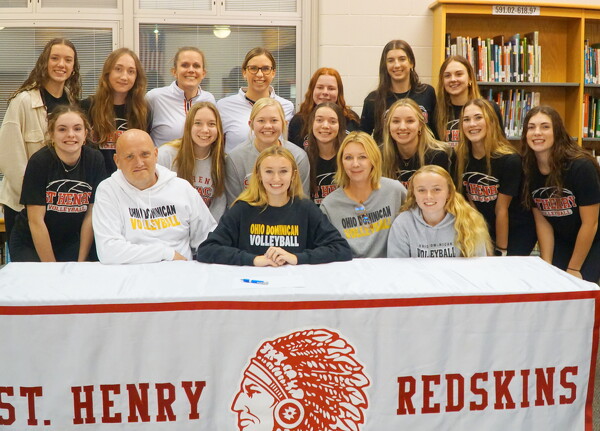 Photo by Tom Haines/The Daily Standard
ST. HENRY - After four years playing for the St. Henry volleyball team, Chloe Gels will take the court for Ohio Dominican next season.
On Thursday, Gels signed with the Panthers, for whom she will play outside hitter next year in the Great Midwest Athletic Conference.
"I really love the culture and the coaches they have on the team," she said. "It kind of feels like this team. They have a lot of fun and energy."
Gels, who plans to major in business, said that Ohio Dominican contacted her relatively late in the process, but quickly became her top choice.
"Once I got (an offer from) Ohio Dominican, I knew that I wanted to go there," she said.
Ohio Dominican is 16-13 and has won six straight matches after sweeping second-seeded Ashland in the G-MAC tournament opener on Tuesday. The Panthers continue against Tiffin today.
St. Marys' Brynn Clark also committed to Ohio Dominican last week. Gels and Clark faced off in the opener of the Cavalier Spikeoff to start the season, with St. Henry winning 2-0, and Gels finished the tournament with 40 kills and Clark had 14.
Gels played four years on varsity for the Redskins, including 59 sets as a freshman. She started at middle hitter and right-side, then moved over to outside as a sophomore after Mia Niekamp was lost for the season with an injury.
The shift paid off well: St. Henry went to the Division IV state championship game behind Gels and Brianna Siefring, and Gels went on to win first-team All-Midwest Athletic Conference honors at outside hitter each of the next two years. She also was named to the All-Ohio third team as a junior and the first team as a senior.
"Outside was kind of new for her her sophomore year, and she really grew into that role and turned into a dominant player on the outside," St. Henry coach Tricia Rosenbeck said.
After pairing with Niekamp as a junior, Gels turned in her best campaign yet this year as the Redskins returned to the state tournament. She averaged 3.7 kills and 2.4 digs per set and added 44 aces.
Rosenbeck noted that it was her first season as a six-rotation player.
"I thought she really stepped up and was able to improve defensively as well," Rosenbeck said.
"I know their junior this year is six rotations," Gels said, "so hopefully when she graduates, I can fill that role for her."
Gels also gave credit to Niekamp and Siefring, who she sees off the court with Siefring dating her brother, for helping her develop as a player.
"She's really helped me over the past however many years because of how big a leader she is," Gels said of Siefring. "And Mia, she always works hard, and she showed me how to work hard."
The whole team assembled Thursday night for her signing day, and Rosenbeck said it reflected her role on the team.
"She's just fun," Rosenbeck said. "She gets everyone involved. Everybody has fun when they're around Chloe."