Saturday, November 10th, 2007
Just one match left for Marion Local volleyball
By Gary R. Rasberry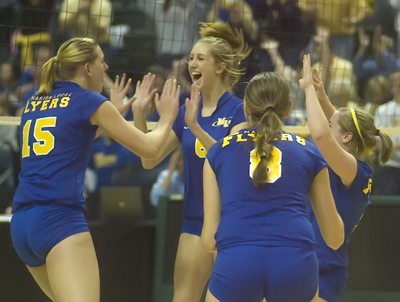 FAIRBORN - Marion Local took a step closer to winning its first-ever state title in volleyball by pulling a three-game sweep of Newark Catholic in the Division IV state semifinals on Friday night at the Ervin J. Nutter Center on the campus of Wright State University on Friday night.
The Flyers (27-1) now face defending D-IV state champs Norwalk St. Paul at 6 p.m. tonight in the championship game. St. Paul (26-2) beat Jackson Center in three games in the first semifinal match.
The Green Wave, co-holder of the state record for most state titles with eight, ends its season at 21-8.
After a competitive first game won by the Flyers 25-19, Marion's size took over in the final two games, posting wins of 25-13 and 25-14.
The first game started out even as the teams were tied up to 9-all with the Green Wave staying tight. With the score showing Marion on top 15-14, Abby Niekamp served up five straight points to put the lead at 21-14.
Niekamp, the Florida State prospect, had three aces on the service run before the Wave could get the serve back. Newark Catholic could only get as close as five points the rest of the game before Marion closed things out.
In game two, Marion started out strong, but Newark Catholic came back to cut it to 12-10, prompting Amy Steininger to call a timeout. After the break, the Flyers cranked up the heat, as Megan Barhorst got the serve back to make it 13-10, then went back and served up consecutive aces as part of a four point-run to make it 17-10, forcing the Wave to call a timeout.
"We really responded well after our timeout," said Steininger. "We challenged our team to try and get the momentum back after we got into a couple bad lapses where they scored 4-5 points in a row."
Newark Catholic got the serve back, but managed just two more points the rest of the way as Shelby Moeller put the game out of reach with a six-point service run. During the game-changing run, Niekamp, Kristin Bergman and Alyssa Winner contributed kills.
"I thought our serving was real key tonight," said Steininger, whose squad had four aces and just three serving errors. "We got a lot of free balls tonight. We were able to set our middles, our left sides and try to keep them guessing on defense."
The power game of the Flyers - Marion Local had 36 kills and an attack percentage of .269 - took a lot out of the Green Wave, who committed almost as many attack errors (21) as kills (25) for a .043 attack percentage. Jordan Stacey, a second-team All-Ohio selection, had just six kills and made five hitting errors in the match.
"We just had to key on their key players," said Barhorst, who had three block assists to go with seven kills."
In game three, the Flyers scored the first six points to take control of the game right away. A mini-run by Newark Catholic to cut the Flyers' lead to 10-7 was quickly subdued and replaced by a five-point service run by Katie Schulze to make it 16-7.
It was appropriate the Niekamp concluded the match with her 15th kill of the night to put the Flyers in the final.
"When they have that kind of size, it's very hard to overcome that," said Wave coach Jeri Helfer. "Our kids were expecting a very well-coached and very athletic team. That's exactly what they were."
"Our defense was really solid tonight," said Bergman. "I think when someone gets a really great dig, everybody feeds off of that. We did really well on defense tonight."