Wednesday, September 30th, 2009
Lake Campus redo debuts
By William Kincaid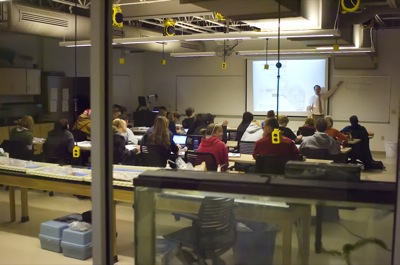 The public is invited to see the completed $9 million addition and renovations at Wright State University-Lake Campus on Thursday evening.
A grand re-opening ceremony will be held at the James F. Dicke Hall at 4 p.m. followed by guided tours of the campus until 8 p.m.
In addition to the improved facilities this school year, Lake Campus professors and staff were greeted with a record enrollment of 1,363 students - a 26 percent increase from last year.
Dean James Sayer attributed the robust growth to the school's new facilities and four-year programs, as well as the economy.
"I certainly think the economy has something to do with it," Sayer said Tuesday, pointing out students can get a year's worth of classes for approximately $5,000 at the Lake Campus.
There also are tentative plans to build student apartments with 25 beds near Grand Lake, proposed for completion by next fall.
"It's like living in a park," Sayer said about the future on-campus apartments. "Students really prefer to live on campus - it's a whole different experience."
Some students this year have opted to live in apartments in Celina instead of commuting, Lake Campus Public Relations specialist Jill Puthoff said.
"We're getting a growing number of students in Shelby County," Sayer added.
Since construction began in June 2008, 75 percent of the campus has been remodeled.
The main entrance is now on the east side of the building. The south entrance accesses the administration wing, cafeteria, bookstore and other offices. It also includes a wide hallway into the new James F. Dicke Hall.
The Dicke Hall seats 300 people, offers a view of the lake and is used for multiple academic purposes, as well as concerts, theatrical performances and meetings for the community.
Also new at the campus is the Celina Aluminum Precision Technology Science Wing, which houses new laboratories and state-of-the-art equipment and classrooms.
Each classroom now has an average of 15 students, Puthoff said. The largest classroom is a lecture-style room that holds up to 40 students.
"It's nice to have that one-on-one interaction with your professor," she said about the smaller classrooms.
Before construction, the only area for students to hang-out was the student center and cafeteria. Now, there are numerous nooks and crannies with comfortable seating for students to read, study, work on computers or lounge.
The former auditorium is now a new student services area, which houses academic advisers and the admission office and personnel. Student government, which wants to broaden social life on campus, also has its own office area.
Moving on to the library, Puthoff said 80 percent of the books have been removed - some put in storage - for a new student learning center for group study. Most students now do research using computers instead of the library.
During the public reception on Thursday night, light refreshments will be served and the bookstore will give away 47 door prizes to honor the Lake Campus's 47-year history.

If you go:
What: Wright State University-Lake Campus grand re-opening
When: 4-8 p.m. Thursday
Where: At the campus along state Route 703, east of Celina
Details: Tours will be given of the completed construction project