Wednesday, September 30th, 2009
St. Henry girls golf qualifies for district action
By Gary R. Rasberry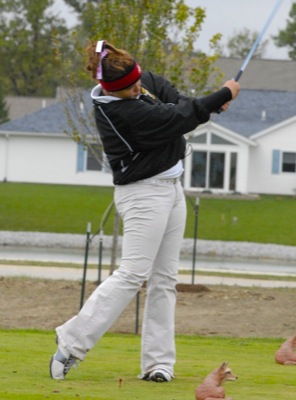 Weather conditions made it feel more like a day to go watch a football game than a golf match.
But area girls golf teams in Division II took to the links as sectional golf tournament action took place on Tuesday at The Fox's Den with the majority of the Midwest Athletic Conference teams taking part, joining teams from the Lima Area.
St. Henry earned one of the three team qualifying spots for next week's district play at Sycamore Springs after placing third behind Lima Central Catholic and Shawnee.
The Redskins will be joined by Parkway's Emily Winings, who placed third to earn one of the three individual spots for Sycamore Springs.
LCC came up big on the day, shooting a 360 to take first place. Shawnee was a distant second with a 387. St. Henry shot 400, but had to wait to see how Bath did to see if it got the third and final spot. Bath finished at 432, allowing St. Henry to qualify.
"It was a real tough day out there," said St. Henry coach John Dorner. "We told the girls with conditions like this, you had to be focused. You're not going to shoot your best scores today. You had to move on from a bad shot. I think our scores were solid today. I'm proud of the effort and focus, and we're moving on to districts."
Kendra Rindler paced the Redskins with a 93. Shelby Link shot 97 with Ashley Kunkler carding a 102.
Minster captured fourth place on the day, shooting a 430. Parkway came up in sixth place with a 435. Coldwater took seventh with 450 and Marion Local was ninth (469) with New Bremen 11th (536).
Medalist score went to Bath's Kaitlyn Dugan, who shot an 80 to earn one of the individual qualifying spots for district action.
Both Winings and Bath's Ashley Swartz shot 91 to earn the other two spots, but a playoff was needed to decide seeding position that comes with second place.
Teeing off from Hole 1 on the playoff, Winings hit a solid drive, but the ball was out by a matter of scant inches. That allowed Swartz, who split the fairway, to take second while Winings takes the third seed.
Minster was led on the day by Kelly Mueller's 96. Coldwater got a 98 from Ashley Evers and Lauren Subler shot an even 100 for Marion Local while Hadley Williams shot a 122 for New Bremen.
Division II at Country Acres
The Celina girls golf team finished in second place at Country Acres outside Kalida as the Bulldogs shot a 398. Delphos St. John's won the sectional with a 387 with Wayne Trace taking the third and final team spot with a 419.
Deanna Ray earned runner-up honors in the individual competition, shooting a 92 to tie with Abbey Martin of St. John's. Wayne Trace's Kacee Hockenberry took medalist honors with a 91.
Earning the three individual spots for next week at Sycamore Springs were Alex Keesbury of Fairview (93), Stephanie Sawyer of Van Buren (97) and Candi Keller of Tinora (104).