Wednesday, April 7th, 2010
Dismantled barn catches fire
By Margie Wuebker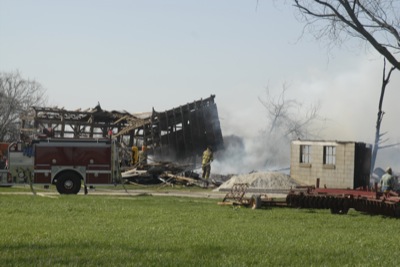 CELINA - Tragedy was averted Tuesday afternoon when fire departments responded to the scene of a barn fire at property owned by David Linton, 7871 Oldtown Road, Celina.
A tank holding approximately 300 gallons of diesel fuel exploded and was thrown a distance, according to Lt. Jon Schumm of the Celina Fire Department.
"The barn was already on the ground when our department arrived," Schumm told The Daily Standard this morning. "The explosion sent the tank flying. Fortunately no one was nearby at the time or it could have been bad ... real bad."
Firefighters received a call at 3:51 p.m. of a barn, which was being dismantled, on fire. Subsequent information regarding the tank and adjacent buildings resulted in a mutual aid call to Mendon Fire Department.
Stiff winds whipped flames and burning embers toward outbuildings and the fuel tank.
Schumm said the old barn was being dismantled with people salvaging heavy timbers and good wood from the interior.
Although the cause of the blaze remains undetermined, there are reports of a fire being set sometime Monday to get rid of unwanted wood. It is not known whether an ember may have sparked the blaze. Schumm said there was considerable distance between the trash fire and the barn.
Four fire trucks, several support vehicles and more than a dozen firefighters responded to the Jefferson Township scene.
The loss is estimated at $8,000, which includes the barn, tank and its contents.