Wednesday, April 7th, 2010
Reichard ready for action in Frozen Four
By Gary R. Rasberry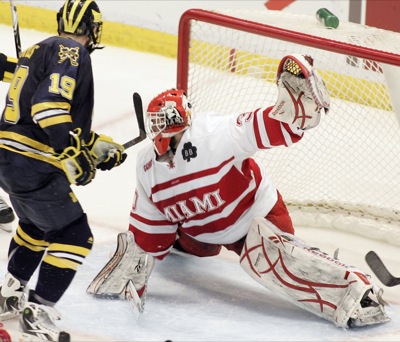 Last year, Cody Reichard was part of an amazing run by the Miami RedHawks to the NCAA Division I Frozen Four.
Now, he's out to prove that the success isn't a one-time thing for the RedHawks.
Reichard, a former Celina High School student and current sophomore goaltender for the top-ranked Miami University RedHawks, will head to Ford Field in Detroit on Thursday to play in the national semifinals.
The RedHawks (29-7-7) will play the Boston College Eagles (27-10-3) in the second semifinal game on Thursday with Rochester Institute of Technology (28-11-1) facing Wisconsin (27-10-4) in the first semifinal matchup. The winners face off for the national championship on Saturday.
"I feel pretty fortunate to be in a good place in a good program," said Reichard in a telephone interview last week. "To be able to go to the Frozen Four once is something a lot don't get to experience. To be able to go twice is something special."
The RedHawks goaltending, featuring Reichard along with classmate Connor Knapp - who splits starts in the net - has been dominant this season. Reichard has a 19-4-3 record this year with a Division I best 1.76 goals against average. Reichard's .925 save percentage ranks fifth in the nation with his five shutouts ranking fourth.
Reichard earned the respect of coaches in the Central Collegiate Hockey Association (CCHA), being named the CCHA Player of the Year. Reichard was also one of 10 finalists for the Hobey Baker Award, given to the top player in college hockey.
"It's a big honor. I'm only the third player from Miami to have ever done it, considering the alumni we have, it's very special," said Reichard of the CCHA honor. "Anytime you win an award like that, the credit goes to the team. The way they play in front of me every night helps me and allows me to be successful."
The RedHawks have had to play the second half of the season while mourning the passing of student manager Brendan Burke, son of Toronto Maple Leafs' general manager Brian Burke. Brendan Burke was killed in a February auto accident. Reichard spoke highly of Burke's contributions to the team.
"Always a smile on his face. He was a great kid to be around," said Reichard. "He really made everyone else around him a better person. He impacted a lot of lives while he was here."
This year's tournament run, which started in Fort Wayne at the Midwest Regionals and now ends in Detroit, is allowing Reichard to retrace his roots. Reichard played junior hockey in Fort Wayne and spent a lot of time playing organized hockey in Michigan.
"It's been an interesting path this year," said Reichard. "The regional being in Fort Wayne, where I really started playing ice hockey, was really nice. Some of the people who really helped me get started in hockey and helped start my development got to come and watch me. It was close to Celina, so I had a lot of family and friends there for the game. Now we're going back to Detroit, it's close to where I first started playing competitive travel hockey. ... I've got a lot of friends and family up there, too. That will be nice for them to come over and watch us."
Now Reichard will get a chance to play on the biggest stage for college hockey, literally. The Frozen Four will take place on a field known more for football at Ford Field, the home of the Detroit Lions.
"Should be a lot of fun. Hopefully they can get a lot of people in there," said Reichard. "We're definitely excited to go up there and play. It's pretty close to Miami, about four hours (away) and a couple hours from back home. Definitely looking forward to that. We should have a lot of support. But as far as the building and playing in front of a lot of people, when it comes down to it, it's just another hockey game."