Monday, October 4th, 2010
Learning new ways to teach
By Janie Southard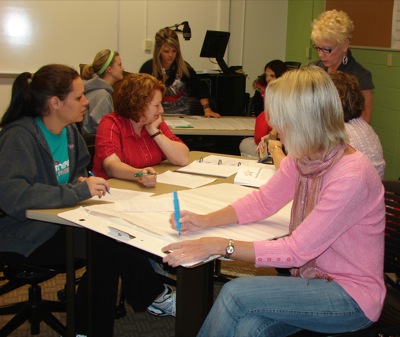 CELINA - One longtime teacher likes an elementary classroom comprised of tables rather than individual desks. She believes learning is social and collaborative. Another teacher's style thrives in a neat row of desks because she feels it establishes an orderly atmosphere that helps children focus.
Early education students at Wright State University-Lake Campus are getting hands-on learning in a new model classroom, which features movable furnishings and boasts up-to-date technology.
"Our student-teachers were coming back to us saying they were dealing with all kinds of technology in their classrooms that they couldn't operate. Their students were teaching them," early education lecturer Judy Brewer said.
Physically, it's a large room, larger than a standard classroom. There are several three- to four-person tables that can be arranged in different configurations to suit the event or the instructor. Several windows provide light, especially in the reading corner, which is enhanced by colorful flooring and a brand new, sturdy rocking chair for guided reading.
Before the remodeling at the Lake Campus, a group of education instructors discussed what facilities would be most important to make the room something more than a lecture space.
"You don't teach by lecturing," said Ken Rosengarten, assistant professor of education, who was instrumental in securing a grant for some furnishings.
Some features are the result of graduate students' input, according to Rosengarten.
"We showed videos to a group of students and they made lists of what they'd like to see ... Technologically, we're on par," said Rosengarten, a former St. Henry teacher who can recall the beginning of Smartboards in schools, and computers, too.
The Lake Campus has graduated 96 early education program majors in the last five years.
The first class to graduate from the four-year early education program was in 2002. Prior to that, students graduated with an elementary certificate to teach grades 1-8, according to Paula Bryan, program officer and education teacher.
"This year we have 12 seniors and 19 students in pre-education. If we maintain our numbers, we'll have up to 25 starting next year in early and middle education," she said. "It's difficult to determine exactly because this is a selective program. You must have a certain GPA, be fingerprinted and then pass background checks by the state and the university."
Students also must pass an entry test on basic knowledge of math, reading and writing before they can move on to the actual education program. At the end of the program, they must pass another test on content knowledge and principals of teaching and learning.
Brewer is a big admirer of the model classroom.
"We're now as close as possible to a real classroom and better than some," she said.
She particularly likes the ability to configure the classroom to fit almost any guidelines. Things can easily change in a classroom and even "instruction can change on a dime" depending on circumstances, Brewer said.