Monday, October 4th, 2010
Bulldogs claim WBL crown
Western Buckeye League Tennis Tournament
By Gary R. Rasberry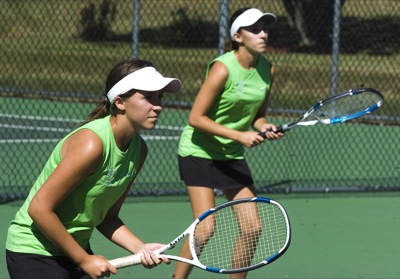 Compiled by Gary R. Rasberry

Sparked by a big day where four of the five positions made the championship match, Celina won the Western Buckeye League girls tennis title outright on Saturday in spite of the rain prompting play to be moved indoors from the University of Northwestern Ohio campus to Westwood Tennis Center.
The NetDogs, who went 9-0 in dual matches during the regular season, tallied 52 points in the tournament, 11 ahead of runner-up Shawnee and 12 ahead of Van Wert.
"Last year, we had to share (the league title) after going into the tournament at 9-0," said Celina coach Jan Morrison, who earned the WBL Girls Tennis Coach of the Year. "Shawnee finished a little ahead in tournament (last year). Today we did what we needed to do. We finished pretty strong."
Celina's doubles teams, as they have the past several years, played a big part in the team championship. The Bulldogs' twin-sister combination of Audra and Samantha Manci, winner's of the second-doubles title last year, added the first doubles title to their mantle. The Celina juniors beat Wapakoneta's Kara Wellons and Shelby Gillespie 6-2, 6-2 in the semifinals in order to face Kristen Lantz and Renne Chen of Van Wert in the finals. The Mancis dominated the title match 6-3, 6-1.
"They really dominated it pretty much I would say," said Morrison of the Mancis.
The second-doubles crown was again won by a Celina duo. Katie Kerr and Allison Laux opened Saturday with a 6-0, 6-3 win over Elida's Monica Tieu and Robin Klaus to face off against Shawnee's Nora Shaheen and Isabelle Baird for the title. Kerr and Laux had to rally a bit against the Indians' tandem, but won with matching 6-4 sets for the title.
"Second doubles got it done, but not as pretty as I would have liked," said Morrison with a laugh.
In the singles bracket, Celina sent Brianna Beougher (first singles) and Emily Zender (second singles) to title matches, but Katie Pyle, the Bulldogs' lone senior, took a tough loss in her semifinal match against Ashley Beach of Wapakoneta. Beach beat Pyle 7-6, 6-0, sending Pyle to the third-place match against Jenna Waterman of Van Wert. Pyle rebounded and took third-place points with a 7-5, 6-4 win.
"Outside, she was up 4-1," said Morrison, referring to Pyle's play outside before weather moved things indoors. "She didn't make the transition inside too well and ended up losing. She was able to come back and get third place."
Beougher beat Makenzie Klock of Wapak 6-4, 6-4 to advance and play top-seed Lauren Rovner of Shawnee. Beougher took a tough 2-6, 2-6 loss to Rovner in finishing second.
Zender had a big challenge in her semifinal against Bath's Emily Ruhe before moving on with a 6-3, 0-6, 6-1 win to face Brooke Keber of Van Wert. Keber took the match 6-4, 6-0, but by then, Celina had wrapped up the overall title.
"They certainly knew it was ours to lose," said Morrison. "They were concerned about playing their best tennis."
St. Marys, which did not get a spot in any of the semifinals, picked up points through the back-draw tournament established this year to score points for fifth through eighth place. Mariah Krugh took sixth place in first singles, losing to Gretchen Klinker of Van Wert in an 8-4 pro set. Alex Spencer took seventh place in second singles, beating Lindsay McKinley 8-1. Emily Brown finished eighth in third singles after losing 8-1 to Jessica Foust of Elida. The Roughriders' first-doubles team of Haylee Kill and Allie Zimmerman beat Elida's Kassidee Fletcher and Caiti Kales to take fifth place, while the second-doubles team of Ariel Dodson and Katie Peterson finished sixth after losing 8-4 to Ottawa-Glandorf's Kim Kahle and Kathy Arnold.
Sectional tennis play for Celina and St. Marys will take place at UNOH later this week. Celina will host state-ranked Lexington today in the Ohio Tennis Coaches Association's team tournament at 5 p.m.