Tuesday, January 25th, 2011
Ordinance for fire truck purchase rolls along
By William Kincaid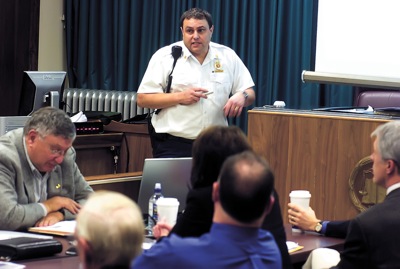 CELINA - City council members on Monday night approved the second reading of an ordinance to purchase two fire vehicles from Sutphen Fire Trucks of Dublin for $1.38 million.
About 30 residents filled city chambers for a public forum to discuss the possible fire truck purchase prior to the regular council meeting.
Council members Myron Buxton, Mike Sovinski, June Scott, Bill Sell and Jeff Larmore voted yes to pass the ordinance to third reading, while Angie King and Ed Jeffries voted no.
The vote - taken after a motion was made by Sovinski - may be misleading.
Scott voted yes simply to move the ordinance to third reading to allow for more discussion, he said. Afterward, Buxton said his yes vote was made with the same intention.
Jeffries, who voted yes on the first reading but no on the second, said he believes the purchase is too risky. He said there are too many variables, including talk of a referendum effort to allow residents to again vote on the income tax levy.
Without the additional income tax revenue - projected at $1.5 million a year for seven years - the city couldn't make payments on the proposed fire trucks, Celina Mayor Sharon LaRue said.
"I voted no last time. I'm going to vote no again," King said.
King again stated her discomfort with making such a purchase when the 2011 budget isn't finalized. She said she isn't against buying trucks for the department but questions the timing.
The city needs to develop a long-term plan for fire and police equipment needs, she said.
Sell later stated that a plan was in place. Former fire chief Greg Davis recommended 15 years ago that all major fire vehicles be systematically replaced when each unit reaches approximately 30 years old.
There also was a plan started in 2007 to put $100,000 each year in the fire truck fund, money which was used to balance last year's budget. That fund should now contain $500,000, Larmore pointed out.
King also suggested purchasing trucks in cash once the city has saved for a few years, to which Larmore responded that her way would cost the city more money.
According to fire chief Doug Wolters, the city would save $135,750.88 by purchasing an aerial truck and tanker/pumper from Sutphen Fire Trucks now. Both vehicles are more than 30 years old.
LaRue apologized to Wolters and Larmore, stating that she initially supported the purchase because it was a good deal.
"Today, another red flag went up," she said about the possible referendum.
At past meetings she brought up her concern about the uncertainty of state funding levels. She said she would rather hold up on buying the trucks and pay a little extra later.
Larmore said at the end of the day, the city still needs fire trucks, adding that the city shouldn't worry about a possible referendum or upcoming union negotiations.
The purchase would be a good business decision that saves taxpayer money, he said.
During the public forum, one attendee said when the city campaigned for the income tax increase, the emphasis was on personnel, not fire trucks.
Police Chief Dave Slusser said during city presentations, both personnel and equipment needs were addressed.
Celina Police Sergeant Jim Stelzer said he sold the financial information that was given him during the campaign.
"I'm against purchasing three trucks .... it's just crazy," he said.
Stelzer said his department took cuts thinking the city was going broke.
Not long ago, the city was talking about layoffs; now its thinking about purchasing trucks for more than $1 million, he said.
"Why did I take a pay cut?" he asked.
The city is damned if it does purchase trucks and damned if it doesn't purchase trucks, Scott said.
Scott said he agrees with Stelzer and believes the city needs to first stabilize before pulling the trigger on such a large purchase.
"Where's the long-term planning?" attendee Cory Shiverdecker asked.
Shiverdecker said the unions will hold up council for every dollar they can during negotiations.