Friday, March 11th, 2011
Mercer County finance guru bids farewell
By Shelley Grieshop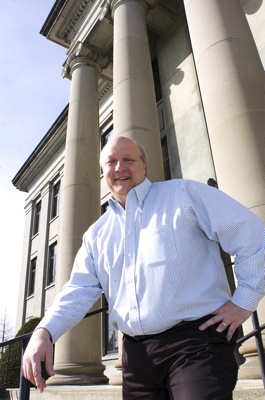 Looking around his office in the Mercer County Courthouse, auditor Mark Giesige is amazed by the changes that have occurred the last 18 years.
"The digital age has had a huge impact," said the 52-year-old Democrat. "When I joined the office as deputy auditor in 1993, there was no e-mail and no website. That's hard to imagine now."
Giesige of Celina is officially retiring from his post today and is stepping into a new position with the Missionaries of the Precious Blood. He will work in mission advancement in a role he describes as "helping people help people."
"In my new work, I will be talking with donors who want to support the Missionaries in their good works," he said.
Giesige's wife, Jean, also works for the Precious Blood.
Voters last fall chose Republican Randy Grapner of Celina to fill Giesige's shoes. He has trained alongside the seasoned veteran for months and will officially go solo on Monday.
County commissioner John Bruns credited Giesige's fiscal management methods for helping the county stay afloat through some tough times. As an example, Bruns pointed to the good bond rating the county earned to net low interest loans to build the new county jail.
Giesige described other technological changes that have helped modernize the auditor's office and make it more public-friendly. The mapping office switched to a digitized system that includes aerial views of "every inch of the county," he said.
Another valuable change was an upgrade to the computerized payroll system. Today, nearly all county employees have their wages directly deposited into bank accounts. Formerly, someone went room to room in the courthouse handing out paychecks.
"It's amazing to think that all of this work - when it could be done - was done by hand or on typewriters with carbon paper or other equipment that we now view as absurdly out of date," Giesige said.
The auditor's office has more than 50 functions but none of those actually include auditing, he said. The head honcho of the office should be called "chief fiscal officer" or "fiscal watchdog," he said.
Last year, the county auditor's office handled over $97 million in incoming and outgoing funds, he said.
Giesige said he's "cautiously optimistic" about the future of the county's finances. Low unemployment rates and healthy sales tax revenues have put the area in "better shape than most counties to weather the current storm," he said.
"Our people are hard-working, responsible and productive. They've created a good way of life for themselves and that is reflected in their local governments," Giesige said.