Friday, March 11th, 2011
Minster bounced from tournament
Division IV Regional at Springfield
By Gary R. Rasberry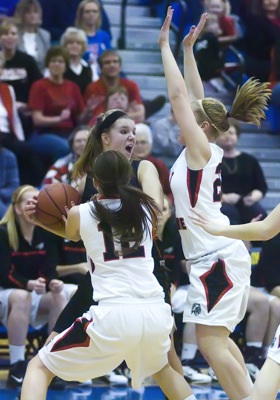 SPRINGFIELD - Minster's struggles on offense prevented a return trip to the state tournament for the Wildcats as Fort Loramie won 49-35 in the Division IV regional semifinals on Thursday night at a jam-packed Springfield High School.
The Redskins (20-5), who also went to the state final four last season, will take on Tri-Village (24-1) on Saturday night at 7:30 p.m. for a berth to the state tournament. The seventh-ranked Patriots beat South Charleston Southeastern 44-28 in the nightcap on Thursday.
Minster, the fifth-ranked team in the state, ends its season at 21-3.
"I think it came down to they shot well and we didn't," said Minster's coach Nann Stechschulte, a reference to Loramie's shooting 45 percent to Minster being just under 40 percent. "As well as we shot last week, we did not shoot very well tonight. You have to give credit to their defense."
After a tight first quarter with Fort Loramie holding a 9-8 lead, Janel Olberding - heading to Ohio State for track and cross country - helped get the Redskins out front for good. Clair Ruhenkamp hit two free throws and Tessa Benanzer got a bucket to put Loramie up 17-13 before Olberding hit a three-pointer to make it 20-15 with 3:48 to play in the first half. Fort Loramie, which lost the regular-season matchup to Minster 42-38 on Dec. 18, went into halftime up 24-17.
"Nann's a great defensive coach," said Fort Loramie's coach Carla Siegel. "The first game we played them, we couldn't get anything going on offense. We ran a lot of motion sets. This week, we worked on set plays. ... We had our cards for set plays. I thought the girls did a great job of running those set plays to give us looks at the basket."
Ruhenkamp and Benanzer gave Fort Loramie another boost to start the third quarter, contributing all eight points of an 8-2 run that pushed the Redskins' led to 32-19 in a span of less than two minutes. Ruhenkamp scored five points while Benanzer's triple pushed the Redskins' lead into double digits.
"We came out and scored first in the second half. They came back answered, and then they came back and hit a three," said Stechschulte. "That little swing there made it very difficult. When you have a guard (like) Olberding and you're behind, it's hard to try and play catch-up."
Fort Loramie maintained its double-digit lead for most of the fourth quarter, matching every Wildcat shot. Minster went scoreless for the final 3:50 of the game after Fullenkamp hit a three-pointer to cut Fort Loramie's lead to 46-35.
The Redskins' defense forced Minster into 15 turnovers and the Wildcats shot just 13-of-33 from the field (39.4 percent), including a chilly 2-of-17 from behind the three-point line.
"I can't say enough about how hard my girls played on the defensive end," said Siegel. "We knew we had to stop (Delanie) Wolf, stop Fullenkamp and keep an eye on their three-point shooters. I thought all the girls played with a lot of heart tonight."
"We just never got into the flow of the offense," said Stechschulte. "We never got into an offense and ran cuts (to the basket). We kind of stood around too much."
Olberding and Ruhenkamp paced Fort Loramie with 15 points each while Benanzer added eight points.
Fullenkamp finished the night with nine points and Wolf added six before the pair fouled out late in the fourth quarter. Kayla Wuebker hit her first five shots of the game and finished with a team-high 11 points.