Thursday, April 12th, 2012
As victim's family grieves, driver sentenced to jail
By Margie Wuebker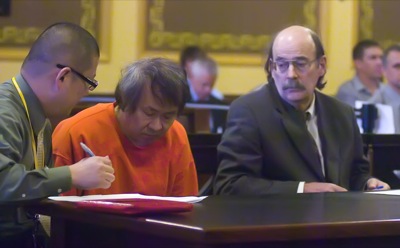 A Minster-area father tearfully told a courtroom of people on Wednesday he will never be able to take his young daughter to Walt Disney World, teach her to ride a bicycle or walk her down the aisle.
John Bruns made the statements prior to the sentencing of illegal alien Jinghao Xu on a single count of vehicular homicide in connection with the death of Bruns' 3-year-old daughter, Aubrey Lynn. Xu pleaded no contest to the charge.
Xu, 50, a former carpet layer from Hamilton, stared at the defense table in Mercer County Common Pleas Court as interpreter Noriaki "O.J." Tasaki, a local college student, translated the words. Xu speaks only Korean, Chinese and Japanese.
Judge Jeffrey Ingraham sentenced Xu to six months in the Mercer County Detention Center, with the sentence commencing immediately. He then will be deported back to Korea.
Ingraham indicated he could impose a five-year operator's license suspension but noted Xu's license had been cancelled by the state of Illinois in the weeks prior to the Oct. 15 accident.
The judge also imposed no fine because Xu is indigent. Mercer County Assistant Prosecutor Matt Fox sought no restitution, explaining the Bruns family has filed a civil lawsuit against Xu seeking restitution for funeral costs and medical bills.
Fox lobbied for additional jail time so the Bruns family can find out answers to continuing questions such as what Xu was doing in Mercer County that day, why he was in this country illegally and how he managed to obtain an Illinois driver's license.
"We know that this man, who is responsible for taking our precious Aubrey from us, did not do it on purpose," the grieving father said in a voice choked with emotion. "It was an accident."
The little girl's family wants the Korean native to take responsibility for his actions and show remorse.
The interpreter shared a message from Xu indicating he is "very, very sorry."
"Sometimes he cannot sleep till morning because he feels the pain of the accident," the interpreter said.
Defense attorney Mike Sacher said the accident at the intersection of U.S. 127 and state Route 119 involved neither alcohol or drugs. Xu reportedly pulled from a stop sign into the path of a car in which Aubrey and her brothers were riding.
The little girl's mother, Rebecca Bruns, composed a 3 1/2-page statement about the loss of her daughter. The commentary, read by family representative Marvin Kremer, explained what a week is like in the absence of the blonde-haired girl.
"Even though I truly love teaching at the high school (Marion Local), it is now my daily detention," Kremer read. "From my room I can see the elementary school, I can see the children playing and also see the youngsters coming to and going from the preschool which Aubrey was so excited to attend."
Her words recalled how her sons - 6-year-old Conner and 9-year-old Keaton - come in from the backyard remembering how much Aubrey loved to swing on the swing set and play in the sandbox.
"We are working very hard to make sure the boys keep having a new normal life," the mother wrote. "We fake a lot of smiles and laughs when we bring them to games and other outings; we will not destroy our boys' childhood.
"I remember looking at her numerous times and my heart actually hurting because I loved her so much," she wrote in conclusion. "What a wonderful pain to have - the love of a child. And now that she is gone, what a horrific pain."
Ingraham expressed the court's condolences as the proceeding ended. He admitted, with a sigh, that there is little the law can do to address their loss.