Thursday, April 12th, 2012
2011-12 Boys' Basketball Dream Team
Fort Recovery sweeps local honors
By Ryan Hines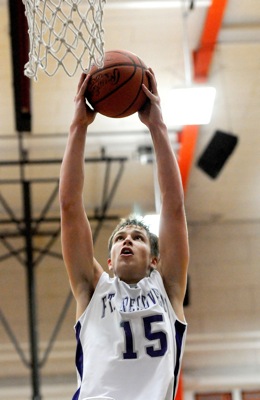 Fort Recovery has been a member of the Midwest Athletic Conference since the fall of 1977, and over the last 35 years the boys' basketball team has captured four MAC championships.
The Indians won their second MAC crown in the last three years this past season and Fort Recovery swept the annual Daily Standard's Player and Coach of the Year honors.
Fort Recovery's forward Wade Gelhaus was selected as the Player of the Year after a breakout season in which the junior scored 18.5 points per game and added 9.4 rebounds per contest. Brian Patch was tabbed the Coach of the Year for guiding the Indians to a 20-3 record.
"It's quite an honor to be named the best player around this area because of all the great players that we have year in and year out," said Gelhaus.
Gelhaus, also the MAC and northwest district Player of the Year, finished the season shooting 51 percent from the floor and 66 percent on free throws while leading team in blocked shots and steals.
"There's no question that Wade is very deserving of all the postseason accolades that have come his way," said Patch. "He's a special player, and athletically, the best that I have coached in my nine years at Fort Recovery."
Gelhaus has been in Fort Recovery's starting lineup since his freshman season but he blossomed into the best player in the Grand Lake area between his sophomore and junior seasons. Playing AAU basketball for a Columbus-based team has helped Gelhaus develop his game, according to Patch.
"I think playing against the competition that he plays against during AAU ball during the summer has really helped him improve overall as a player," said Patch. "He's playing against guys that will be playing Division I basketball and that has helped push him to be the player that he is."
Despite the individual improvement and accolades, Gelhaus is most proud of the team accomplishments.
"It's a tremendous honor to receive the honors that I have gotten, but the best part of this season was that our team won the MAC and we performed well as a team," said Gelhaus. "You have to have a great team to win an MAC title and it was a great accomplishment for us to achieve that this year."
Gelhaus has one more year of high school basketball at Fort Recovery before moving on to the collegiate level. Gelhaus has verbally committed to attend Findlay following graduation to play hoops for the Oilers.
"I have a lot of goals still to accomplish in high school. We want to win the MAC again next year and we also want to have a longer tournament run," said Gelhaus. "We got knocked out by St. Henry this year at districts and I'm looking forward to seeing what we can accomplish next year."
Patch was honored to be named TDS Coach of the Year, but stressed that it isn't an individual accolade.
"I look at it as a program award. We had great players and I have a great coaching staff that I'm surrounded by that helped this team do what they did this year," said Patch. "I didn't score a single point or grab a rebound all season long. Our coaching staff did a good job of putting this team in a position to be successful and it was the players that made it a successful season."
Winning the MAC title for the second time in his nine seasons as Fort Recovery's coach is what stands out most to Patch about the 2011-12 season.
"This was one of the best teams I've had since I got here. Our guys played together as a team and worked toward team goals with no individual agendas and it resulted in an MAC title," said Patch. "It was a special accomplishment for our guys to win a league title. I think that 17 of our 20 wins were by 10 points or more and that says a lot about this team and their consistent play throughout the season."
Patch is the second-winningest coach in Fort Recovery history with an overall record of 125-77 (62 percent winning percentage). Patch was just 27-39 (41 percent) after the first three years of coaching the Indians but Fort Recovery has gone 98-38 (72 percent) during the past six seasons.
"I have been lucky to have had some great players here through the years and I want to make sure that when people talk about Fort Recovery that they talk about a strong program that is competitive in the MAC and produces good basketball teams and good people," said Patch.

2011-12 Boys' Basketball Dream Team:
GUARD
Scott Moeder
Celina
14.4 points, 5.4 assists

GUARD
Austin Bruns
Coldwater
14.2 points, 6.0 rebounds

FORWARD
Wade Gelhaus
Fort Recovery
18.5 points, 9.4 rebounds

Forward
Lucas Leffel
New Knoxville
17.0 points, 8.0 rebounds

CENTER
Kyle Stahl
St. Henry
12.5 points, 10.3 rebounds

SIXTH MAN
J.D. Meyer
St. Marys
14.7 points, 6.4 rebounds

2011-12 Boys' Basketball Dream Team Second Team:
GUARD
Aaron Clune
New Bremen
11.4 ppg., 5.0 rpg.

GUARD
Garet Fledderjohann
St. Marys
13.5 ppg., 5.1 apg.

FORWARD
Jared Kahlig
Fort Recovery
11.9 ppg., 5.3 rpg.

FORWARD
Adam Niemeyer
Minster
11.3 ppg., 3.0 rpg.

CENTER
Matt Buschur
Celina
14.1 ppg., 6.7 rpg.

SIXTH
Lee Pierron
Marion Local
10.0 ppg., 2.7 rpg.

Career record:
Year-by-year records for Fort Recovery under Brian Patch.
Year Record
2003-04 5-16
2004-05 14-9
2005-06 8-14
2006-07 12-9
2007-08 18-5
2008-09 14-8
2009-10 21-4
2010-11 13-9
20011-12 20-3
Total 125-77

• 2 MAC championships