Wednesday, November 21st, 2012
Entrepreneurs show their work
By Christine Henderson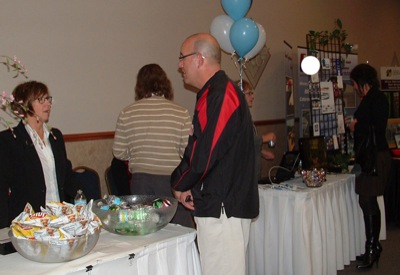 CELINA - Students had the opportunity to meet and network with local business people at a recent expo.
Chambers of commerce for Celina, Fort Recovery, Rockford, St. Henry, St. Marys and Southwest Auglaize County sponsored the expo Nov. 14 at the Galleria in Celina. About 240 students from New Knoxville, New Bremen, Marion and Parkway schools attended the morning session. Jeff Monfort of McDonald's restaurant spoke, and students learned about various career paths.
These schools' guidance counselors were the first to sign up for the expo. Next year other schools will get first shot at registering for the event, said Pam Buschur, director of the Celina Mercer County chamber.
About 115 business people from Mercer and Auglaize counties attended the afternoon session. Training sessions included a talk by John Coe, president of WCSM Radio in Celina.
Coe talked about effective ways to interview job candidates. The employer/job interviewer must first be assured all labor laws are being maintained. A person should never be told they have the job until the full checking process is completed, he added.
Coe prefers using three interviews to determine a final candidate, often with other supervisors involved in later discussions.
"I value and hold a lot of worth in the people we have onboard, so I want their input," he said. "They will have to work with the person and vice versa, so there is a dual purpose."
Coe said he will often provide questions for the other staff interviewers so he can compare how the candidate answered for him and the other supervisor. This also prevents illegal questions. The business owner finds a candidate will often open up more to another staff member than to the boss.
"Simple questions open the door and give direction, give discernment to make the right choice," Coe said about the actual interviewing.
The interviewer should keep quiet after asking the question and allow the candidate to answer as he/she wants, possibly going into topics that the interviewer would not legally be able to specifically ask, he said.
"Keep things simple and you will be amazed what you will find out," he added.
If the person does not answer quickly, that actually is a good sign the person filters before answering.
One question Coe asks is for the person to list his/her shortcomings.
"If he has no answer, that may tell you something," Coe commented.
The expo speaker also advocated checking the candidate's references and giving the person a chance to respond to the reference person's comments.
Coe uses second and third interviews to discuss salary and have candidates ask about the company.
Critical to finding a longtime employee is for both sides to be satisfied this is the right position for the person, Coe said.