Monday, August 18th, 2014
Exhibit marks 40th Oktoberfest
By Margie Wuebker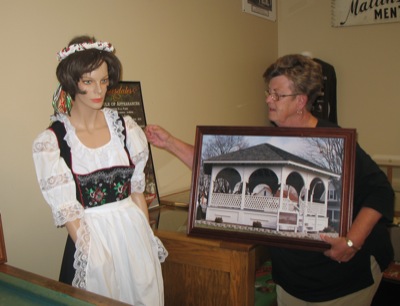 MINSTER - A new exhibit commemorating the 40th anniversary of the Oktoberfest opens Sunday at the Minster Historical Society Museum.
The festival, which began Oct. 4-5, 1975, continues as a way for residents to celebrate their proud German heritage, according to museum curator Mary Oldiges. Thousands of people each year participate in the festivities, she added.
This year's landmark festival is Oct. 3-5.
Oldiges has compiled a pictorial history of the event including photos of the grand marshals and the young ladies who earned Oktoberfest tiaras.
Display cases at the museum hold commemorative mugs, buttons and hat pins. Other memorabilia include shot glasses, commemorative plates, wooden shoes and colorful race T-shirts. A few unique items are a straw hat with a patriotic band worn by members of the first committee and mannequins wearing lederhosen, dirndl skirts and embroidered aprons.
One local resident contributed a framed poster promoting the first appearance of the famed Anheuser-Busch Clydesdales in 1983.
"He saw the poster hanging at the bowling alley after the Oktoberfest and asked whether he could have it," Oldiges said.
The horses, often referred to as "Gentle Giants" because of their docile nature and large size, graced the community five times during previous festivals. Committee members recently learned they will not be attending this year as expected.
Oldiges said the historical display offers an insight into the festival.
"This is a fun little exhibit with lots of pictures," she said. "It provides a slice of local history while giving kids an opportunity to see their parents as kids."
Local resident Jim Donauer is credited with planting the idea for the original festival. While traveling as a state tax commission agent, he spotted a sign in West Alexandria proclaiming the town as "Home of the Oktoberfest." His reaction reportedly was "Why doesn't Minster have a German festival?"
In 1974, the Minster Kiwanis Club (now the Minster Service Club) and the Minster Jaycees (now the Journeymen's Club) were looking at possible fund-raisers, so a joint committee began to consider a festival.
Donauer and Dale Mescher served as the first co-chairmen and signed a $1,500 bank note to finance the event. With an estimated 25,000 people at the festival, the committee quickly paid off the loan.
Tony Heinl and Louis Hoying served as the first parade grand marshals and Vicki Middendorf was crowned Miss Oktoberfest.
Activities during the early years included turtle races; a 10-speed bicycle race; van judging; a tug-of-war tournament; an auction; and a Punt, Pass and Kick competition.
In preparation for the 1977 festival, Minster Machine Co. employees donated money for the construction of a gazebo to serve as a stage for entertainment. A new event that year included an antique car parade featuring the presidential car of Franklin Roosevelt.
The original two-day festival expanded to three days in 1978 and the arts and craft area grew in hopes of drawing more visitors.
German fare, ranging from apple dumplings to sausages with sauerkraut, continues to be the draw, according to Oldiges.
"Local nonprofit organizations serve the food or they sponsor vendors to do it," she added.
The inaugural Oktoberfest Classic 10K Run debuted in 1979 with 200 runners. Oldiges said the race now is considered one of the top events of its kind in the country, drawing about 2,000 runners annually.
The historical society and a committee of local residents are planning a special feature for the milestone observance this year. A two-video presentation "A Celebration of Heritage - Minster Our Home" will be shown in a large tent to be erected near Bernhold Insurance along Fourth Street. A total of 29 presentations are planned during the weekend.
IE Industries (now Midmark Corp. of Versailles) funded its creation for the 1976 and 1977 festivals.
The film covers political and religious unrest that resulted in many German families leaving their homeland to seek fortune in America. A group, led by Frantz Joseph Stallo, settled in Stallostown - a name later changed to Minster.
Planners are hoping to raise enough money to finish the village's story with a third video covering the period from 1975 to present day.
Oldiges stressed that each festival's success is shared by many.
"It takes a community effort to put on the Oktoberfest," she said. "The anniversary as well as this display is a testament to the work of loyal supporters."

How to go:
WHAT: New exhibit saluting 40 years of Minster Oktoberfest history with pictures, costumes and other memorabilia
WHEN: Aug. 24 through mid-December; 10 a.m.-2 p.m. Tuesdays and 1-3 p.m. Sundays
WHERE: Minster Historical Society Museum, 112 W. Fourth St.
COST: No admission charged. Donations are welcome.