Wednesday, August 20th, 2014
Second man gets life for Grube murders
Sanders-Roark sentenced a week after co-defendant
By Margie Wuebker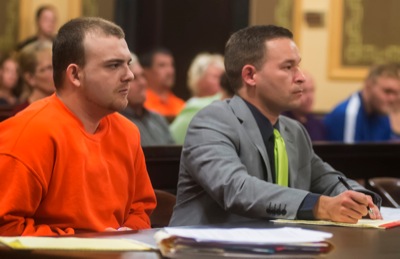 CELINA - Trevin M. Sanders-Roark left Mercer County Common Pleas Court Tuesday afternoon sentenced to spend the rest of his life in prison for the November 2011 murders of Fort Recovery-area residents Robert and Colleen Grube.
The sentence mandated consecutive life terms without the possibility of parole for two counts of aggravated murder, one of which contained a gun specification adding another mandatory three years. The sentence matches the one given to co-defendant Bryant L. Rhoades a week ago.
Sanders-Roark momentarily lowered his head as Judge Jeffrey Ingraham imposed the sentence, which also includes 11 years each for aggravated robbery and aggravated burglary charges.
Sanders-Roark, 20, pleaded guilty Feb. 27 to a deal that dismissed all other charges in the 27-count indictment. The sentencing had been delayed twice as the Rhoades case proceeded.
Like Rhoades, Sander-Roark showed no emotion as Grube family members - Robert's sister and five children - came forward to request the maximum penalty.
Bernice Allen described the murders of her 70-year-old brother and 47-year-old niece as a "senseless act of violence."
"Their lives were dedicated to family, friends and helping others," she said emotionally. "Trevin Sanders took them away from us. I take comfort knowing they are safe in God's arms and can't be hurt any more."
Adrian Grube called his father the glue that held the family together and his sister a hard-working person who loved children.
Robert Grube suffered a massive stroke in 2005 that left him confined to a wheelchair. His daughter Colleen suffered a stroke in 2000. She recovered and then left her job as a nanny in New Jersey to care for her father.
"I realize nothing he is sentenced to will bring them back," Adrian Grube said looking toward the defendant. "I do not wish that any other family would have to go through the hell we have gone through."
Angela Allard smiled through tears recalling a family trip to Hocking Hills to celebrate her father's 70th birthday. Robert Grube tried to blow out all the candles but his dentures kept falling out. His beloved grandchildren, whom he affectionately called the dirty dozen, had to do the honors.
"Dad and Colleen were defenseless when the defendant walked in the house and even more defenseless when they bound them," Allard said. He could have walked out of the house and left them there."
Cherie Gehle, with tissue in hand, wondered aloud what compelled Sanders to kill her father and sister.
"What the defendant stole from our family was without thought, feeling and lack of compassion," she said.
"He specifically targeted, robbed, bound and maliciously murdered two innocent people with wanton disregard for human life and consequence, solely for his own self-preservation," said Tracy Gruber.
"They would have given Trevin and all the people he was with all their earthly belongings," Michelle Stammen said, crying. "I can't imagine the helplessness and fear they must have experienced in their final moments. Dad and Colleen were truly angels on earth and now they are angels in heaven."
Sanders-Roark, who was 17 at the time of the murders, faced the family prior to sentencing.
"I apologize ... If I could change what happened, I would," he said.
Tracy Riley cried as her son spoke and was comforted by two companions. The Grube family listened intently.
In requesting a significant and lengthy sentence, Mercer County Prosecutor Matt Fox said the defendant's age at the time of the crime must be taken into consideration as well as a lengthy criminal history dating back to the age of 10.
"He did nothing right that night, but he confessed to the crimes, agreed to testify against Bryant Rhoades and aided investigators in their continuing efforts to bring those involved to justice," Fox said.
One of Sanders-Roark's attorneys Richard Delzeith requested a sentence that would allow Sanders-Roark to be rehabilitated. Delzeith cited environmental considerations, family circumstances, personality traits, bad judgment due to youth and mental and emotional issues as mitigating circumstances.
Delzeith said Sanders-Roark contacted authorities less than six months after the murders to provide them with much-needed information.
"The maturity level and ability to fully comprehend the consequences of a juvenile's actions is somewhat delayed and it took almost six months for Mr. Sanders to realize what he had done and the harm he had caused," the attorney added. During the ensuing two years, the defendant had continued to provide information to detectives on at least 12 occasions and passed a polygraph test, Delzeith said.
"Mr. Sanders even offered to testify against co-defendant Rhoades, knowing that his testimony could jeopardize his life and the life of his family," the attorney added.
Ingraham, who earlier pointed out the defendant's apparent lack of genuine remorse, requested a brief recess to collect his thoughts before imposing sentence. He returned nearly 20 minutes later and read from an eight-page entry.
Family members declined to comment after sentencing.
Fox handed out a prepared statement regarding the "incredibly selfish acts" that led to the murders.
"Today is not a day for celebration," he said. "It is a day for contemplation and reflection. The murders are horrific losses to the Grube family, to friends of the Grube family, to the greater rural Fort Recovery community and to all of us."
"Nothing that law-enforcement officers do, that prosecutors do or that the courts do, can come close to redressing the damage intentionally inflicted upon the victims and their families," he added. "Hopefully the resolution of these cases through conviction and sentence can offer family and friends some sense of finality that will enable them to move forward with their irrevocably changed lives."
Both Sanders-Roark and Rhoades will be lodged temporarily at the Ohio Department of Rehabilitation and Corrections Reception Center in Orient before assignment to prison elsewhere in the state.