Wednesday, August 20th, 2014
Two Minster industrial park lots sold
By Margie Wuebker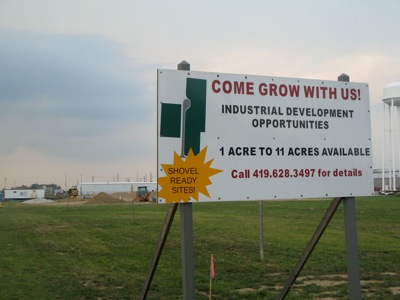 MINSTER - Two lots have been sold in the West Industrial Park.
The Minster Community Improvement Corp. on Tuesday approved the sale of a 2.805-acre tract to Baumer Construction of Minster and a 1.683-acre site to Weigandt Land Co., also of Minster. Purchase prices were not available.
Baumer intends to erect a 12,000-square-foot building for an unnamed client with site work already under way.
Harrod said Weigandt also plans to put up a building because of potential interest from another party.
Village council in 2006 purchased more than 11 acres on the west edge of town off Fourth Street from Minster Machine Co. The sale leaves just 5.7 acres left, with all utilities in place.
Harrod said the Ohio Department of Development has sent 23 leads in recent months. However, the companies involved wanted 70 to 80 acres or large vacant buildings with 30-foot tall ceiling and loading docks.
"We don't have the land or the empty buildings to fit the bill," he said. "The search for more industrial park land continues."
CIC Chairman Rick Schwartz agreed efforts to acquire more land continue without success.
"Land is going for a premium (up to $17,000 per acre) and that makes it difficult to acquire for industrial purposes," he added.
All lots have been sold in the village's first industrial park off First Street.
Harrod also reported the search for a new police chief to replace Randy Houseworth is continuing. Houseworth, who initially indicated he would retire Aug. 29, has agreed to stay on until a new chief is hired.
The Ohio Chiefs of Police Association has received seven applications, according to Harrod. Interviews with the top candidates will be set once local officials receive recommendations from the Dublin-based group.
CIC members also,
• heard an update regarding the proposed extension of Webster Street. There are six affected property owners, some of whom plan to build homes there.
• listened to a proposal from Minster Local Schools Superintendent Brenda Boeke asking the group to serve in a business advisory role for the district. Boeke said the board of education looks to introduce a new curriculum in 2015-16 relating to the Advanced Manufacturing Center at Wright State University-Lake Campus.
• learned the park committee is considering raising fences and installing protective netting at Four Seasons Park. This comes in the wake of reports of spectators being hit by flying balls.
• heard a report from the Auglaize-Mercer Business Education Alliance including information that former St. Henry Superintendent Rod Moorman has been named administrator for the Career Pathways initiative.
• learned work is continuing on the south substation near Arrowhead Golf Course. The project, which has a more than $1 million price tag, will provide greater reliability in the future. It will also have the capability to handle the entire electrical load in the event the older north substation needs repair or maintenance.