Wednesday, December 6th, 2017
Part of the game
Redcoat makes sure opposing team is ready to face the Buckeyes
By William Kincaid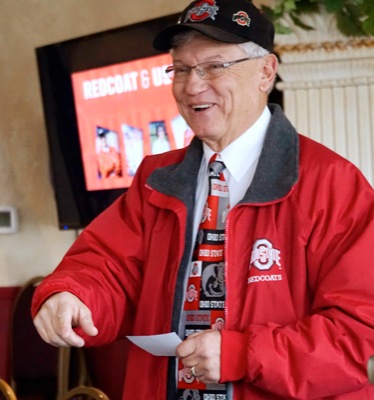 CELINA - For the past 13 seasons, retired teacher Gary Hensley of Celina has been working a dream job as a Redcoat for the Ohio State Buckeyes football team, escorting the visiting team and officials at Ohio Stadium.
"The Big 10 has certain regulations on who can come into certain areas," Hensley told Celina Rotarians on Tuesday afternoon. "I've worked for 13 years (at) the visiting locker room."
Hensley from Day One was assigned the visiting locker room duty, which he has held onto since. He oversees who comes into the area, including the visiting team and coaches, referees, chain gang and credentialed media.
In addition to being afforded a closeup view to a legendary college football dynasty boasting a 77-9 record over those 13 years, Hensley is also paid for his time.
"When I took that, I did not know that," he said. "I would have done this for free. To get a chance to be in a game when Ohio State is No. 1 and Michigan is No. 2 or when Texas and USC (are playing) - I couldn't afford to get a ticket, if you can even find a ticket - and I get to go in and be there in the environment and get to meet players, coaches and all these things."
Saturdays in Columbus during football season are 14-hour days for Hensley. On top of spending about four hours on the road, he arrives at the stadium about four-and-half hours before game time to provide access to trainers and equipment managers.
"I stay there until the team leaves," he said. "Once the team is on the bus and they pull out, I'm released. Most of the time it's an hour, but if they win, then it's a lot more interviewing and things going on. It goes a little bit longer."
He always makes sure to say something nice to the players when they leave the locker room - such as "good luck next week" or "have a safe trip home" - even though their exit is usually made after having lost to Ohio State.
Over the years, he's had the honor to greet and even get to know players and coaches, Hensley said. People can say what they will about Penn State coach Joe Paterno, but in Hensley's opinion, the iconic coach was a true gentleman.
"He would talk to me just like we're talking here," Hensley said, noting that Paterno always requested two hot dogs and a Pepsi before the game.
After Paterno had been fired, Penn State took on the Buckeyes the next week in Columbus, Hensley said. Penn State ended up winning in what Hensley said was an emotionally charged game for the Penn State coaches, who were openly crying.
Paterno's son, one of the team's coaches, walked back into the facility after the game and handed a Penn State hat to Hensley, saying, "I want you to have this for taking care of my dad all these years," Hensley said.
Of the many hats he's acquired over the years through his job, that one holds special meaning, he said.
Asked how he joined the ranks of the Redcoats - a small army of guest service providers founded in 1956 after the completion of St. Johns Arena - Hensley said his son, Kyle, was working as a physical therapist in Columbus when one of his patients told him her boyfriend was in charge of hiring Redcoats. Hensley eventually contacted the man and snagged the job, a position often given to men and women well versed in dealing with the public, such as former police officers.
The Redcoats' mission is to provide quality guest service to all who attend OSU events, which include 36 varsity sporting events, graduation, concerts and Skull Sessions with the marching band. They aim to provide a safe, enjoyable and entertaining atmosphere.
"So there's at least a handful of Redcoats at every one of those events," he said.
Redcoats stand out among other volunteers and workers by their attire - a black Ohio State hat, a white dress shirt, a necktie and/or scarf, black pants and black shoes. They also don either a red winter coat or white summer polo shirts. Redcoat supervisors wear red hats.
At football games, most Redcoats can bee seen scanning tickets at the gates, Hensley said. Others work in the home and visiting locker rooms, elevators and suites.
Each football game requires 840 workers, including Redcoats, CSC workers, ushers and Ohio State police and Ohio State Highway Patrolmen. That doesn't even count the roughly 900 volunteers who man the concession stands, he said.
"We go through every year three to four hours of training. Usually this is in August before the season starts," he said. "Probably two of the biggest things we work on, one is communication skills - how to handle a situation when someone's drunk or out of hand."
The other main area of training is discerning authentic tickets and credentials.
"Up until probably three or four years ago that was a real big issue," he said. "We had times when we had seven tickets for the same seat."
After consulting with ushers and Redcoats, stadium officials decided to add a distinctive hologram that is difficult to forge to tickets, Hensley said.
Hensley, who for many years was the poster boy of Redcoats as the university used a picture of him taken by The Daily Standard in Redcoats advertisements, also pointed out several interesting facts. Tuesday marked the 2,204 day since Michigan last beat Ohio State in football.
Ohio Stadium, he noted, was built in 1922 for $1.3 million. In contrast, the stadium refurbishment that took place from 1999 to 2001 cost $194 million, he said.