Wednesday, December 6th, 2017
Downright defensive
Wildcats hold off rival Redskins in clash at Minster
By Colin Foster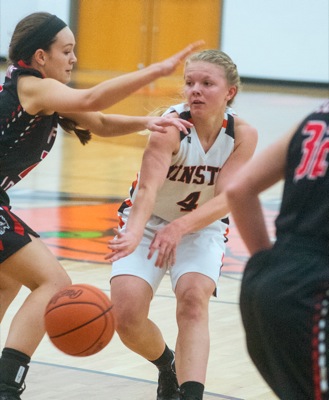 MINSTER - Various media outlets were on site at Minster High School on Tuesday.
Why? Because a Minster-Fort Loramie girls' basketball game is always newsworthy.
On this night, the Wildcats took control with a 20-4 run in the second quarter and held on to defeat the Redskins 35-26 in a defensive battle between teams that will likely have a ranking beside their name when the Associated Press state poll is released.
"Minster-Loramie is a low-scoring game," Minster coach Mike Wiss said. "Minster-Loramie is a defensive battle. It's a matter of who's the strongest No. 1) with the ball and No. 2) between the ears. It taught Loramie and it taught us."
Courtney Prenger had nine points, seven rebounds and a handful of blocks for the winning side. Taylor Kogge added eight points and seven boards.
The Xavier-bound Prenger did the bulk of her damage in the first quarter, scoring six points and stuffing a pair of shots. The Wildcats held Fort Loramie scoreless for nearly six minutes out of the gate and forced eight turnovers. But the Redskins closed on a 7-2 run and trailed 8-7 after one.
The score was 10-9 early in the second quarter before Minster launched a 16-0 assault. Prenger's hoop-and-harm three-point play kicked off the run. Ivy Wolf followed with a baseline drive and score, Demaris Wolf added a layup off a turnover, and the Cats were off and running as they stretched their lead to 28-11 by break.
The Redskins finished the first half with more turnovers (15) than points.
"We weren't taking care of the ball. We weren't making good passes," Fort Loramie coach Carla Siegel said. "Fundamentally, we weren't jump stopping. We weren't using our pivots. We were on the go and trying to make crazy things happen. We weren't disciplined. That's the word we used at halftime. We needed to be disciplined on the offensive end and we just weren't. But credit Minster's defense. They're fast. They're quick. They're good. We're lucky they didn't beat us by 40."
Fort Loramie got back into the game with its defensive intensity in the second half. The Redskins cut the lead to 30-17 by the end of the third quarter. This time, Minster finished with more turnovers (five) than points.
The Redskins opened the fourth quarter on a 7-0 run, with a three-pointer by Kennedi Gephart cutting the deficit to 30-24. But Kogge finally broke Minster's scoreless spell with a turnaround in the lane and later added another bucket to help ice the game. Fort Loramie had its chances at the foul line in the fourth but finished the quarter just 2-of-7.
"Some of (the 20-4 run) was our transition," Wiss said. "And notice in the second half, Minster didn't get anything in transition. We take a little bit of pride in getting the ball out as quickly as we can. I thought Loramie did a really good job of taking away our transition game. That got to our head a little bit."
Gephart netted seven points to lead Fort Loramie (3-1), which travels to face Fairlawn on Saturday in Shelby County League play.
The Wildcats (4-0) will open up defense of their MAC title on Thursday, hosting Parkway.