Friday, March 9th, 2018
CAPT honored for business performance after Celina tornado
By Sydney Albert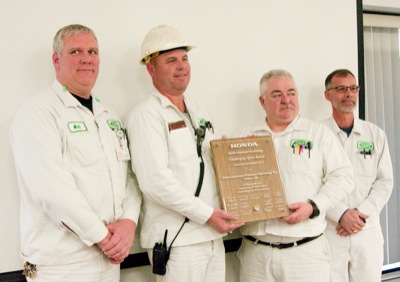 CELINA - Celina Aluminum Precision Technology employees were honored by Honda Motor Co. on Thursday for maintaining operations despite a tornado that hit Celina in November, temporarily knocking out Celina's electrical grid.
The Challenging Spirit Award recognizes a supplier's efforts under unusual or extraordinary requirements and performance beyond normal expectations. Darryl Sherman, engine plant site leader of Honda Manufacturing in Anna, presented CAPT employees with the award for strong execution in reacting to the situation, maintaining shipments and restarting production after the tornado.
Sherman said employees established safeguards and coordinated and prioritized shipments to six Honda production locations with nearly no resulting downtime at those plants. He expressed how remarkable this achievement was as CAPT parts are used in roughly 95 percent of Acura and Honda vehicles built in North America.
"The month of November, when this happened on Nov. 5 … was your best month of quality in the last 12 months. So let that sink in a little bit. You realize all the things that you went through in those weeks and you still had exceptional quality to my plant and to your other Honda customer plants in North America," Sherman told the gathered CAPT associates.
The tornado that hit Celina on Nov. 5 took out about a mile of power lines serving CAPT, according to Celina's electric superintendent Mike Mertz. To maintain production, CAPT worked with Honda to secure enough generator power to temporarily restore operations for three days. Associates worked around the clock to switch to generator power, which CAPT had never used before.
"It was really cold that day if you recall, I believe it was less than 15 degrees, and the generators showed up I think at 1 o'clock in the morning. So in the dark, in the brutal cold, there was a lot of hard effort going on," CAPT Vice President Tom Rable said.
The quick thinking and extra time put in by CAPT employees prevented downtime at Honda's frame assembly plants in Ohio, Indiana, Alabama and Canada, Sherman said. He offered his thanks on behalf of roughly 20,000 employees at Honda's North American production plants.
"So if you're keeping score at home, I know a couple of years ago we had a tornado come through and impact CAPT and the surrounding community. Right now the score is CAPT 2, Mother Nature 0," Sherman said.
Mayor Jeff Hazel said he finds CAPT to be a great corporate citizen and was very pleased to be able to work with the company through the tornado's aftermath.
"You guys were outstanding. To know that nobody had to shut down says a lot about your perseverance and your determination and your commitment to quality and putting out the product that others are depending (on) from you," Hazel told CAPT associates.