Friday, March 9th, 2018
Cavs outshoot, outlast Indians for 65-55 win
By Colin Foster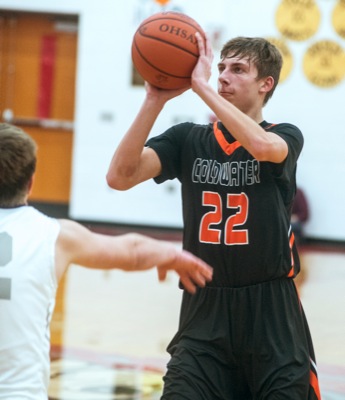 LIMA - Coldwater's Jacob Wenning missed a wide-open layup in the second half of Thursday's game with Fort Recovery.
He made about everything else.
Wenning scored a season-high 22 points - hitting 6-of-8 field goal attempts and 6-of-6 from the free throw line - to lead the Cavaliers past the Indians 65-55 and back to the Division III district title game for the first time since the 2008-09 season.
Coldwater (14-11) travels back to Lima Senior High School on Saturday night for a 7 p.m. matchup with third-ranked Ottawa-Glandorf, which defeated Paulding 82-38 in Thursday's opener. The game time was moved from earlier in the afternoon to allow O-G fans to watch the girls' team play in the regional final at Lexington.
The Cavs used blistering 3-point shooting, solid defense and rebounding to avenge a last-second loss to Fort Recovery back in early February.
Wenning was one of three Cavs in double figures. Marcus Bruns scored 18 and Cole Frilling added a double-double with 15 points and 14 rebounds. Coldwater finished 9-of-17 from 3-point range.
"We shoot a lot of 3s, but we've got a lot of kids who can shoot the 3," Coldwater coach Nick Fisher said. "Some of that's by design and some of that's just the kids are given the green light in our motion offense. We just kind of play loose and free. Hopefully we can continue that on Saturday."
The Cavs came out in a box-and-1 on Fort Recovery's leading scorer, Payton Jutte, who had torched them for 22 points in the last meeting - all coming in the second half.
The game was tied at 16-apiece after one quarter. Fort Recovery opened the second quarter with a 7-2 run, but Coldwater closed the half with a 14-3 run and never trailed again.
Wenning scored 13 points and the Cavs held a 19-8 rebounding edge, with Frilling collecting 10 by himself.
Wenning and Frilling added the seventh and eighth 3-pointers for Coldwater early in the third, and the lead skyrocketed to 18 at one point.
"We struggle at (3-point defense)," Fort Recovery coach Mike Bashore said. "It's no secret. That's something we've struggled at all year. We've done a nice job of keeping teams in the 50s, but it's kind of smoke and mirrors, because we're not very good at closing out on shooters. Our younger kids run into a lot of screens. They'll learn from that. A lot of those kids are playing varsity basketball for the first time.
"I thought we gave them 16-20 points just off (rebounds)," he added. "But they definitely played well enough to win. Coach Fish does a great job. He's a great guy. I consider him a friend. His kids play hard. We knew it wasn't going to be easy. It's a typical MAC game. They executed a little better tonight."
The Indians trailed by 10-or-more points all the way until the 1:11 mark of the fourth, when Grant Knapke knifed his way through the paint and finished at the rim to make the score 59-51.
Wenning, however, would hit 6-of-6 at the free throw line over the next minute to help Coldwater finish off a 65-55 win.
Clay Schmitz led the Indians with 16 points. Knapke scored 15 and Ryan Braun posted a double-double in his final game with 13 points and 11 rebounds. Jutte finished with five points on 2-of-11 shooting.
"Playing them the first time around, I thought we did a good job in the first half. We lost (Jutte) in the second half and he went off in the second," Fisher said. "He was a big difference-maker. We spent a lot of time this week working on not giving him that opportunity. I thought Ben (Wenning) and Myles (Blasingame) did a great job on him in our box set."
The Indians finish the year with a record of 15-10.
"I'm excited about the guys we have coming back, but we've got three great leaders that we're going to have to replace," Bashore said. "We've got to find new leaders, and I think we've got guys in the locker room that can do that. We'll be anxious to get to work when we can get back to work. We're happy with 15-10 from where we were at 7-8. But I don't think we're done. We're looking for more."
On Saturday, Coldwater will look to become the second team to defeat the Titans this season. In two tournament games, O-G has outscored opponents 170-82.
"It's going to be about execution and shooting the ball well," Fisher said. "We know they're going to come at you, tooth and nail, from the tip to the end. We're going to have to handle the ball a little better than we did in the fourth quarter tonight."