Thursday, April 12th, 2018
Father, son hospitalized after shooting
Sheriff continues probe
By Sydney Albert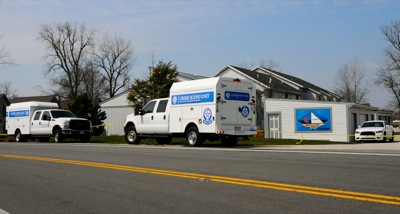 ST. MARYS - The Auglaize County Sheriff's Office has identified the victims of a shooting off State Route 364 near Grand Lake as Dexter Lee Turner, 47, and Alim Amir Turner, 25.
The shooting took place in the early morning on Wednesday at a condominium at 10988 State Route 364. A news release stated that at least one of the victims is a resident of the condominium but did not specify which. The victims are father and son, according to the release. Dexter Turner remains in St. Rita's Medical Center while Amir Turner was in the intensive care unit of Lima Memorial Hospital. Their medical conditions were not released this morning.
No arrests have been made at this point, and the case remains under investigation.
"The Sheriff's Office is working hard to come up with suspects and answers on this case. We do not have a motive and information is still developing," Auglaize County Sheriff Al Solomon said in the release.
He said investigators had not been able to talk to the victims. He declined to say whether a weapon had been recovered.
Solomon told the newspaper this morning that his office is not looking for any suspects or persons of interest at this time.
At about 3:22 a.m. Wednesday, a male called 911 stating he had been shot. Deputies responded to find the two men with gunshot wounds.