Thursday, April 12th, 2018
Bollenbacher, Dragons having success on the links
College Notes
By Colin Foster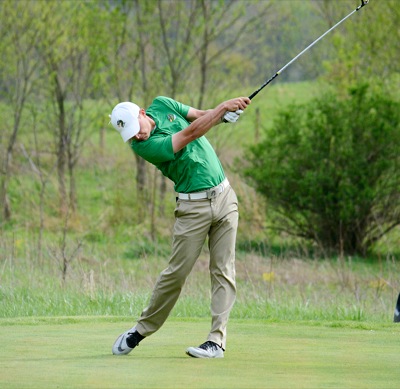 Parkway's Jordan Bollenbacher is having a great senior season with the Tiffin University men's golf team.
Bollenbacher and the Dragons had a fifth-place finish at this week's Greyhound Invitational at Purgatory Golf Club in Noblesville, Indiana. Bollenbacher was third on the team with a three-day total of 218, finishing it off with a 72 in chilly conditions on Tuesday.
A week prior, the Dragons placed third out of 14 teams at the Parkside Spring Invitational at Otter Creek Golf Club in Columbus, Indiana. Bollenbacher had a two-day total of 145.
The Dragons have finished in the top five of every tournament except one since the beginning of March. They are ranked seventh in the NCAA Division II Midwest Region and are looking to lock up a qualifying spot at the super regionals, which will be held from May 21-25 at Muscle Shoals, Alabama.
Up next, Tiffin will travel to Nashport, Ohio, to compete in the GLIAC championship at The Virtues Golf Club. The event will be held from April 20-22.
Kaleb Kuhn (Celina) fired a 167 (86-81) for the University of Northwestern Ohio men's team at the Dale Hollow Invite in Burkesville, Kentucky. UNOH finished first at the tournament.
The Racers head to Augusta, Michigan, this weekend to take part in the Stonehedge Invitational at Stonehedge Country Club.
Kelsey Koesters (Coldwater) scored a 165 (80-85) as an individual representing Findlay at the Delores Black Falcon Invitational at Stone Ridge Golf Club in Bowling Green last weekend.
The Oilers, coached by St. Marys graduate Dominic Guarnieri, will next compete at the Great Midwest Athletic Conference tournament in Liberty Township, Ohio, on Monday and Tuesday.

SOFTBALL
Alyx Slusher (Parkway) is playing second base and also designated hitting for the Capital Crusaders. On Monday, Slusher launched the first home run of her collegiate career in a 6-3 loss at Kenyon. As of Wednesday, she is batting .288 and leads the team in RBIs (15), walks (10) and sacrifices. The Crusaders are 6-20 and 2-6 in Ohio Athletic Conference play.
Kaity Kuhn (Celina) is hitting .296 with five doubles, 15 RBIs and 19 runs scored for Defiance. The Yellow Jackets are having a solid season, too, boasting a record of 14-8 overall and 2-2 in the Heartland Collegiate Athletic Conference.
Alexis Ontrop (St. Henry) had a nice pitching performance for Edison State on April 10. Ontrop pitched three innings, allowing two hits while striking out three in an 11-1 win over Miami University-Hamilton. As a pitcher, Ontrop is 1-1 with seven strikeouts and five walks and an ERA of 6.56 in 16 innings. She has four hits in 16 at-bats with two doubles and two RBIs. The Chargers are 4-4 overall.
Kayla Richard (Minster) is hitting .353 with three home runs, two doubles and 16 RBIs for Ohio Wesleyan. Richard has the fourth-highest average on the team, is tied for second in homers and ranks third in RBIs. The Battling are 8-8 overall and 1-3 in North Coast Athletic Conference play.
BASEBALL
Adam Niemeyer (Minster) and Seth Lonsway (Celina) were named scholar athletes for Ohio State.
In his senior season, Niemeyer owns a record of 2-2 through eight starts with a 5.06 ERA. He has struck out 31 and walked 14. Lonsway is sitting out his freshman season with the Buckeyes, who are 21-10 overall and 3-1 in Big Ten play.
Josh Nixon (Minster) has been a reliable bullpen option for Dayton this season. In 15 innings, Nixon has a 13-to-4 strikeout-to-walk ratio and boasts an ERA of 7.20. The Flyers are 8-19 overall and 2-4 in Atlantic 10 play.
Malave Bettinger (Coldwater) and Aaron Harlamert (Coldwater) have helped Sinclair Community College to an 18-8 start. Bettinger is hitting .267 with two home runs, two doubles and 18 RBIs. Harlamert is hitting .136 with one RBI and five runs scored in 16 appearances.
Jackson Hobbs (Fort Recovery) is 2-2 with 15 strikeouts and four walks and an ERA of 5.25 through six starts with Edison State. He lost his April 6 start at Sinclair. The Chargers are 8-12 on the season.
ROWING
Rachel Kaup (Fort Recovery) and the Duquesne rowing team had a good showing at the Cooper Invite last weekend in Cherry Hill, New Jersey.
Competing in 30-degree weather, the varsity group of Kaup, Meredith O'Neil, Caroline Redd, Amanda Pellegrino and coxswain May Clay placed third in the grand final with a mark of 8:34.46.
The Dukes return to the Garden State this weekend to compete in the Knecht Cup in Mercer, New Jersey.
Editors Note: The next College Notes will highlight college track and field athletes.